Christopher Lee: The untold life of the SAS soldier who spoke several languages and almost died twice in WWII
'Let's just say I was in Special Forces and leave it at that,' he said
Rose Troup Buchanan
Friday 12 June 2015 15:53 Comments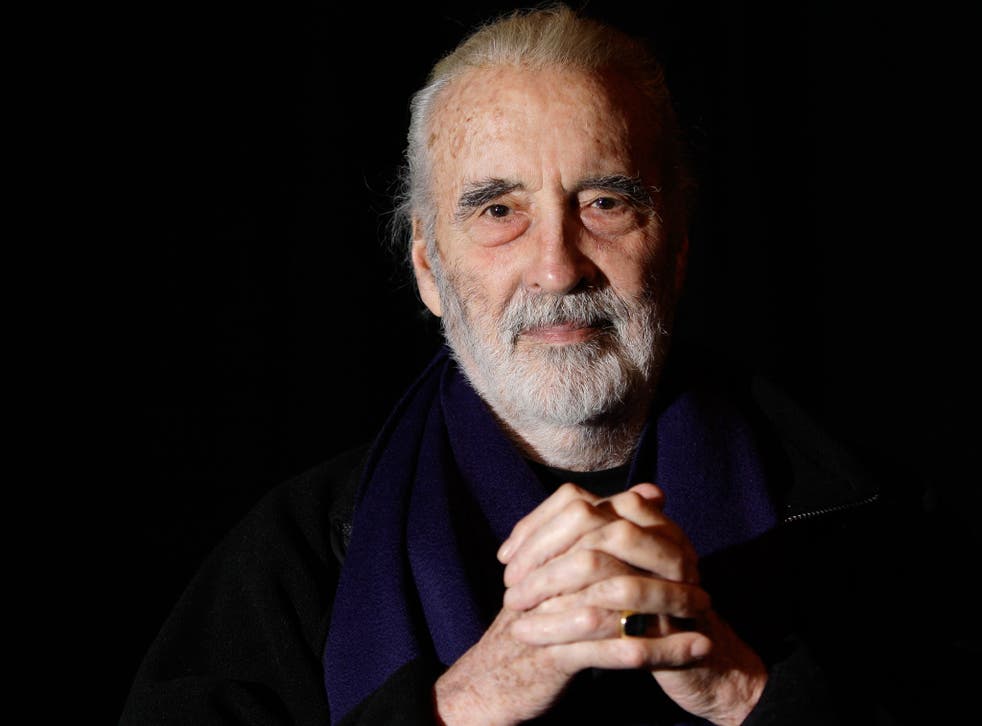 "When the Second World War finished I was 23 and already I had seen enough horror to last me a lifetime," said the late actor Sir Christopher Lee.
Lee, who died on 7 June in a London hospital aged 93, has been widely celebrated as a cinematic icon but the actor – who spoke several languages – was also a member of the SAS during the Second World War.
Born in 1922 in Belgravia to a one-time Chanel model and an army colonel, Lee was educated privately before joining the Royal Air Force in 1940.
Prior to Britain joining the conflict, the then just 18-year-old had already worked alongside the Finnish in their Winter War against the Russians as a volunteer in 1939.
Lee was attached to the precursor of the SAS, known as the Long range Desert Group (LRDG), in North Africa from 1941. He reportedly moved behind enemy lines, destroying Luftwaffe aircraft and fields, until he was seconded to the army and served with a Gurkha regiment.
"I was attached to the SAS from time to time but we are forbidden – former, present, or future – to discuss any specific operations. Let's just say I was in Special Forces and leave it at that. People can read in to that what they like," he said in 2011.
As an intelligence officer attached to No. 260 Squadron RAF, he reportedly prevented a small mutiny after troops – frustrated and lacking news from the eastern front – threatened to break ranks.
Following his work with the LRDG, and owing in part to his language skills and favourable impression with senior officers, he was assigned to the Special Operations Executive, conducting reconnaissance in occupied Europe and tracking down suspected Nazi criminals.
Christopher Lee: Career in pictures

Show all 8
"We were given dossiers of what they'd done and told to find them, interrogate them as much as we could and hand them over to the appropriate authority."
As a result Lee, who almost died twice during the war earning himself the nicknames Duke or Spy, witnessed the devastating aftermath of the Nazi's camps first-hand.
"We saw these concentration camps. Some had been cleaned up. Some had not," he said in 2009.
Although he rarely spoke about his experiences during the war, towards the end of his life he described it as being "real horror and blood."
"I'd seen dreadful, dreadful things, without saying a word," he told an interviewer, explaining how horror on film "doesn't affect me much."
"I've seen many men die right in front of me - so many in fact that I've become almost hardened to it. Having seen the worst that human beings can do to each other, the results of torture, mutilation and seeing someone blown to pieces by a bomb, you develop a kind of shell. But you had to. You had to. Otherwise we would never have won."
Register for free to continue reading
Registration is a free and easy way to support our truly independent journalism
By registering, you will also enjoy limited access to Premium articles, exclusive newsletters, commenting, and virtual events with our leading journalists
Already have an account? sign in
Join our new commenting forum
Join thought-provoking conversations, follow other Independent readers and see their replies