Clive Schlee: Pret a Manger ready to go global
The ambitious chain's chief tells Simon Neville that its shops in Paris are the busiest, America's biggest seller is a salad and that he wishes more Britons would apply for jobs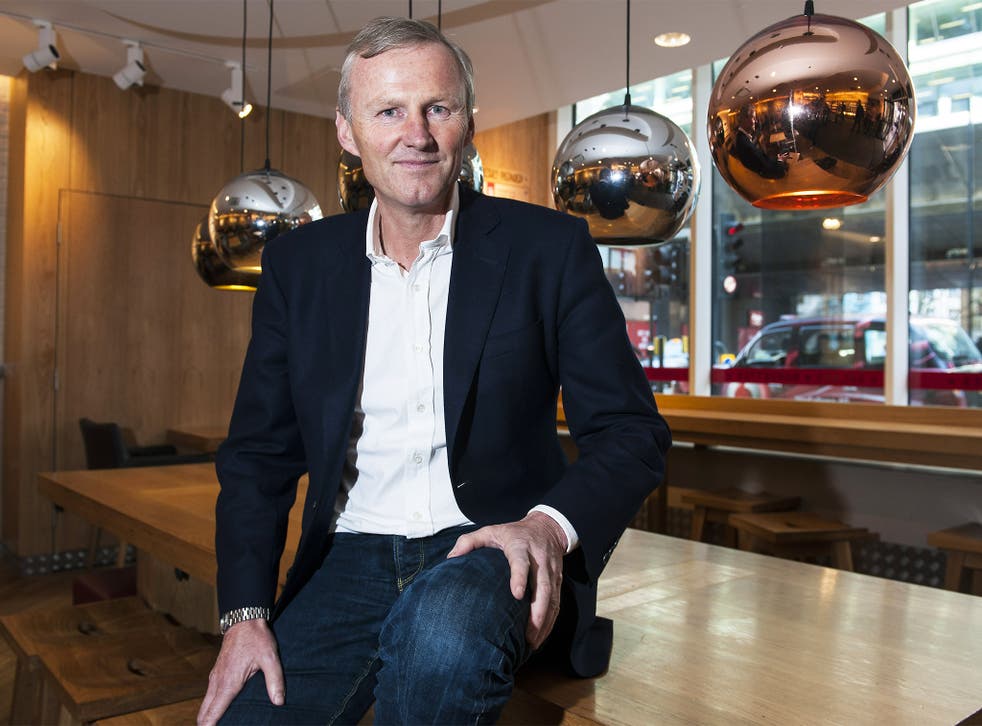 Starbucks is embroiled in a tax scandal; Burger King got caught out selling horsemeat; and McDonald's has been exposed for its excessive use of zero hours contracts.
So it is little wonder then that Pret a Manger is managing to grow faster than the other three chains combined. And with British attitudes towards properly sourced ingredients, healthy lunches and demand for speedy service, the ambitious sandwich chain's prospects look rosier than ever.
Sales last year jumped 16 per cent to £594m, up 9.7 per cent on a like-for-like basis, with pre-tax profits up 14 per cent to £76m.
Clive Schlee, the chief executive, believes the chain's original home of London is the beating heart of the company's operations, with 160 of the chain's 288 UK stores in the city, but he readily admits the business has perhaps been too focused on the capital.
He tells The Independent: "We're certainly looking outside London and think there's potential away from central London in particular.
"Tastes further north are not too dissimilar, although interestingly customers prefer meat options the further north we go."
And the ambitions do not stop there – Mr Schlee believes Pret can eventually be a world-beater, competing with the likes of the fast-food giants.
"We'd like to be a successful British global company," he says. "One that is really successful in different continents – that would be a very worthy goal.
"There have been only five or six companies over the years that have managed that, and most of them have been US companies. British ones have never really made it."
He also believes that when Pret has good results at its sandwich empire, it is a sign of a positive and growing economy.
"Low interest rates and high employment are very good for us," Mr Schlee explains. "If you're working, you're probably having lunch at Pret; if you're not working and staying at home that's not so good."
As Britons become more health conscious, they are flocking in droves to Pret, shunning the burgers of fast-food chains, in favour of sandwiches made fresh each morning in the kitchens of each store. Even the cress is freshly cut.
But despite having 288 out of 374 stores in the UK, Pret sees its ultimate calling overseas, with stores in four US cities, Hong Kong, China and Paris.
"The shops in Paris are actually our busiest," Mr Schlee says. "I think it's partly because we've learned to open big shops from the outset, so people are dining in more."
And in a twist on the usual customs with the French teaching to British what's best to eat, it seems our tastes are similar.
"French and British food tastes are not wildly different. They don't eat crisps like the English do, but they do eat pudding, so we have a higher percentage of pudding sales there," he says.
"They don't eat breakfast anything like the way the English do. We have a big variety of breakfast tastes here, but in France they eat pretty much exclusively croissants and baguettes.
"They also tend to eat breakfast before they leave for work, while the British tend to eat once they get to work."
Americans have also taken the chain, which started in Victoria in 1987, to their hearts and there are now 60 stores across the US.
Pret put this down to the Americans' love of eating with their hands, enjoying their bread, and their health-conscious mindsets, especially in cities such as New York.
In fact, they are so careful about what they eat, the biggest selling item in the US Prets is actually a salad.
In the UK, bananas and porridge are the biggest sellers, but hot lunchtime meals are also on the rise, and Pret believes these could grow as big as sandwiches as the number one choice for lunches.
Our coffee choices have also evolved, with sales of macchiatos rising faster than any other hot drink, with flat whites close behind – although the biggest selling coffee remains the latte.
We have also become more interested in the provenance of our food, especially since the horsemeat scandal which rocked supermarkets and some fast-food chains. "Everything is moving in Pret's direction, where customers want to know where their food has come from, that it is healthy and that it's fresh."
There has been criticism in the past over the large number of foreign workers hired by the company, potentially forcing British workers out of much-needed jobs.
But Mr Schlee believes this is unfair and said the problem is no more widespread at Pret than anywhere else: "I think it's totally unfair to say it's Pret-specific.
"If you go to any NHS hospital you'll find the same issue. The same is true at all the pubs and catering firms. Pret has been mentioned, but maybe it's because people have more interaction with our staff?
"I wish the British would apply more, because they get good opportunities and it's a good career."
And unlike rival fast-food businesses that use zero hours contracts for the vast majority of their staff, Pret does not use the contracts, preferring to give staff the security of set hours each week.
The company, which is owned by private equity firm Bridgepoint, also has its business registered in the UK, rather than using complicated webs of off-shore companies to avoid paying tax.
And although it was once part-owned by McDonald's, it seems the company has global ambitions that could match the mighty golden arches – but built in a far more British way.
Fancy a free coffee? Smile, smile, smile
Pret a Manger customers who have ever wondered why the sandwich chain does not have a loyalty card for its hoards of loyal patrons can now rest easy.
According to Clive Schlee, its chief executive, all that is required to get a free coffee is a smile, some eye-contact and maybe a little bit of flirting: staff have the power to hand out freebies to their favourite customers.
"We looked at loyalty cards but we didn't want to spend all that money building up some complicated Clubcard-style analysis," he says.
"Instead the staff have to give away a certain number of hot drinks and food every week. They will decide 'I like the person on the bicycle' or 'I like the guy in that tie' or 'I fancy that girl or that boy'.
"It means 28 per cent of people have had something free. It's a nice, different way of doing it."
Register for free to continue reading
Registration is a free and easy way to support our truly independent journalism
By registering, you will also enjoy limited access to Premium articles, exclusive newsletters, commenting, and virtual events with our leading journalists
Already have an account? sign in
Register for free to continue reading
Registration is a free and easy way to support our truly independent journalism
By registering, you will also enjoy limited access to Premium articles, exclusive newsletters, commenting, and virtual events with our leading journalists
Already have an account? sign in
Join our new commenting forum
Join thought-provoking conversations, follow other Independent readers and see their replies