Damon Albarn suggests Sir Bob Geldof's Band Aid 30 patronises Africa: 'There are problems with our idea of charity'
"Our perspective and our idea of what helps and our idea what's wrong and right are not necessarily shared by other cultures," the Blur frontman said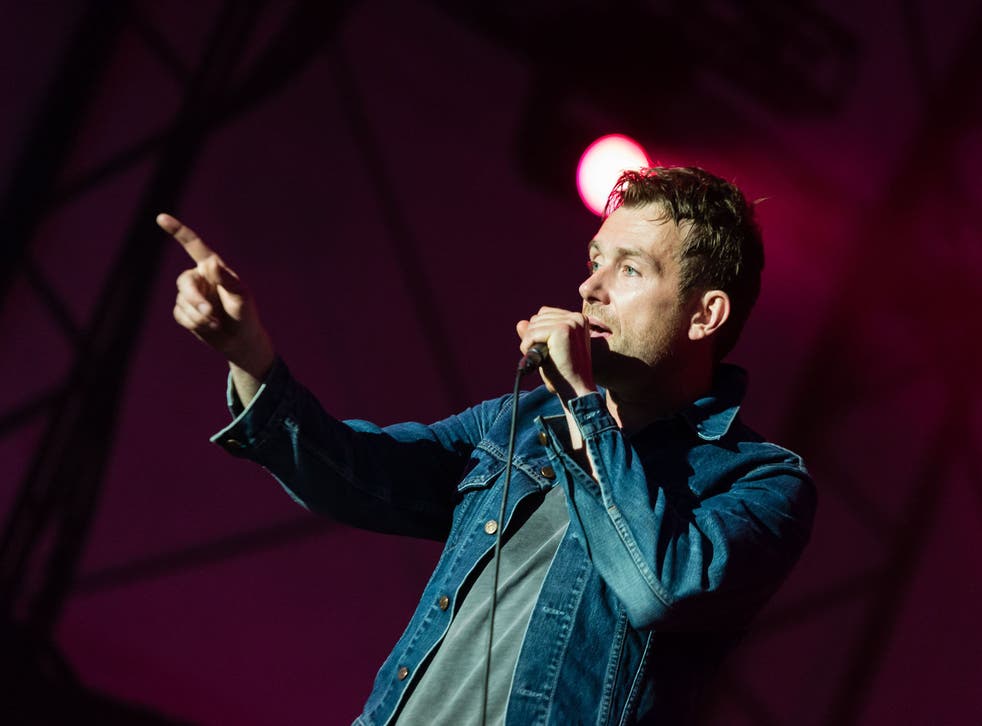 Damon Albarn has criticised Sir Bob Geldof's latest philanthropic project, aimed at raising money for Ebola in Africa – Band Aid 30.
The Boomtown Rats frontman has been busy rounding up the great and good of the British entertainment industry to join the line-up for the 30th anniversary edition of "Do They Know It's Christmas".
Ed Sheeran, One Direction, Rita Ora, Clean Bandit, Sinead O'Connor, Seal, Sam Smith, Roger Taylor, Jessie Ware, Olly Murs, Chris Martin, Bono, Bastille, Elbow, Paloma Faith and Angelique Kidjo are among those who have recorded lines for the charity single.
But not all agree that the fundraising initiative is the best way to tackle the deadly virus that has killed thousands in west Africa.
"Having been to many countries and gotten to know many people, it always seems that we have only one view of it," Albarn said during an interview with Channel 4 News this weekend.
"There's also this assumption that in Africa everyone knows what's going on.
In pictures: Band Aid 30 artists arrive to record

Show all 16
"Our perspective and our idea of what helps and our idea what's wrong and right are not necessarily shared by other cultures.
"There are problems with our idea of charity, especially these things that suddenly balloon out of nothing and then create a media frenzy where some of that essential communication is lost and it starts to feel like it's a process where if you give money you solve the problem, and really sometimes giving money creates another problem."
Of the artists who did record parts, the Blur frontman had this message ahead of his Royal Albert Hall show on Saturday: "All those people who are making that, taking that afternoon out of their schedules, go to Africa, experience it, feel that sense of magic and maybe have a different attitude to life when you come back."
Albarn's comments come after Sir Bob revealed that Adele had declined his invitation to take part.
"Adele is doing nothing," he told The Sun. "She's not answering the phone… She doesn't want to be bothered by anyone. She won't even pick up the phone to her manager. She's bringing up a family, you know. Some people just don't want to do it."
Her spokesperson has since denied Sir Bob's claims.
"Do They Know It's Christmas" was first released in 1984. The 30th anniversary edition has been modified to include references to how Ebola can be transmitted through contact with infected loved ones.
The contentious line "Well tonight thank God it's them instead of you", which Bono himself previously said he "really, really loathed", has been replaced with the lyrics "Well tonight we're reaching out and touching you".
The single was aired for the first time during the X Factor live results last night.
Register for free to continue reading
Registration is a free and easy way to support our truly independent journalism
By registering, you will also enjoy limited access to Premium articles, exclusive newsletters, commenting, and virtual events with our leading journalists
Already have an account? sign in
Register for free to continue reading
Registration is a free and easy way to support our truly independent journalism
By registering, you will also enjoy limited access to Premium articles, exclusive newsletters, commenting, and virtual events with our leading journalists
Already have an account? sign in
Join our new commenting forum
Join thought-provoking conversations, follow other Independent readers and see their replies