David Attenborough turned down Terry Wogan for TV job because he was Irish, BBC archives reveal
'To have had two Irishmen presenting on BBC2 would have looked ridiculous'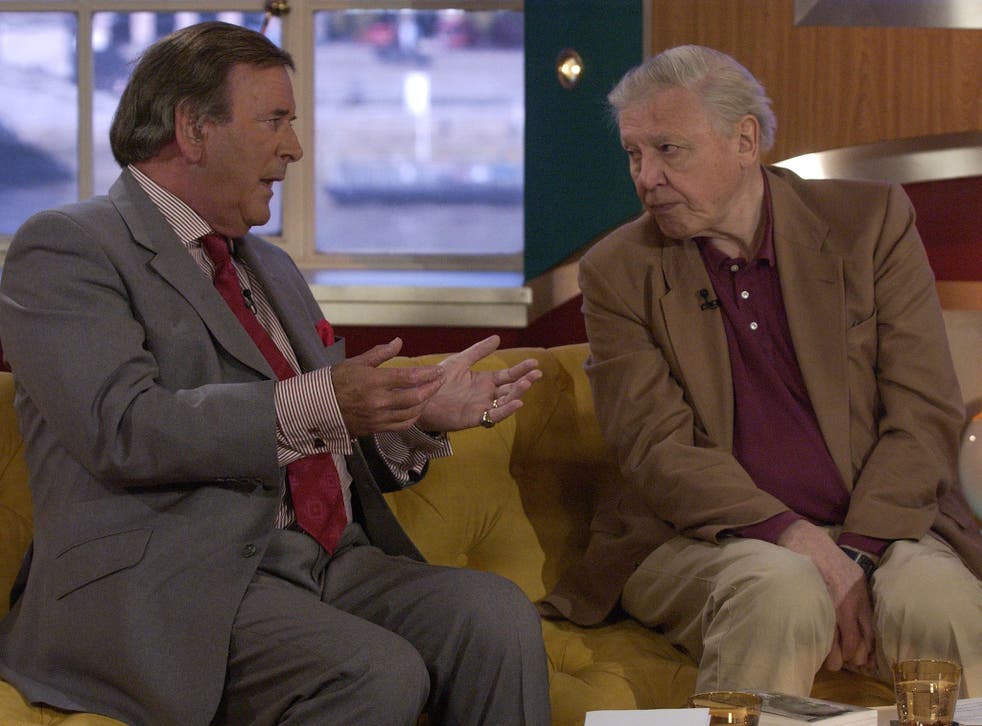 Terry Wogan was turned down for a television role on the fledgling BBC2 channel by David Attenborough because he was Irish, letters unearthed from the BBC Archive have revealed.
Sir David stood by his decision to reject a 1965 begging letter from Wogan, who died last week, because the new BBC2 channel already had one Irish presenter.
The letters exchange, reproduced in Radio Times, begins with Wogan writing a speculative letter to BBC2, which had just launched in 1964, when he was then working for the Irish broadcaster RTE.
When this approach was rebuffed, Wogan wrote directly to Attenborough, the BBC2 launch controller.
Wogan's letter, typed in 1965 on RTE notepaper, stated: "My reason for writing to you is simply ambition." It goes on to hope that Attenborough might be "receptive enough of new ideas and personalities" to take a chance with him.
He was again politely rejected since BBC2 already had an announcer from Dublin. Attenborough replied: "I'm afraid that at the moment we do not have any vacancies for anyone with your particular talents and experience – and as one of our chief announcers on BBC2 (Denis Tuohy of Late Night Line-Up) is also from Dublin… We would feel, other things being equal, that we should look for someone from a different part of the country [sic] if we were to make an additional appointment."
Sir David was amazed when Radio Times reminded him about the exchange. He said: "Good Lord! He wrote asking me for work? I don't remember this at all."
The natural history presenter recalled that he received more than 10,000 letters a year during his stint as a BBC executive. Though they met many times, the Irish presenter never once mentioned the rejection letter.
Sir David, 89, stood by the judgement call of his younger self: "I think it was a perfectly reasonable answer. To have had two Irishmen presenting on BBC2 would have looked ridiculous. This is no comment whatsoever on Terry Wogan's talents. It's just that I couldn't have had two Irish presenters."
With the BBC2 option closed off, Wogan pursued radio alternatives and, in 1966, was offered a job on the BBC Light Programme, presenting a show called Midday Spin.
Radio Times also uncovered a 1968 memo from BBC TV light entertainment producer Johnnie Stewart, who praised Wogan's "likeable personality." Stewart concluded that, at 29, Wogan was "still young enough to fit into most scenes other than pop…I think he would make a great all-rounder."
Sir Terry, who died from cancer aged 77, went on to enjoy an extensive BBC career, presenting Wake up to Wogan on BBC Radio 2 and the Wogan chat show on BBC One.
Register for free to continue reading
Registration is a free and easy way to support our truly independent journalism
By registering, you will also enjoy limited access to Premium articles, exclusive newsletters, commenting, and virtual events with our leading journalists
Already have an account? sign in
Register for free to continue reading
Registration is a free and easy way to support our truly independent journalism
By registering, you will also enjoy limited access to Premium articles, exclusive newsletters, commenting, and virtual events with our leading journalists
Already have an account? sign in
Join our new commenting forum
Join thought-provoking conversations, follow other Independent readers and see their replies