David Bowie death: Marilyn Manson and gender fluid stars pay tribute to the ultimate gender fluid icon
Bowie's influence is imprinted in modern day culture
Heather Saul
Tuesday 12 January 2016 14:54 Comments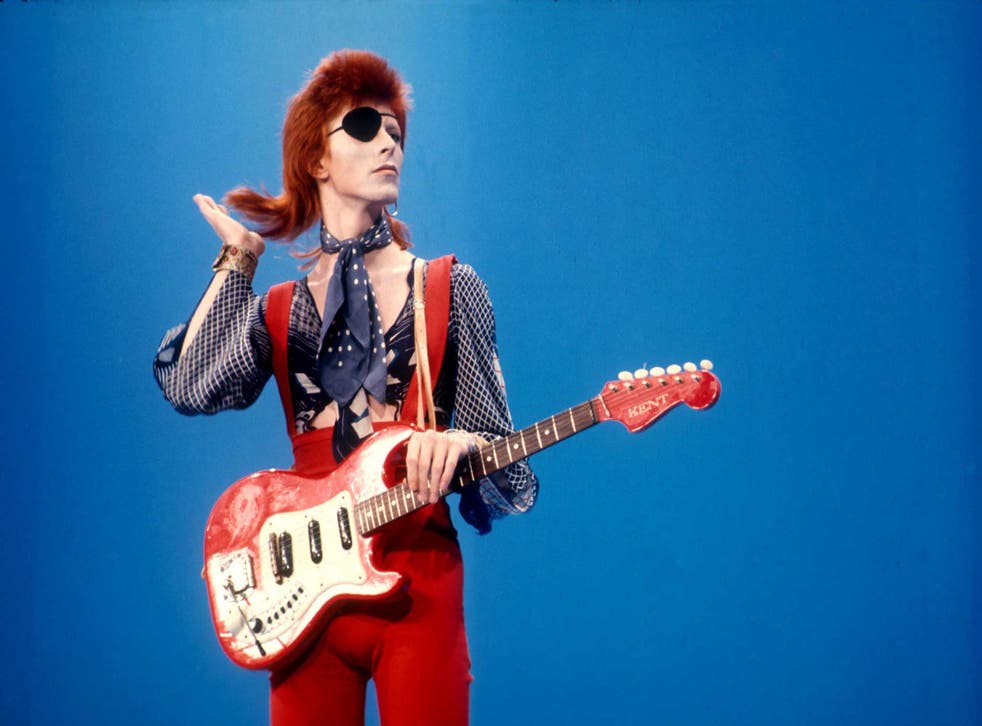 David Bowie was a pioneer in every sense, absolutely unique in his distinctive style and trailblazing art.
His arresting music videos, theatrical performances, pivotal songs, ever-changing appearances and memorable quotes have influenced the next generation of creatives, with many singers focusing their tributes to the late singer on the impact he had and continues to have on their own work.
Forty years before the gender fluid movement was championed by the likes of Ruby Rose, the iconic singer was also flying the flag for the non-binary movement with dramatic make-up, signature glitter and flamboyant clothes.
In a brief but evocative editorial for Rolling Stone magazine, Marilyn Manson credited Bowie with changing his life forever and described the moment Bowie first "confused and captivated" him on MTV.
"Every song of his was a way for me to communicate to others," the singer wrote. "It was a sedative. An arousal. A love letter I could never have written.
"I don't need hope to know that he has found his way to the place that equals his untouchable, chameleon-genius beauty. The black star in space, that only HE belongs.
David Bowie: Life in pictures

Show all 30
The transgender supermodel Andreja Pejic shared an image of her with Bowie and Tilda Swinton from his video for 'The Stars Are Out Tonight' in her own tribute on Instagram.
Pejic, who announced her transition in 2014, became a gender fluid icon after being scouted by an agency as a teenager. She thanked Bowie for breaking boundaries decades ago with transgressive, non-conformist work.
"Rest in peace you beautiful, inspirational, talented legend and soul," she wrote in a caption alongside the picture. "Thank you for gracing this world with your presence. Thank you for breaking down so many barriers and producing music that will live on forever. Above is a photo from the music video I shot for Bowie "The Stars (Are Out Tonight)" from his second last album. He was incredibly sweet and supportive. I will forever count this as one of my all-time greatest modeling gigs. #DavidBowie #NothingCompares."
Rose, an advocate for the gender fluid movement who produced a short film about identifying as neither exclusively male or female, shared an image of the cartoon she had projected on the night before his death with the Bowie lightning stripe across it.
"This was taken last night at my gig," the Orange is the New Black actress wrote. "He was such an icon... There is no other like him and there likely never will be. Big inspiration for me growing up. RIP David Bowie .. The world is a less bright without you in it."
The LGBT charity Stonewall praised Bowie for promoting LGBT issues throughout his life, telling The Independent: "Bowie was a vibrant and visible icon who has done so much for the lesbian, gay, bi and trans community in both his art and his actions. Our thoughts are with the Spaceman's loved ones."
Register for free to continue reading
Registration is a free and easy way to support our truly independent journalism
By registering, you will also enjoy limited access to Premium articles, exclusive newsletters, commenting, and virtual events with our leading journalists
Already have an account? sign in
Join our new commenting forum
Join thought-provoking conversations, follow other Independent readers and see their replies