David Bowie: 'He would regard death as a fresh challenge'
The message contained in his last album is obvious to all who knew him personally and to everyone who loved him
Mary Finnigan
Tuesday 12 January 2016 00:35 Comments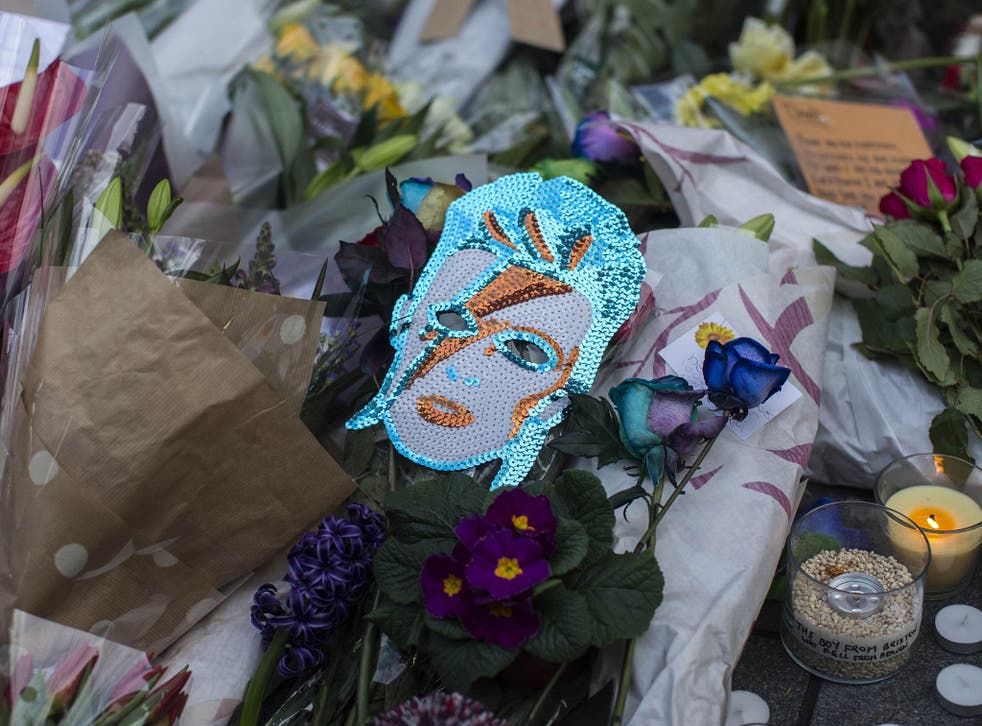 Slowly emerging from sleep with the Today programme, suddenly I am galvanised awake. David Bowie is dead. Four days after the release of his latest album Blackstar and four days after the publication of my book Psychedelic Suburbia, a celebration of the time David and I spent together in the London suburb of Beckenham.
After the initial shock, I burst into tears as a wave of mixed emotions overwhelmed me. Grief, nostalgia, regret and bewilderment – especially bewilderment, when I realise that he died of cancer, because I am a cancer survivor. I won a reprieve from the disease that strikes such dread when you see the doctor's face and hear the words "I'm afraid I have bad news for you".
The David I knew would almost certainly have taken it in his stride – a shrug perhaps, followed by the inevitable questions about survival chances. But he would not regard death as anything other than a fresh challenge. He might have been curious and re-read The Tibetan Book of the Dead to get a steer on what was coming. And of course he set about writing Blackstar.
He knew it would be his last and, now we know this, the message it contains is painfully obvious to all who knew him personally and to everyone who loved him.
I loved him – almost from the moment we swallowed a teaspoonful each from my bottle of tincture of cannabis in April 1969. We talked late into the night and a couple of days later he moved into my home in Beckenham, sharing it with me and my two children. He was supposed to be our lodger, but we never observed lodger-landlady conventions. I responded enthusiastically to an elegantly staged seduction a couple of days after he moved in.
From then onwards we led inter-locking lives. We opened a folk club together, which morphed into an arts lab and a great flowering of creative expression followed, from the young people of south London. This summer of love, music and art peaked on 16 August 1969 with The Beckenham Arts Lab's Free Festival. Then, almost as soon as it had begun, this slice of social history was over.
David had a lifelong interest in Tibetan Buddhism. He introduced me to this arcane tradition, which has been of great value to me ever since. It includes a firm conviction that there is a lot more to consciousness than this one life. David and I both knew that when it was all over this time around, there would be something else. His path was to give pleasure to millions for more than 50 years, so I think he has notched up some karmic brownie points.
I am profoundly sad at his passing, but also optimistic that he will have a smooth passage through the after-death state and an auspicious re-birth.
Mary Finnigan is author of 'Psychedelic Suburbia: David Bowie and the Beckenham Arts Lab' (£14.95, Jorvik Press)
Register for free to continue reading
Registration is a free and easy way to support our truly independent journalism
By registering, you will also enjoy limited access to Premium articles, exclusive newsletters, commenting, and virtual events with our leading journalists
Already have an account? sign in
Register for free to continue reading
Registration is a free and easy way to support our truly independent journalism
By registering, you will also enjoy limited access to Premium articles, exclusive newsletters, commenting, and virtual events with our leading journalists
Already have an account? sign in
Join our new commenting forum
Join thought-provoking conversations, follow other Independent readers and see their replies