David Cameron on London Grammar: Music world cringes as the PM ruins another band's credibility by claiming to be a fan
This minimalist pop trio found themselves the unfortunate victims of the Prime Minister's latest attempt to appeal to young voters
Jenn Selby
,
Adam Sherwin
Tuesday 08 April 2014 09:59 Comments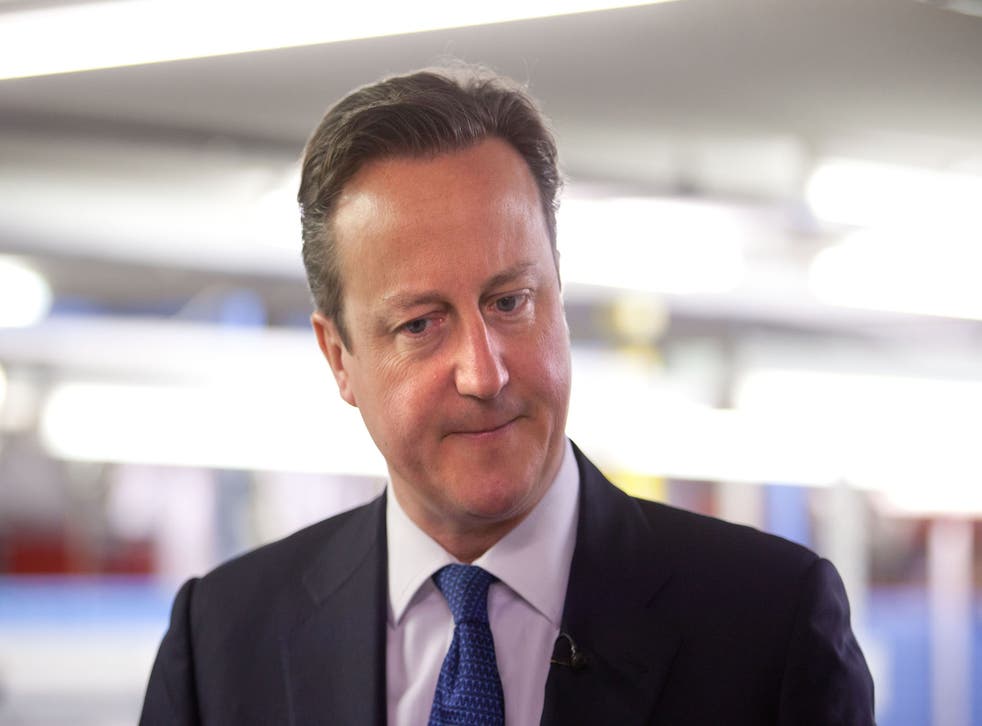 Few things signal the death of a band's credibility like David Cameron claiming to be a fan.
Commiserations, therefore, to London Grammar – the minimalist pop trio who have found themselves the unfortunate victims of the Prime Minister's latest attempt to appeal to young voters.
The PM spoke to the Evening Standard at a special gig at the US Ambassador's residence in Regent's Park, where, equally cringe-worthingly, he sang along to Ed Sheeran with Newsnight editor Ian Katz, British Vogue's Alexandra Shulman and fashion designer Tom Ford.
Asked who he would choose if he were to compile his own bill to showcase British music in the United States, he said: "Well, when we had the White House dinner in Washington we had Mumford and Sons, which was great because it was before their album got really big."
"But who I really like right now is London Grammar. I think they are brilliant. So if I could do it again I'd have them."
Separated At Birth: Famous Look-A-Likes

Show all 38
The band themselves, who released their debut album If You Wait last autumn, have so far – and probably wisely – stayed silent on what they think of the PM's commendation.
However, Jazz Summers, London Grammar's manager, said they would not sneer at the Prime Minister's support.
"I can't speak for their political persuasions but when someone like the Prime Minister is excited about your band they probably all should be delighted by that.
"If David Cameron wants to arrange for them to play a gig at the White House that would be great. They are playing Washington DC next week so we will put President Obama on the guest list."
Unlike the time Cameron publicly exclaimed himself a fan of The Smiths, a statement that promptly found him "banned" from listening to the band by guitarist Johnny Marr.
"Stop saying that you like the Smiths," Marr said at the time. "No you don't."
Meanwhile, Morrissey felt compelled to write an 11-paragraph diatribe of vegetarian vitriol on the subject matter.
"I would like to, if I may, offer support to Johnny Marr who has spoken out to the media this week against David Cameron," it read. "David Cameron hunts and shoots and kills stags – apparently for pleasure. It was not for such people that either "Meat Is Murder" or "The Queen Is Dead" were recorded; in fact, they were made as a reaction against such violence."
Paul Weller was similarly unimpressed when Cameron told a reporter that he was a fan of The Jam, listing 1979 track "The Eton Rifles" among his favourite tunes.
"Which part of it doesn't he (Cameron) get? It wasn't intended as a f***ing jolly drinking song for the cadet corps," Weller told The New Statesman back in 2008.
In other mildly embarrassing news regarding Cameron's listening habits, he recently confessed to "sneaking into" First Aid Kit gigs at Shepherd's Bush Empire.
"I've got into a bit of a countryish thing," he said. "We've been to a couple of things there [at the Shepherd's Bush Empire]. We sneaked in; there's quite a good way of sneaking in there."
At the end of 2012, Cameron also bizarrely named Mumford & Sons' album Babel as his favourite Christmas song.
Seemingly confused by The Spectator's relatively straight-forward question, he answered: "Although it's been out all year I really love the Mumford & Sons album, 'Babel'. It's driving Samantha mad. You know what it's like when you overplay something and it's even beginning to annoy you, and it's annoyed everyone else in the family."
Register for free to continue reading
Registration is a free and easy way to support our truly independent journalism
By registering, you will also enjoy limited access to Premium articles, exclusive newsletters, commenting, and virtual events with our leading journalists
Already have an account? sign in
Join our new commenting forum
Join thought-provoking conversations, follow other Independent readers and see their replies