Dennis Rodman: 'Kim Jong-un did not have his uncle and ex-girlfriend executed'
The retired professional basketball player said the pair were 'standing right behind me' when he visited North Korea
Antonia Molloy Comments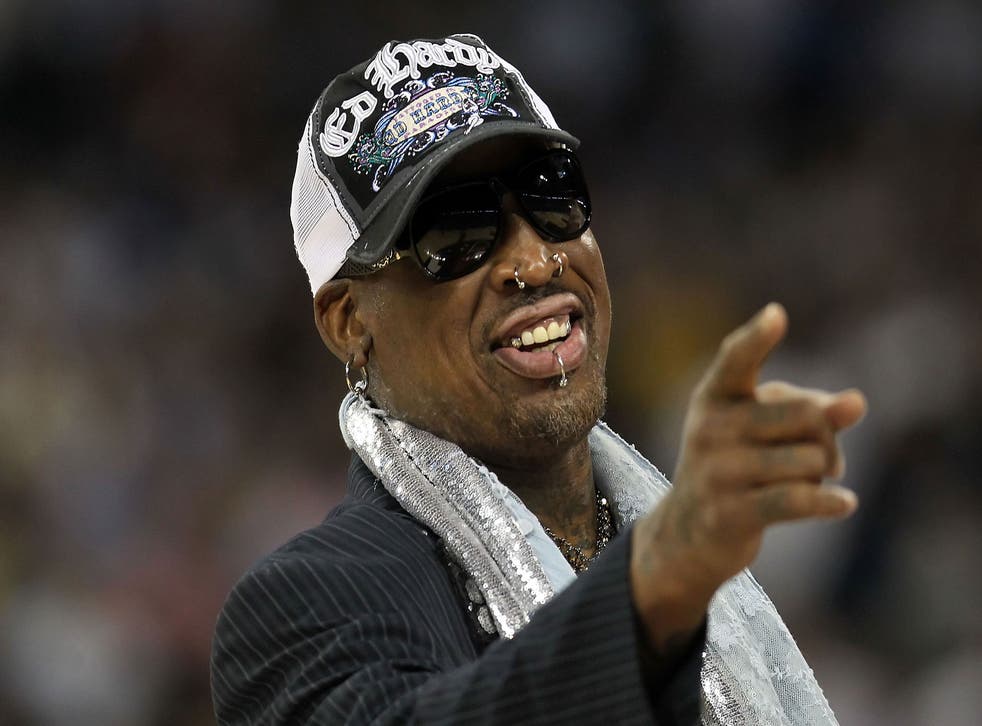 Dennis Rodman has countered reports that North Korean dictator Kim Jong-un had his ex-girlfriend and uncle killed.
In an interview with DuJour, the retired professional basketball player said both of Kim Jong-un's supposed victims were "standing right behind me" during his visit to the country in January.
Rodman said: "You could say anything here about North Korea and people would believe it. The last time I went there, when they said they killed his girlfriend, they killed his uncle, they just fed him to the dogs… They were standing right behind me."
Pyongyang announced the sacking of 67-year-old Jang Song Thaek, Kim Jong-un's uncle and second in command, in December.
Just four days later, Jang was tried for treason by a special military tribunal and executed, according to North Korea's state-run news agency.
The Korean Central News Agency (KCNA) listed a series of "crimes" committed by the "corrupt and degenerate" Jang; it reported that he confessed to these and the death sentence was immediately carried out. It is not known how he was executed.
Later, uncorroborated reports said that the communist regime had gone on to brutally purge all direct relatives of the "traitor" uncle, including his sons and grandchildren.
In August last year, it was widely reported that Hyon Song-wol, a pop singer and Kim Jong-un's former lover, had been executed by machine gun.
But Rodman insisted the killings had not happened.
In pictures: Kim Jong-un on tour

Show all 7
The NBA basketball player, who said he has visited North Korea six times and describes its leader a "friend for life", defended the hermit kingdom against Western hostility.
"I've never told this to anyone, but the last time I was there, they just came out and started saying stuff about what they want from Americans. How they want to rewrite the peace treaty, they want us to get the ships out of South Korea. He's (Kim Jong-un) saying the reason why they have the nuclear bombs is because they know that Americans think they can take over," Rodman said.
"He says, 'I don't want to bomb anyone. But we keep our nuclear weapons because we're such a small country - that's the only way we can defend ourselves.' They just want people in America and the government to know they don't hate Americans. They want to work with Americans. They just want them to abide by the agreement that they wrote up years ago."
Rodman even went so far as to say that Kim Jong-un "loves Americans".
And asked about the country's notorious labour camps, he said: "You name any country in the world… Which country does not have that s***? Every country has that."
Rodman suggested that Kim Jong-un is working for his "people" and that his rule is more progressive than that of his father and grandfather.
But he acknowledged that his relationship with North Korea is controversial.
He said: "When I go there, it's going to be a problem coming back. Because they [the American government] could actually stop me from coming back. They could actually pull my passport. They already told me that. They're afraid of me because I know so much."
Register for free to continue reading
Registration is a free and easy way to support our truly independent journalism
By registering, you will also enjoy limited access to Premium articles, exclusive newsletters, commenting, and virtual events with our leading journalists
Already have an account? sign in
Join our new commenting forum
Join thought-provoking conversations, follow other Independent readers and see their replies