Dolores O'Riordan arrested: Former The Cranberries singer detained for allegedly assaulting air hostess
She was taken from the airport to Shannon Garda station, where she was held for 24 hours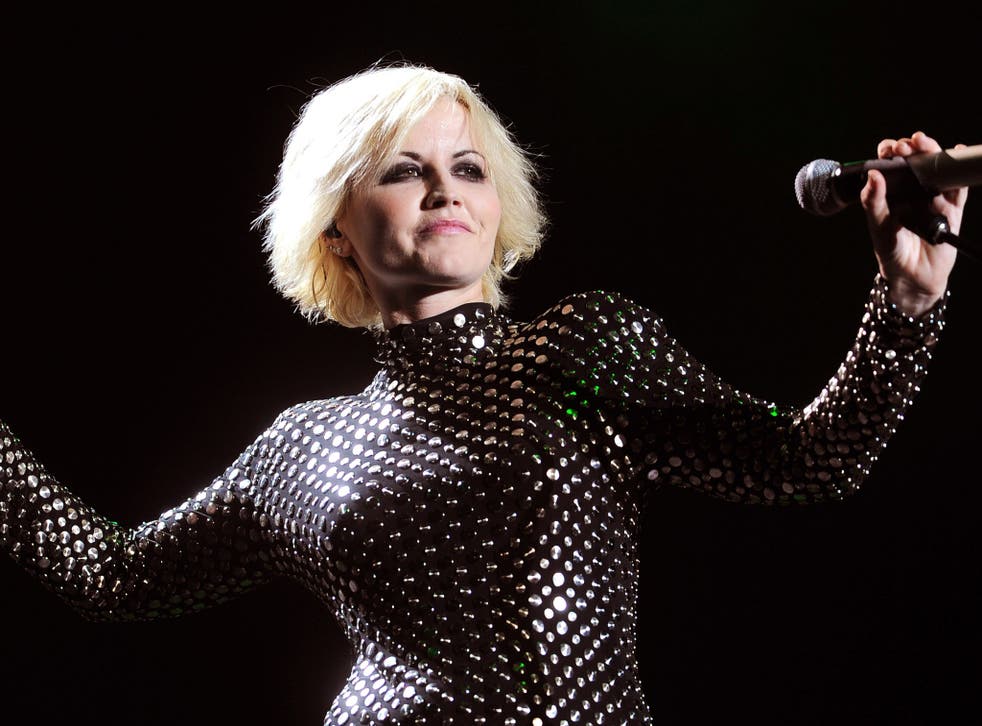 "I'm sure I'm not being rude, but it's just your attitude…it's ruining everything," sang Dolores O'Riordan on The Cranberries' 1993 hit single "Linger".
The words, originally directed at an unfaithful lover, carried a different significance yesterday after the Irish frontwoman was arrested for the alleged double assault of an air stewardess and a police officer on board a transatlantic flight from New York.
O'Riordan, 43, who has been listed as among the 10 richest women in Ireland thanks to her commercial success with the Cranberries, allegedly stamped on the female flight attendant's foot before headbutting a garda [police officer] who had been sent to pacify her, and spitting in his face, it has been reported locally.
The alleged air rage incident took place on Aer Lingus flight EI 110 from New York, which touched down at Ireland's Shannon Airport at 4.47am this morning. Shortly before the plane came into land, Ms O'Riordan – who was sitting in the business class section of the aircraft – was said to have become disruptive.
After landing, it was claimed that the singer left her seat and lashed out at the air stewardess when she told her to sit down. Gardai met the plane at the terminal after the pilot radioed ahead for assistance – but as they placed Ms O'Riordan under arrest, it is alleged that she headbutted one of the officers and spat in his face.
"I was in sitting in economy with my husband and heard the commotion in business class," an eyewitness told the Irish Independent. "There was a woman standing up and she was shouting. It was about 20 minutes before landing.
"It quietened down for a while and after landing it started again… When the front door was opened, some people in hi-vis jackets got on and the curtains between business and economy were closed. We could still hear the commotion.
"The curtains were opened a few times and at one stage we saw the woman thumping the ceiling of the plane. She was roaring at the cabin crew and at one stage I heard her say 'I pay my taxes'."
The air hostess was taken to the Mid-West Regional Hospital in Limerick for treatment, but the garda did not require medical attention.
Ms O'Riordan, from Limerick, was detained under section four of the Criminal Justice Act and was being questioned on allegations of assault at Shannon Garda Station, where she may be held for up to 24 hours. Her representatives did not respond to a request for comment.
Irish police confirmed that a woman in her 40s had been arrested. "Gardai were called to meet the aircraft following an allegation of an assault on a female Aer Lingus air hostess. A Garda was also assaulted during the course of the arrest," a spokesman said.
A spokesman for Aer Lingus added: "An incident took place on board flight EI 110 en route from New York to Shannon today. The matter is being investigated by An Garda Siochana. As this is a security matter we will not comment any further."
Ms O'Riordan, who joined the Cranberries at the age of 18 and is now married with three children, appeared as a mentor on the Irish television series The Voice of Ireland earlier this year. In an interview with The Independent in 2009, she said she had left her wild days behind her and was in a "peace-and-love kind of place".
Rock stars misbehaving on planes
Peter Buck
The REM guitarist was accused of going on a drunken rampage on board a British Airways plane in 2001, spraying flight attendants with yoghurt, breaking plates and assaulting stewards. He was cleared by a jury the following year after claiming that a sleeping pill he had taken had reacted with alcohol, turning him into a "non-insane automaton".
Ian Brown
In 1998 the Stone Roses frontman was jailed for four months after threatening to chop off the hands of a British Airways stewardess on his flight from Paris to Manchester. The singer, who later claimed he thought she had directed a "dismissive gesture" at him, also hammered on the pilot's cockpit door as he was trying to land the plane.
Liam Gallagher
The Oasis singer was banned from flying on all Cathay Pacific planes in 1998 after he and some of his band mates were accused of smoking, swearing and throwing objects at staff and other passengers during a flight from Hong Kong to Perth, Australia. During the flight, the desperate captain threatened to divert the plane and force the band and their 30-member entourage to get off.
Register for free to continue reading
Registration is a free and easy way to support our truly independent journalism
By registering, you will also enjoy limited access to Premium articles, exclusive newsletters, commenting, and virtual events with our leading journalists
Already have an account? sign in