Donald Trump says Berlin attack 'purely religious threat' and urges US to fight back
US President-elect 'appears to have been adopting the false Isis worldview of a clash between Islam and the West', Council on American–Islamic Relations says
Andrew Buncombe
Minneapolis
Friday 23 December 2016 22:54 Comments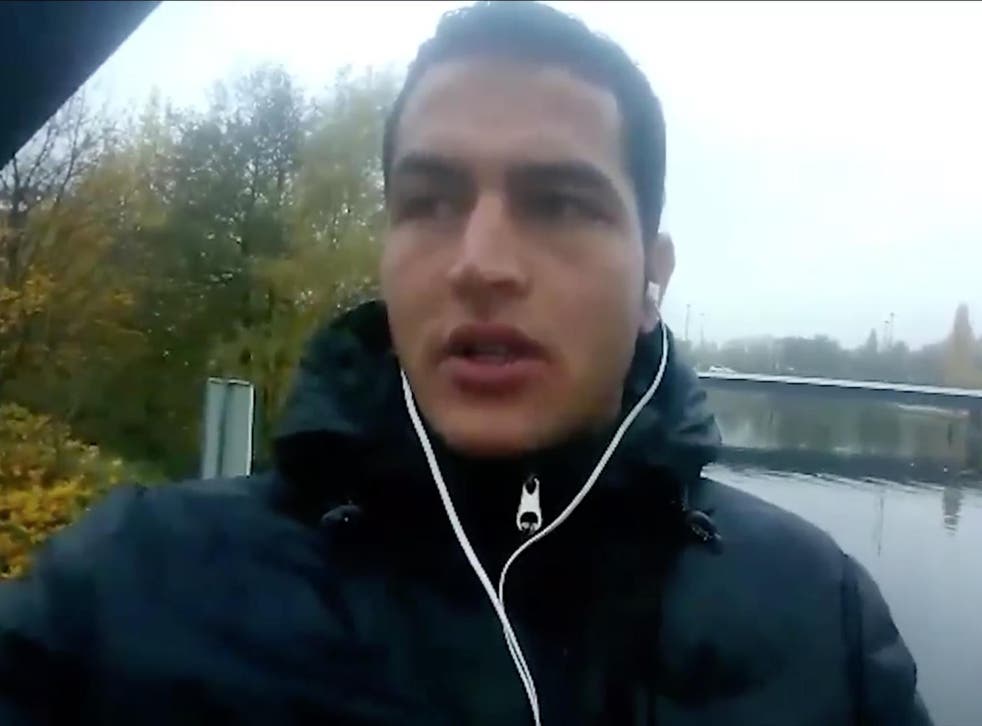 Donald Trump has stormed into fresh controversy over the deadly attack in Berlin - saying it was a purely religious attack and asking when "will the US and all countries fight back".
In language that sought to position the effort against radical extremism in religious terms, Mr Trump referred to a video in which the Tunisian man suspected of the attack had vowed to "slaughter you pigs".
"This is a purely religious threat, which turned into reality. Such hatred," Mr Trump said in two tweets on Friday afternoon.
"When will the US, and all countries, fight back?"
During the election campaign, the 70-year-old repeatedly criticised President Barack Obama and Hillary Clinton for what he claimed was a refusal to use the phrase "radical Islam".
While Ms Clinton eventually used the phrase, Mr Obama said that while it was correct to talk of the fight against radical extremism, labelling a religion as "extremist", threatened to undermine such efforts by insulting those communities required to help in the battle.
Indeed, critics of Mr Trump's latest comments said that his remarks were very dangerous.
Ibrahim Hooper, a spokesman for the Washington-based Council on American–Islamic Relations, told The Independent: "During his entire campaign and pending presidency, he appears to have been adopting the false Isis worldview of a clash between Islam and the West.
"This feeds into their narrative and should be avoided by any sensible elected official."
Donald Trump says 'let it be an arms race' after nuclear expansion tweet
Twelve people were killed and more than fifty injured earlier this week when a truck was driven through a Christmas market in Berlin. The man suspected of carrying out the attack, Anis Amri, 24, was shot dead in Milan in a clash with police.
His mother, Nour El Houda Hassani, told reporters in Tunisia that she wanted to know who had been "behind him" but feared they would never know. "Within him is a great secret. They killed him and buried the secret with him," she said.
Earlier this week, Mr Trump called the assault in the German capital "an attack on humanity".
Speaking in Florida, where he is spending the Christmas holidays, the President-elect told media gathered at his Mar-a-Lago residence: "It's an attack on humanity. That's what it is, it's an attack on humanity and it's got to be stopped."
In a written statement on Monday issued in the wake of the attack, he said that "Isis and other Islamist terrorists continually slaughter Christians in their communities and places of worship as part of their global jihad".
CNN said that during the election campaign Mr Trump frequently highlighted attacks on Christians in the Middle East and called for a ban on Muslims from entering the US as a response.
He did so partly to cement his position among evangelical Christians. He has since called for a ban on individuals from terrorist-prone countries and has called for "extreme vetting",
Asked on Wednesday if the Berlin attack caused him to re-evaluate his ban, Mr Trump said: "You've known my plans all along and it's, they've proven to be right, 100 per cent correct. What;s happening is disgraceful."
Register for free to continue reading
Registration is a free and easy way to support our truly independent journalism
By registering, you will also enjoy limited access to Premium articles, exclusive newsletters, commenting, and virtual events with our leading journalists
Already have an account? sign in
Join our new commenting forum
Join thought-provoking conversations, follow other Independent readers and see their replies