Donald Trump's campaign co-chair who told Michelle Obama to go live with a gorilla in Africa refuses to resign
The property developer also previously said he hoped Barack Obama would die from mad cow disease
Maya Oppenheim
Friday 30 December 2016 14:28 Comments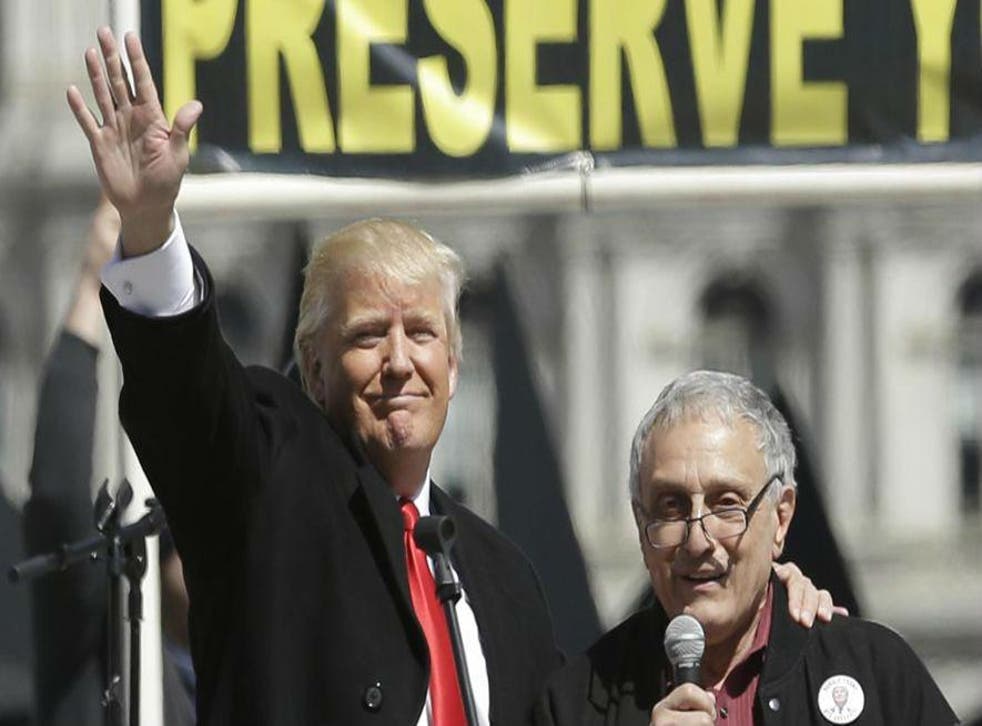 The co-chairman of Donald Trump's New York campaign, who said he hoped Barack Obama would die of mad cow disease and Michelle Obama would move to Africa and live in a cave with a gorilla, has said he will not resign from the Buffalo school board.
Despite the fact the Buffalo Board of Education voted to remove Carl Paladino, a New York developer and leading supporter of Mr Trump, on Thursday, he has said he will not be standing down.
The board voted 6-2 for a resolution to remove Paladino, the ninth member, if he did not resign within 24 hours.
Mr Paladino, a former Tea Party star, was accused of racism for his response to a local newspaper's questionnaire about what he would like to see happen in 2017.
"[Barack] Obama catches mad cow disease after being caught having relations with a Her[e]ford," he said.
"He dies before his trial and is buried in a cow pasture next to [senior Obama adviser] Valerie Jarret[t], who died weeks prior, after being convicted of sedition and treason, when a Jihady [sic] cell mate mistook her for being a nice person and decapitated her."
Trump and Putin passionately kiss in street mural

Show all 14
Referring to Michelle Obama, he said: "I'd like her to return to being a male and let loose in the outback of Zimbabwe where she lives comfortably in a cave with Maxie, the gorilla."
Mr Paladino issued a statement four days after the remarks appeared. He apologised for the comments but condemned his critics who he described as "attacking parasites" and he suggested Mr Obama was "a traitor to American values."
The property developer said he had not intended for the comments to be published but admitted they were "inappropriate under any circumstance". He also insisted he was "not a racist".
In the Buffalo school board meeting, which was broadcast online, some board members accused Mr Paladino of acting like a bully and making comments which would not be permitted from pupils.
"Mr Paladino took an oath to ensure that students are afforded an environment which is free from fear and respects diversity within the school district and the community," the resolution reads.
According to the resolution, more than 70 percent of the district is non-white.
Mr Paladino told a radio station on Wednesday that he would not leave the board voluntarily. "I'm the agent of change. I'm the guy that exposed the underbelly of their corrupt and dysfunctional school system, and they want me gone from the scene," he said in the interview.
This is by no means the first time Mr Paladino has found himself at the centre of controversy. During his unsuccessful 2010 run for governor, emails that he had forwarded presenting Ms Obama as a prostitute were leaked.
A representative for Mr Trump did not immediately respond to request for comment but USA Today reported that Trump's transition team has called Paladino's recent comments "absolutely reprehensible".
Register for free to continue reading
Registration is a free and easy way to support our truly independent journalism
By registering, you will also enjoy limited access to Premium articles, exclusive newsletters, commenting, and virtual events with our leading journalists
Already have an account? sign in
Join our new commenting forum
Join thought-provoking conversations, follow other Independent readers and see their replies