Donald Trump claims he had 'no idea' New York Times reporter Serge Kovaleski was disabled after mocking him in speech
The leading Republican Presidential candidate has been criticised for appearing to mimic the reporter's disability 
Lizzie Dearden
Thursday 26 November 2015 22:31 Comments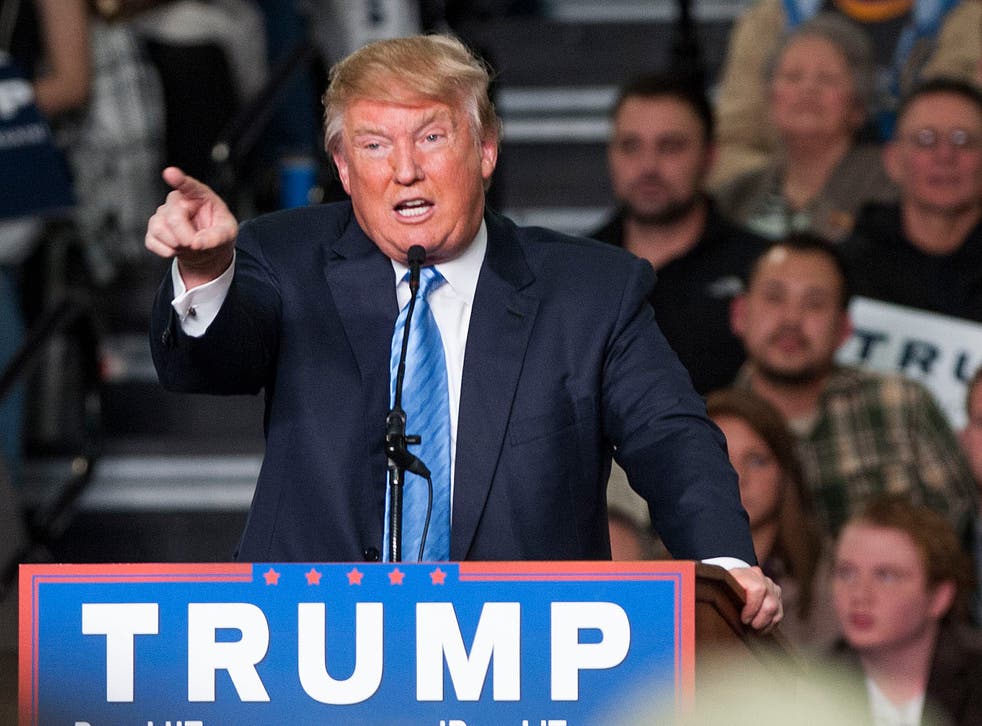 Donald Trump has claimed he has "no idea" what the disabled New York Times reporter he mocked in front of thousands of supporters looks like amid a storm of criticism.
The Republican presidential frontrunner is no stranger to controversy but defended himself today after appearing to mimic culture and investigative reporter Serge Kovaleski during a rally in South Carolina on Tuesday.
Mr Trump released a statement saying he has "no idea" what the journalist looks like, that he was disabled, "or his level of intelligence".
Trump mocks reporter with disability
"In my speech before over 10,000 in Myrtle Beach, SC, I merely mimicked what I thought would be a flustered reporter trying to get out of a statement he made long ago," he said.
"If Mr Kovaleski is handicapped, I would not know because I do not know what he looks like.
"If I did know, I would definitely not say anything about his appearance. I have tremendous respect for people who are physically challenged."
The millionaire entrepreneur had been defending his previous claim that "thousands of Muslims" celebrated the 9/11 terror attacks in New Jersey when he targeted Mr Kovaleski, who suffers from arthrogryposis, a congenital condition affecting joint movement.
Mr Trump cited a paragraph from the journalist's 2001 article in the Washington Post that claimed authorities detained "a number of people who were allegedly seen celebrating the attacks" within hours of the planes crashing into the World Trade Centre.
This claim has reportedly since been discredited by government and law officials and Mr Kovaleski told CNN he did not recall anyone talking about numbers in the hundreds or thousands.
"That was not the case, as best as I can remember it," he added.
Referencing those comments, Mr Trump jerked his arms and hands while telling supporters: "The poor guy. You've got to see this guy. Ah, I don't remember what I said! I don't remember!"
Donald Trump's most controversial quotes

Show all 14
The New York Times labelled the politician's behaviour "outrageous" and Mr Trump was widely criticised on social media and a petition was started demanding he formally apologise.
But he hit back with a slew of angry tweets aimed at the paper, while saying that Mr Kovaleski "should stop using his disability to grandstand and get back to reporting for a paper that is rapidly going down the tubes".
"Somebody at the financially failing and totally biased New York Times said that, over the years, I have met Mr Kovaleski," Mr Trump said in his Thanksgiving statement.
"Despite having one of the all-time great memories I certainly do not remember him."
The candidate, who is well ahead of his fellow Republican contenders in recent national polls, also stuck by his claims of Muslims celebrating 9/11 in New Jersey, saying he had received "tweets from people that said I was right".
Register for free to continue reading
Registration is a free and easy way to support our truly independent journalism
By registering, you will also enjoy limited access to Premium articles, exclusive newsletters, commenting, and virtual events with our leading journalists
Already have an account? sign in
Join our new commenting forum
Join thought-provoking conversations, follow other Independent readers and see their replies