Donald Trump denies 'paying actors' to cheer at announcement of Republican presidential bid
US tycoon announced his bid earlier this week
Rose Troup Buchanan
Thursday 18 June 2015 18:17 Comments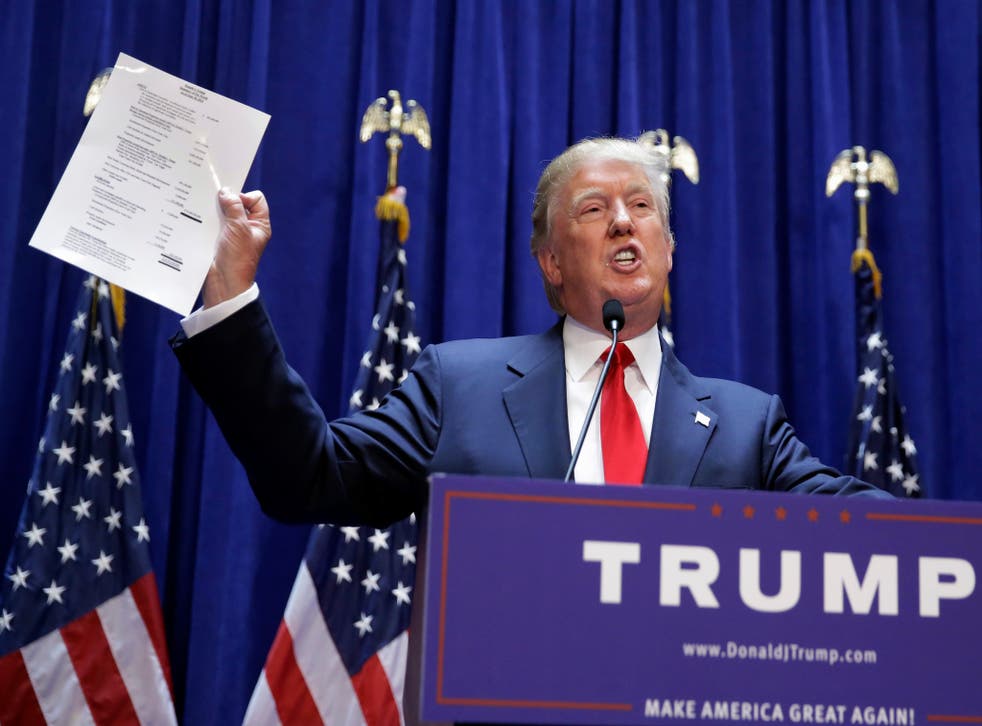 Republican hopeful and billionaire Donald Trump has denied paying actors $50 to cheer as he announced his bid for president.
The 69-year-old controversial US tycoon announced his bid earlier this week.
Sliding down a banister, accompanied by Neil Young's "Rockin' in the Free World," Trump was greeted by a number of cheering supporters – but reportedly they weren't exactly fans.
A 12 June casting letter allegedly asked for people, wearing campaign t-shirts and carrying signs (some of which were later photographed in a bin after the event), to "help cheer" Trump's announcement.
"We understand this is not a traditional "background job," but we believe acting comes in all forms and this is inclusive of that school of thought," the email from Extra Mile NYC casting went on to claim, according to The Hollywood Reporter.
The call, which listed payment as "$50 CASH at the end of the event", was made in conjunction with Gotham Government Relations and Communications, a US political consultancy firm based in New York.
Suspicions were first raised after anti-Trump activist Angelo Carusone claimed to have spotted two known paid actors at the event in a (now deleted) Instagram post.
Republican presidential nominations

Show all 9
Trump's campaign manager Corey Lewandowski flatly denied the claims.
"Mr. Trump draws record crowds at almost every venue at which he is a featured speaker," he told The Hollywood Report.
Lewandowski, who claimed he had never heard of Extra Mile NYC casting agency, added that the crowds at Trump's speaking were "often record-setting and enthusiastic".
Extra Mile NYC did not return request for comment.
Register for free to continue reading
Registration is a free and easy way to support our truly independent journalism
By registering, you will also enjoy limited access to Premium articles, exclusive newsletters, commenting, and virtual events with our leading journalists
Already have an account? sign in
Join our new commenting forum
Join thought-provoking conversations, follow other Independent readers and see their replies