Donald Trump Jr argues his father's sexual assault comments are a 'fact of life'
'I think we probably all know guys who have had conversations with other guys that go a little bit in that direction,' says the Republican's oldest son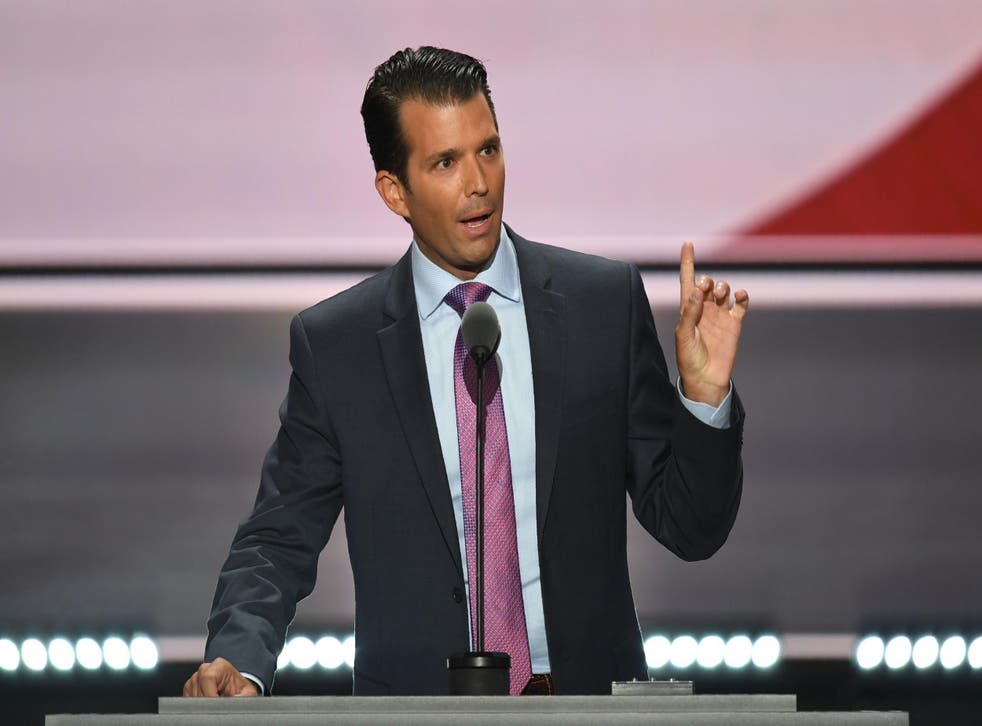 Donald Trump Jr has claimed his father's comments about "grabbing" woman by the "p***y" are typical among some men and are "a fact of life".
To the dismay of fellow Republicans and the wider world, two weeks ago a leaked tape from 2005 surfaced in which Donald Trump could be heard bragging about groping and making unwanted advances on women.
Appearing on KIRO radio's Dori Monson Show, the Republican presidential candidate's first child argued most men had heard similar conversations in their time.
"Obviously he's not happy about that, but I think we probably all know guys who have had conversations with other guys that go a little bit in that direction, that's a fact of life," Donald Trump Jr said.
"I think he's able to relate to ordinary Americans because in many cases he is still very much like that. He does do that. He hasn't spent his whole life sitting there polishing every statement he's ever made, every conversation he's ever had."
What did Donald Trump say during the third presidential debate?

Show all 9
However, Trump Jr did admit his father's remarks were a "mistake" but insisted Mr Trump was able to make a mistake because he had not devoted his whole life to being a polished career politician.
"He doesn't run a focus group so he can tell you what he's thinking," he said. "He speaks from the heart, that one is obviously one that we don't want to - that was a mistake, he recognises that. He realises it, but he's able to make a mistake because he hasn't spent his whole life just trying to be a politician."
Mr Trump initially dismissed his lewd and sexually aggressive comments as "locker room" talk but then apologised for his remarks in a 90 second long apology. Nevertheless, he continued to repeatedly describe the remarks as "locker room talk" when probed during the second presidential debate.
Trump Jr is the first child of Trump and Czech former model Ivana Trump and currently works along with his sister Ivanka Trump and brother Eric Trump in the role of Executive Vice President at The Trump Organisation.
CNN recently uncovered recordings of Trump Jr's interviews with radio shock jocks. In the recordings, he can be heard making jokes about the Aurora shootings, overweight people and Arab names.
Appearing on Opie and Anthony in 2012, Trump Jr expressed his sadness at the fact he could longer mock overweight people due to political correctness. "By the way you can't, you can't even make fat jokes now without, like, there's a whole segment of people that like, that's almost the worst one like, it's easier to, like, do a racial thing, than it is a fat one because everyone knows they're fat and they get really offended that," Trump Jr said.
Register for free to continue reading
Registration is a free and easy way to support our truly independent journalism
By registering, you will also enjoy limited access to Premium articles, exclusive newsletters, commenting, and virtual events with our leading journalists
Already have an account? sign in
Register for free to continue reading
Registration is a free and easy way to support our truly independent journalism
By registering, you will also enjoy limited access to Premium articles, exclusive newsletters, commenting, and virtual events with our leading journalists
Already have an account? sign in
Join our new commenting forum
Join thought-provoking conversations, follow other Independent readers and see their replies