Donald Trump meets with creationist Jerry Falwell Jr about possibly becoming next Secretary of Education
Jerry Falwell has been one of Mr Trump's strongest supporters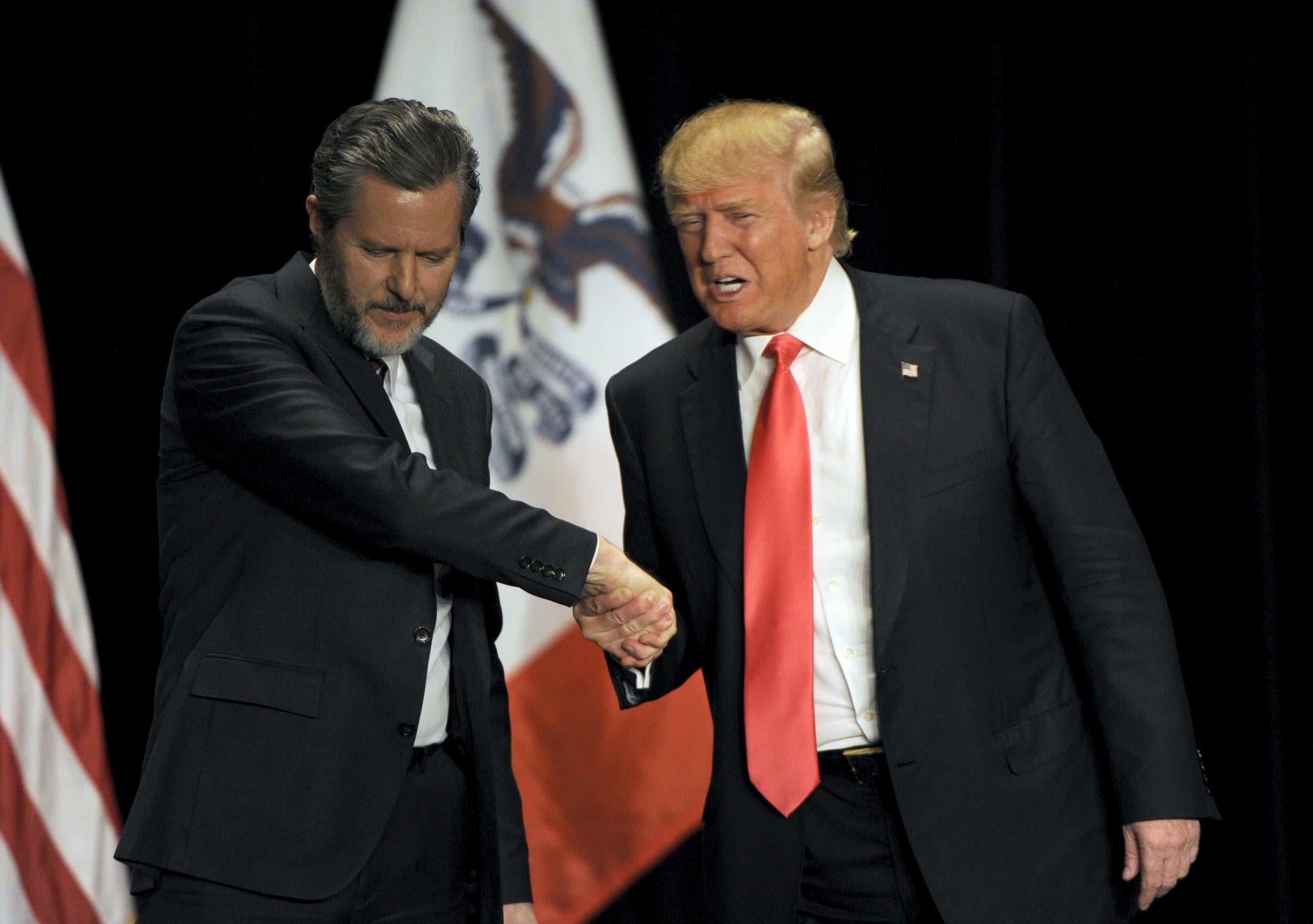 Many of America's conservative, evangelical community were distrustful of the religious bona fides of the thrice-married former casino magnate when he asked them to vote for him.
One of Donald Trump's strongest supporters on the religious right, however, was Jerry Falwell, the President of Liberty University and the son of Jerry Falwell, a celebrated Southern Baptist pastor.
Now Mr Trump is reportedly considering appointing Mr Falwell to head the Department of Education, or at least offer him a position within the department, despite his teaching of so-called creationism to his students.
Mr Falwell, an early supporter of the billionaire businessman who declared his backing prior to the Iowa caucus, met with Mr Trump and Vice President-elect Mike Pence last week at Trump Tower in New York
"I let them know one of my passions is reforming higher education and education in general," Mr Falwell told the Richmond Times-Dispatch.
"I told them I'd be willing - I have a lot of responsibilities here - but I'd be willing to serve in some capacity that sort of brings education back to some form of sanity."
Liberty, in Lynchburg, is the largest Christian school in the country. It has spent $900m on improvements over the past 10 years.
Mr Falwell has said higher education has to "get back to the basics of teaching" and eschew the "ivory tower" mentality that has led to "salaries that are out of this world".
'Alt-right' movement founder urges Trump to freeze immigration for 50 years
He added: "I just want to do whatever I can to get the overbearing bureaucracy of the Department of Education off the backs of colleges and universities.
"I do have a lot of concerns about the way the Department of Education is operating."
The Washington Post reported that in Liberty's science hall, which is stocked with the latest laboratory equipment, including a gene sequencer and a nuclear magnetic resonance spectrometer, faculty members teach evolution alongside biblical creationism.
David DeWitt, who holds a doctorate in neurosciences from Case Western Reserve University, chairs Liberty's biology and chemistry department. He is also director of its Centre for Creation Studies.
The overwhelming majority of the scientific community accepts evolution as the basis for modern biology, according to the National Academy of Sciences, among others.
Earlier this year, Mr Trump spoke to students Liberty University in Virginia, where he fluffed a Bible reference. "We're going to protect Christianity. I can say that. I don't have to be politically correct," said Mr Trump.
Join our commenting forum
Join thought-provoking conversations, follow other Independent readers and see their replies