The Independent's journalism is supported by our readers. When you purchase through links on our site, we may earn commission.
Donald Trump gathers media at Trump Tower for 'dressing-down', reportedly tells them: 'We're in a room of liars'
Details of gathering emerge as Mr Trump cancels meeting with the New York Times at last moment
Heather Saul
Tuesday 22 November 2016 13:00 Comments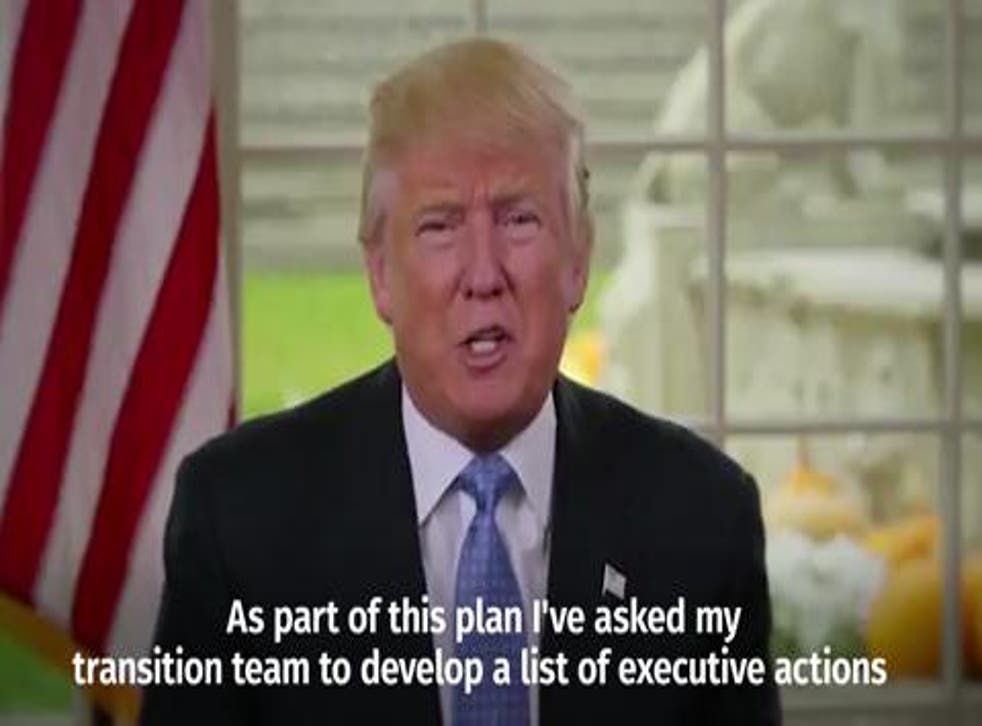 Donald Trump summoned representatives of some of the biggest US media outlets to Trump Tower on Monday evening and reportedly told those gathered: "We're in a room of liars."
Growing concerns for the freedom of the press under a Trump presidency were only exacerbated this morning following reports of an hour-long meeting held by the President-elect.
After attacking various media outlets for challenging his behaviour throughout his campaign, Mr Trump continued to wage war on outlets who have criticised or challenged him from inside the confines of his own home in a strictly off the record meeting in New York on Monday.
Donald Trump outlines plans for first 100 days in office
Representatives from CNN, NBC, ABC and other networks assembled at Mr Trump's gilded residence believing they were there to learn about the access they would be granted to the billionaire business magnate after he is sworn into the White House.
Instead, members were rebuked for their reporting and branded "liars", according to an account given by an unnamed source to the New York Post.
"Trump started with [CNN chief] Jeff Zucker and said 'I hate your network, everyone at CNN is a liar and you should be ashamed,' " the source was quoted as telling the tabloid.
"The meeting was a total disaster. The TV execs and anchors went in there thinking they would be discussing the access they would get to the Trump administration, but instead they got a Trump-style dressing down."
Separately, a source told CNN Money "real progress" was made during the meeting despite Mr Trump having vented his disproval at some of those present. Mr Trump's spokesperson Kellyanne Conway described the meeting as "cordial, candid" and said it was "great to hit the reset button" after a bruising campaign.
Mr Trump fostered a divide between the media and his supporters throughout his presidential campaign, presenting himself as the candidate unfairly targeted by a biased and "dishonest" media. This division was palpable at his rallies, where video footage showed hostile crowds booing members of the media and shouting insults at them. His favourite method of disseminating his message has been Twitter, which he once described as his own personal newspaper.
Arthur Sulzberger Jr, the publisher of the New York Times, was due to meet with Mr Trump on Tuesday. The agenda for this meeting was unclear, but it was set to be an interesting one - that was until Mr Trump cancelled it last minute, claiming the Times suddenly changed the terms and conditions of the meeting in a 6am tweet.
"Perhaps a new meeting will be set up with the @nytimes," Mr Trump added. "In the meantime they continue to cover me inaccurately and with a nasty tone!"
The Times said it was unaware the meeting had been cancelled until seeing Mr Trump's tweets. A spokesperson said: "We did not change the ground rules at all and made no attempt to. They tried to yesterday — asking for only a private meeting and no on-the-record segment, which we refused to agree to. In the end, we concluded with them that we would go back to the original plan of a small off-the-record session and a larger on-the-record session with reporters and columnists."
President Donald Trump life in pictures

Show all 16
Mr Trump repeatedly castigated the Times and its reporters throughout the election. After winning, he branded the paper "failing" despite its reported increase in paid subscriptions of 41,000 in the week after the election. His tweets about the paper now appear to include "failing" as a prerequisite adjective.
The hostility between Mr Trump and the Times reached its peak when his threat to sue the paper over its coverage of women accusing him of sexual assault was met with a letter from their lawyers daring him to do so.
His relationship with the Times contrasts heavily with his favourable outlook on Breitbart, the right-wing news site favoured by the so-called "alt-right" movement. After giving the controversial site a number of exclusives in the run-up to the election, and a boost to the site's traffic in the process, Mr Trump then announced its executive chairman Steve Bannon as his chief strategist.
Mr Trump did not immediately respond to a request for comment.
Register for free to continue reading
Registration is a free and easy way to support our truly independent journalism
By registering, you will also enjoy limited access to Premium articles, exclusive newsletters, commenting, and virtual events with our leading journalists
Already have an account? sign in
Join our new commenting forum
Join thought-provoking conversations, follow other Independent readers and see their replies