Barack Obama urged to take nuclear weapons off high alert to stop Donald Trump 'blowing up planet'
The President-elect has made a series of controversial comments about nuclear weapons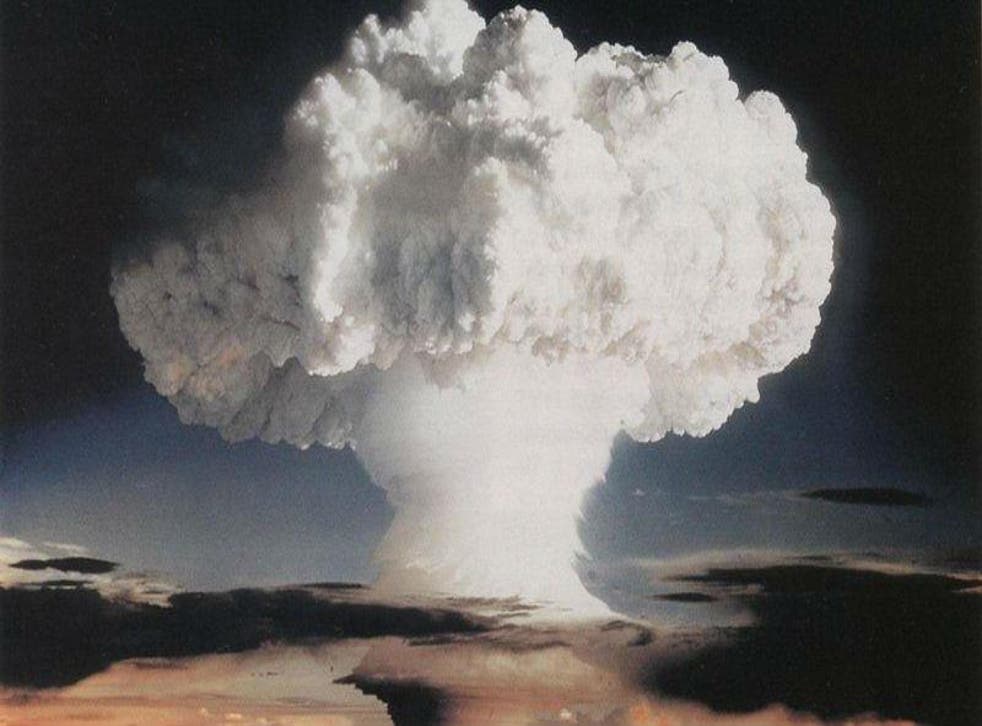 A group of arms control experts has urged President Barack Obama to take America's nuclear weapons off a state of high alert before Donald Trump takes office to stop him "impulsively blowing up the planet".
The Ploughshares Fund, which was established at the height of the Cold War, has started a petition asking Mr Obama to move the weapons from their hair-trigger status. It said the ever-present risk of a nuclear exchange being triggered erroneously, combined with Mr Trump's incendiary comments and temperament, could risk the "worst disaster imaginable".
The demand has received the support of politicians, retired military officers and government officials. Former US Defence Secretary William Perry told The Independent he was "worried about" both Mr Trump and Russian leader Vladimir Putin.
The petition, which has more than 60,000 signatures, says: "President Trump could launch 140 warheads in the time it takes to write 140 characters. The grave difference is: a tweet can be deleted, but the devastation of a nuclear warhead can never be undone."
Tom Collina, the group's director of policy, said the petition had been started amid concerns about Mr Trump's temperament. The President-elect has startled policy observers by his calls to expand America's nuclear arsenal, to encourage countries such as South Korea to develop its own weapons and even his apparent willingness to engage in an arms race.
"Our proposals would build in some extra time, and to make take longer to launch," said Mr Collina. "The concern is mainly about false alarms. That is when you need cool heads. If you have someone who is impulsive... "
The group, which is made up of scientists and policy experts, has for many years urged Mr Obama to take US weapons off high alert. They argue having almost 1,000 land-based missiles ready to launch in minutes is a dangerous holdover from the Cold War, when deterrent theory postulated that the US had to be able to respond to a Soviet launch within minutes, or else its own weapons could be destroyed.
But given that many nuclear weapons are now carried in submarines and bombers, not vulnerable to a Russian strike on the US mainland, the need for such rapid response is greatly reduced.
Donald Trump says 'let it be an arms race' after nuclear expansion tweet
Indeed, keeping them in such a state increases the danger of a missile being launched by mistake. There have been numerous reported incidents over the past 30 years of the US believing it was under attack from the Russians, only to discover – with just minutes before a potential counter-strike – the "Russian launch" was was in truth a computer glitch or else a Scandinavian weather satellite.
"On January 20, the military officer carrying the codes for America's nuclear arsenal will follow President Barack Obama to the inaugural platform. When he leaves, the officer will follow President Donald Trump," says the petition.
"We will then have a president who reportedly said, 'If we have nuclear weapons, why can't we use them'. Will he really order a nuclear attack in the next four years? No one knows. But if he does, no one can stop him."
It adds: "President Trump will be able to launch, within minutes, one or one thousand nuclear warheads without any vote, any check, or even any serious deliberation. Just one missile could kill millions. Once launched, the missiles could not be recalled."
Last summer, a group of ten Democratic senators, including Bernie Sanders, Elizabeth Warren, and Al Franken, wrote to Mr Obama, urging him to review spending on nuclear weapons. They also asked him to remove the weapons from high alert status by cancelling so-called "launch-on-warning plans".
Since the election victory of Mr Trump, such concerns have grown.
The President-elect has raised the eyebrows of many nuclear experts with comments that broke with decades of US strategic policy. Last month, he sparked fears of a new global nuclear arms race with a tweet that reverberated around the world in which he called on the US to expand its nuclear arsenal until "the world comes to its senses regarding nukes".
He also suggested that the "better off" other countries, including Japan and South Korea, should have nuclear capabilities. He subsequently said: "Let it be an arms race. We will outmatch them at every pass and outlast them all."
Mr Perry, who served as Bill Clinton's defence secretary between 1994 to 1997, has emerged as an expert on disarmament issues and long advocated a restructuring of America's nuclear arsenal. He said this included greater reliance on missiles carried by submarines and planes.
Asked about the threat potentially posed by Mr Trump, he said: "What is dangerous is the build up forces and then flaunting it. He talks about it, and that can start an arms race, and he has said he would be prepared to use nuclear weapons on a first-strike basis."
He said there were "always concerns" about the temperament of Russian and US leaders. "I don't have any personal knowledge of Putin or Trump, but I worry about both of them."
Last month, Joseph Cirincione, President of the Ploughshares Fund, wrote an opinion article for the Huffington Post, in which he said: "It's too late to stop Donald Trump from becoming president. But it is not too late to stop him from impulsively blowing up the planet.
"With the stroke of a pen, President Barack Obama could take our nuclear missiles off high alert, making sure that President Trump could not launch them rashly. If he doesn't do this, we will all regret it."
James McKeon, a spokesman for the Washington-based Council for a Livable World, said the need to reduce such risks was pressing, regardless of who was commander-in-chief. "We don't think such weapons should be on a high-trigger alert," he said.
Join our new commenting forum
Join thought-provoking conversations, follow other Independent readers and see their replies