Donald Trump once called Kanye West 'disgusting' and Kim Kardashian 'fat'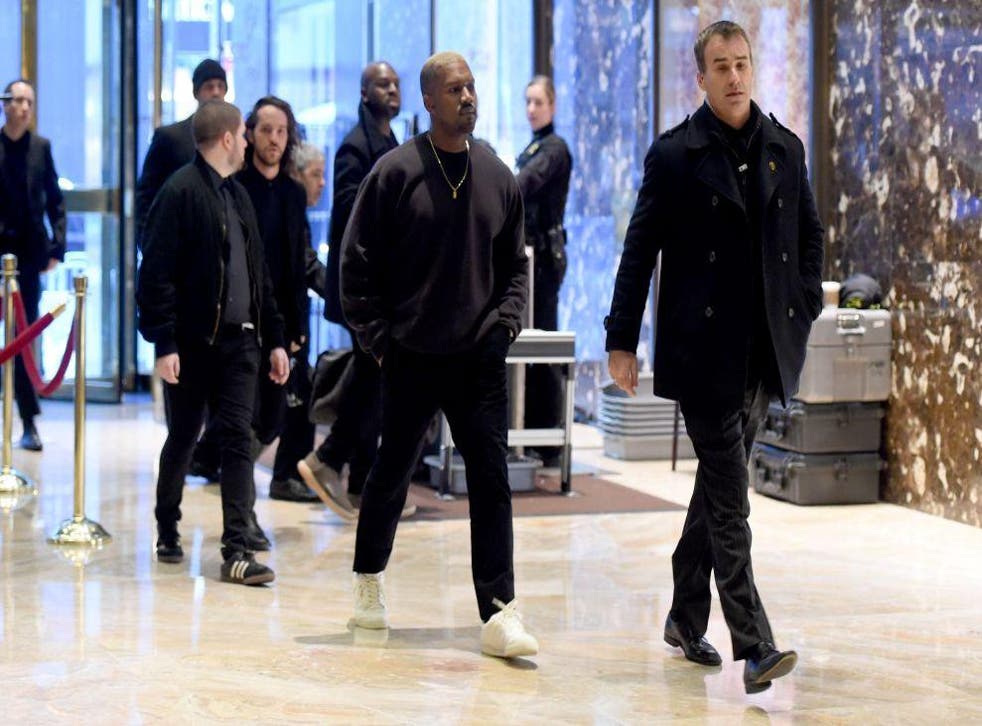 On Tuesday, Kanye West warmly greeted a man who once called him "disgusting", urged his fans to boycott his music, and body shamed his wife, reality TV superstar Kim Kardashian, while she was pregnant.
The rapper now counts himself among the President-elect's ostensible longtime friends but was once at the receiving end of his ire, offending Mr Trump with his infamous stage invasion during Taylor Swift's 2009 MTV VMA's acceptance speech.
But as the pair breezed into the foyer of Trump Tower together, a smiling West, who later explained he was there to open a dialogue about multiculturalism, seemed to have forgotten he was stood shoulder to shoulder with his one-time foe.
He also appeared to have buried Mr Trump's unprovoked remarks about Kardashian during an interview with Showbiz Tonight deep into the back of his mind.
Kanye West arrives at Trump Tower to speak with President-elect
Apropos of nothing, Mr Trump launched into a critical assessment of her weight in 2013. Kardashian was pregnant with her first child at the time.
"She's a nice person," said Mr Trump. "I've known her over the years. She's really a nice person. She's gotten a little bit large. I would say this, I don't think you should dress like you weigh 120 pounds."
Donald Trump's most controversial quotes

Show all 14
When the reporter told Mr Trump Kardashian "feels good" about herself, he doubled back. "I think that's great. If she feels good about herself, do it, Kim."
His assessment of her figure continued during one of his many appearances on shock jock Howard Stern's radio show.
"Let's pretend it's not Kim," he said after being asked if Kardashian was beautiful. "Does she have a good body? No … Does she have a fat ass? Absolutely. And if it weren't Kim, they'd say, 'Wow, I don't want to go out with her.'"
The bromance continues to bloom regardless between Mr Trump and West, who has suggested he may postpone his presidential bid until 2024, perhaps to make way for Mr Trump's second term. Mr Trump also appeared to have been struck by sudden amnesia considering the starring role West gave a naked waxwork likeness of him in his controversial "Famous" video.
Register for free to continue reading
Registration is a free and easy way to support our truly independent journalism
By registering, you will also enjoy limited access to Premium articles, exclusive newsletters, commenting, and virtual events with our leading journalists
Already have an account? sign in
Register for free to continue reading
Registration is a free and easy way to support our truly independent journalism
By registering, you will also enjoy limited access to Premium articles, exclusive newsletters, commenting, and virtual events with our leading journalists
Already have an account? sign in
Join our new commenting forum
Join thought-provoking conversations, follow other Independent readers and see their replies