Guns N' Roses invite Mexican fans on stage to beat Donald Trump pinata
Mr Trump has been a focus of anger for many Mexicans since his comments during the campaign
Daria Segalini
New York
Friday 02 December 2016 17:57 Comments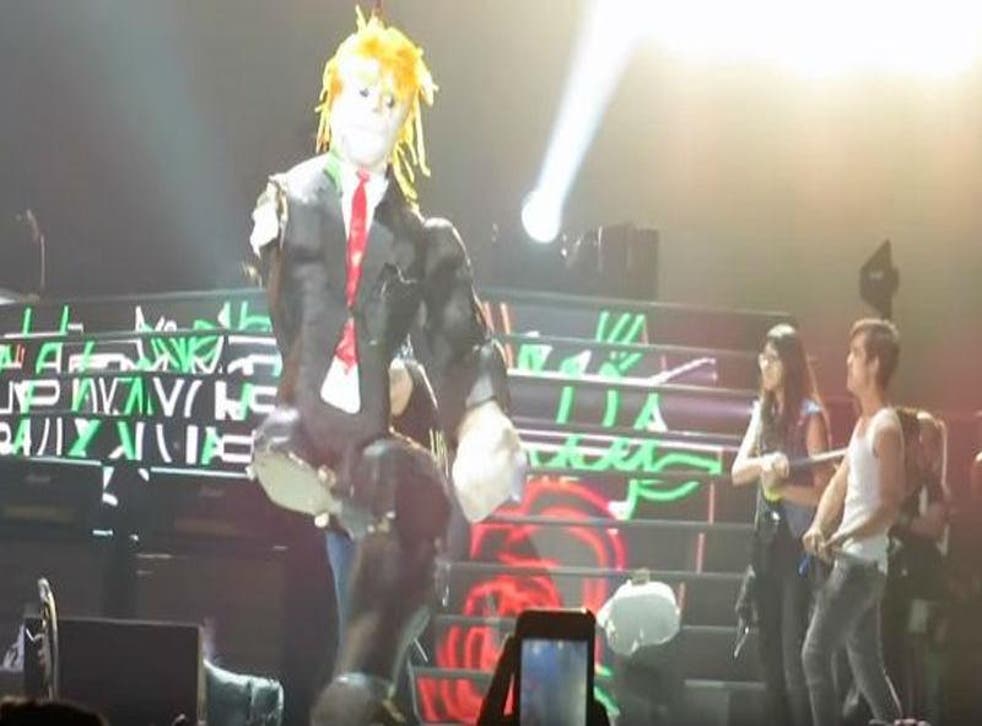 A Guns 'n Roses concert took a turn for the political when the group stopped playing and a giant piñata in the shape of President-elect Donald Trump was brought out on stage at the band's concert in Mexico City.
"Let's bring in some people, and give them a f***ing stick," lead singer Axl Rose is seen as saying to concertgoers, in a video published by TMZ.
"I want you to express yourselves, however you feel."
Mr Trump's presidential campaign was marked by his strident comments about Mexican immigrants, whom he referred to as "rapists and murderers".
World reaction to President Trump: In pictures

Show all 29
Considering that Mr Trump also made the building of a wall at the border between Mexico and the United States a centerpiece of his White House run – insisting even, that Mexico would foot the bill – there is little surprise that the audience in Mexico City on Wednesday night was enthusiastic about helping to bring about the destruction of the Trump dummy.
Fans can be seen and heard cheering as several of them are lifted by security onto the stage and handed sticks. The massive piñata took some hard hits and was destroyed in less than a minute. The pieces were thrown into the audience before the concert resumed.
This is actually the second piñata of Mr Trump to make an appearance on stage this week: on Tuesday, the rapper YG brought out a similar effigy at his concert in Los Angeles.
Register for free to continue reading
Registration is a free and easy way to support our truly independent journalism
By registering, you will also enjoy limited access to Premium articles, exclusive newsletters, commenting, and virtual events with our leading journalists
Already have an account? sign in
Join our new commenting forum
Join thought-provoking conversations, follow other Independent readers and see their replies