Donald Trump soars to new high of 41 points - more than double his nearest rival
The 69-year-old billionaire has upended every coventional rule of campaigning 
Andrew Buncombe
New York
Tuesday 26 January 2016 14:22 Comments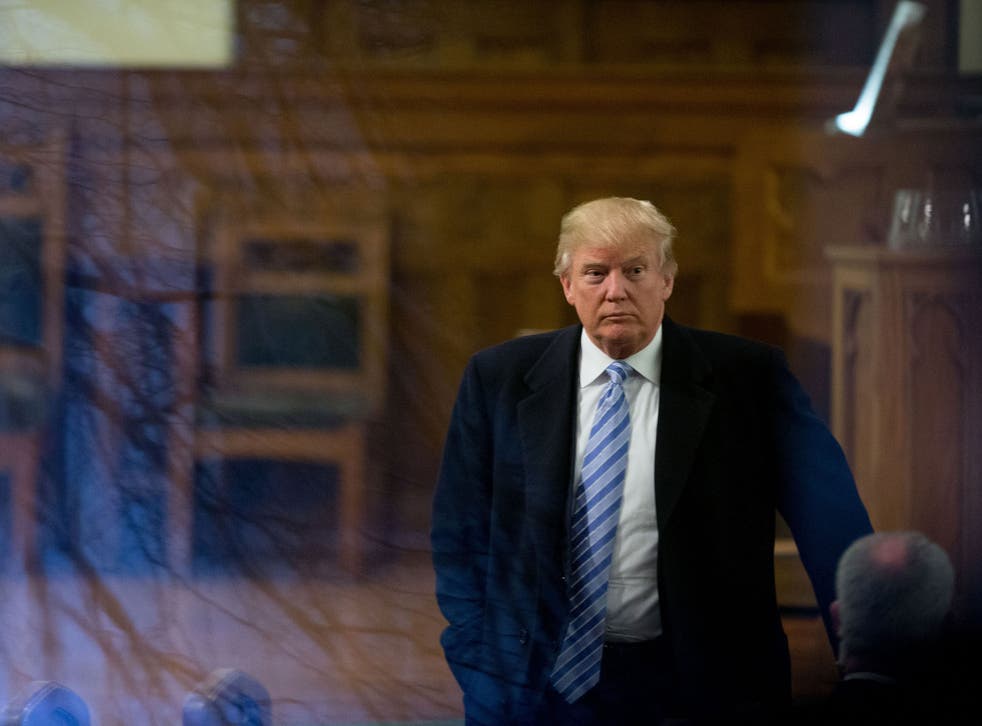 Less than week before the first proper votes are cast in the 2016 presidential election campaign, Donald Trump has soared to a new high of 41 per cent, according to a new poll.
The national poll by CNN//ORC found that four out of ten Republicans now say they wold back him to be the president. The tycoon's support is more than double that of his nearest rival, Ted Cruz, who trails on 19 per cent. No other Republican candidate makes it out of single digits.
Polls taken at this stage in the election cycle can be frustratingly fickle. In previous elections, figures such as Democrat Howard Dean and Republican Newt Gingrich, were far ahead of their rivals, only to see their dreams crushed as the bitterly-fought primary season played out.
Yet the normal rules may not apply to Mr Trump. Ever since he formally entered the race on June 16 2015, he has upended every conventional rule of campaigning.
He has turned his back on political donations, he has sought out controversy at every opportunity, he has been willing to offend various groups from immigrants to Muslims and Muslim and to dismiss all of this with a shrug.
Indeed, CNN said that Mr Trump is well ahead of his rivals in a range of subgroups, including both men and women, younger and older voters, white evangelicals, conservatives and both self-identified Republicans and independents who lean toward the party.
There are two subgroups where Mr Trump's lead is less dominant: college graduates and Tea Party supporters. Even among those groups, however, he remains at the head of the pack. Among those holding degrees, 26 per cent back Mr Trump, 20 per cent support Mr Cruz, and Tea Party supporters split 37 per cent for the reality television star and 34 per cent for senator from Texas.
The poll also finds Mr Trump is widely seen as the candidate with the best chance to win the general election in November. A total of 63 per cent of Republicans believe so, compared to with 16 per cent who see believe Mr Cruz is more electable and 10per cent who name Rubio.
Mr Trump's first real test will come on Monday, when voters in Iowa hold a caucus to select their nominee. An average of polls gives Mr Trump a lead of just six six points ahead of Mr Cruz there, with Mr Rubio on 12.
The next challenge will be in New Hampshire, where an average of polls puts him on 32 points, far ahead of his nearest, Mr Cruz and Ohio Governor John Kasich, who are both on 12 points.
Register for free to continue reading
Registration is a free and easy way to support our truly independent journalism
By registering, you will also enjoy limited access to Premium articles, exclusive newsletters, commenting, and virtual events with our leading journalists
Already have an account? sign in
Register for free to continue reading
Registration is a free and easy way to support our truly independent journalism
By registering, you will also enjoy limited access to Premium articles, exclusive newsletters, commenting, and virtual events with our leading journalists
Already have an account? sign in
Join our new commenting forum
Join thought-provoking conversations, follow other Independent readers and see their replies