Donald Trump sparks outrage over response to "get rid" of US Muslims call
Republican presidential candidate accused of racism after failing to correct claim that Obama is a Muslim and not really American
Hardeep Matharu
Friday 18 September 2015 19:53 Comments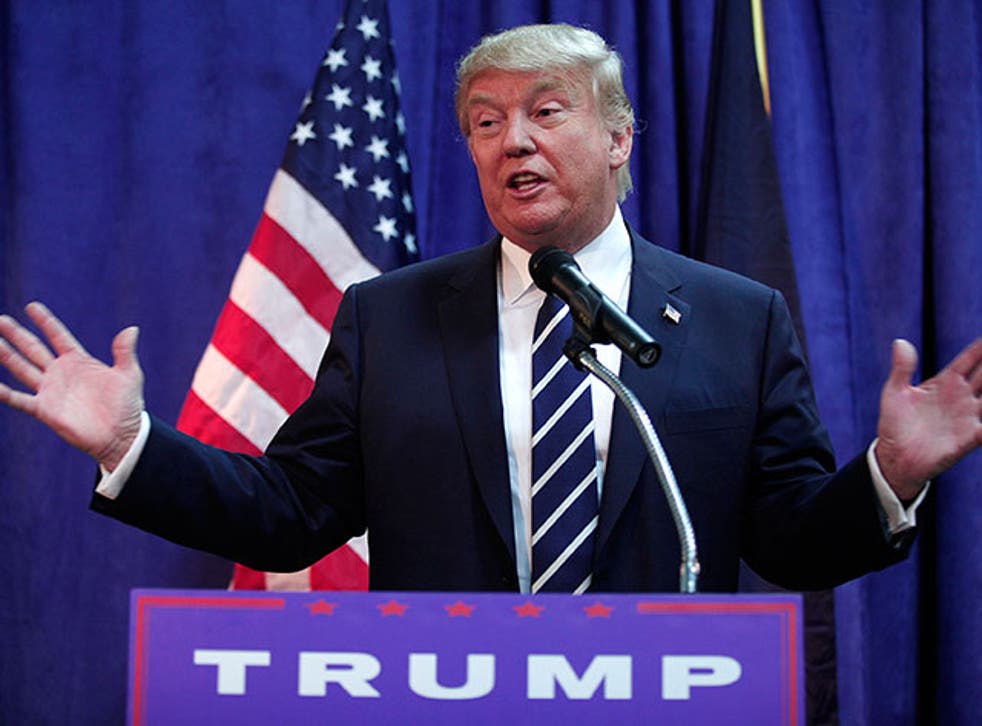 Donald Trump has sparked outrage after failing to condemn a call to purge the US of Muslims and claims that President Barack Obama is not an American.
The controversial Republican presidential candidate raised eyebrows when confronted with an outspoken questioner at the start of a town hall rally in New Hampshire last night.
As questions from the audience got underway, a man stood up and told the billionaire: "We have a problem in this country. It's called Muslims.
"We know our current president is one. You know he's not even an American. Birth certificate, man."
Interjecting, Mr Trump said "we need this question. This is the first question", before the audience member continued.
The man said: "But, anyway, we have training camps growing where they want to kill us.
"That's my question: When can we get rid of them?"
Mr Trump came under fire for his response, which failed to challenge the nature of the man's comments about Muslims or his claim that President Obama belonged to the faith.
The presidential hopeful answered: "We're going to be looking at a lot of different things and, you know, a lot of people are saying that, and a lot of people are saying that bad things are happening out there.
"We're going to be looking at that and plenty of other things."
Donald Trump's most controversial quotes

Show all 14
Asked about the comments after the event, Mr Trump's team said: "Christians need support in this country. Their religious liberty is at stake."
Before adding: "Mr Trump was referring to the need to protect Christians' religious liberties as his previous statement says and nothing more.
"To be clear, Mr Trump's response to the question regarding training camps in this country was 'we will look into it'."
But Democratic presidential candidate Hillary Clinton condemned Mr Trump's response to the questioner.
She tweeted: "Donald Trump not denouncing false statements about POTUS [President of the US] and hateful rhetoric about Muslims is disturbing and just plain wrong. Cut it out."
Democratic National Committee chairwoman Debbie Wasserman Schultz branded Mr Trump a racist, according to CNN.
"GOP frontrunner Donald Trump's racism knows no bounds," she said.
"This is certainly horrendous, but unfortunately unsurprising given what we have seen already."
Mr Trump was asked to explain his comments on the issue after the rally by several journalists, but reportedly did not answer.
Corey Lewandowski, Mr Trump's campaign manager, later told CNN that the candidate did not hear the claim that President Obama - a Christian born to a Kenyan father and American mother in Hawaii - was a Muslim.
"All he heard was a question about training camps, which he said we have to look into," he said.
"The media want to make this an issue about Obama, but it's about him waging a war on Christianity."
Islam is the fourth-largest faith in the US after Christianity, Judaism and Buddhism, with an estimated 2.7 million Muslims living in the country.
Mr Trump's comments came days after Muslim teenager Ahmed Mohamed received an outpouring of support, from those including President Obama, following his arrest when teachers mistook his homemade clock for a bomb.
Register for free to continue reading
Registration is a free and easy way to support our truly independent journalism
By registering, you will also enjoy limited access to Premium articles, exclusive newsletters, commenting, and virtual events with our leading journalists
Already have an account? sign in
Join our new commenting forum
Join thought-provoking conversations, follow other Independent readers and see their replies