Donald Trump urged to sell off business interests amid concerns he could profit from presidency
Three businessmen flew from India to celebrate Mr Trump's victory
Andrew Buncombe
New York
Monday 21 November 2016 15:30 Comments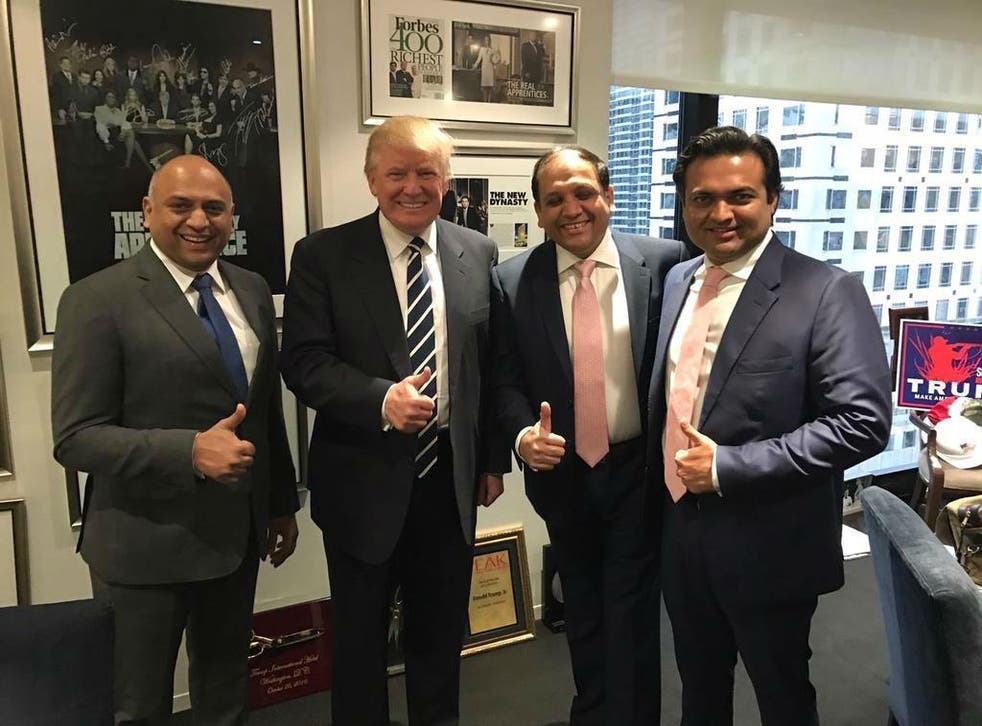 Donald Trump has been meeting with all kinds of people as he remains holed-up in Trump Tower, looking to put together a new administration.
Among those he found time to see last week, were three businessmen from India with whom he is involved in a large development project. They posed for photographs that were posted to Twitter, in which they smiled and grinned.
The businessmen told Indian media that their conversation with Mr Trump and his children, included a desire to expand their efforts in India. The revelation has sparked concern in the US about whether Mr Trump will enact the kind of legal firewalls to ensure his businesses do not benefit from his presidency, or create an appearance that they do.
Mr Trump met with three Indian executives - Sagar Chordia, Atul Chordia, and Kalpesh Mehta. The three are involved in developing a Trump-branded luxury apartment complex in the city of Pune, south of Mumbai.
Mr Trump currently is involved in five luxury projects in India, including a Trump Tower, a 46-apartment block with Panchshil Realty in Pune, and an under-construction 300-apartment project in Mumbai's Lower Parel with the Lodha Group.
The New York Times reported that one of the businessmen, Sagar Chordia, posted photographs on Facebook on Wednesday showing that he also met with Ivanka Trump and Eric Trump. Mr Trump's children are involved in both running the family businesses, and helping with the transition process.
Mr Chordia, the director of Panchshil Realty, told India's Economic Times: "[Mr Trump] was praising [Indian prime minister Narendra] Modi as always, and added that he is doing a great job."
Mr Mehta told the paper: "Donald Trump Jr expressed satisfaction with the pace of Trump Organisation's India business and showed interest in expanding it further.
"We didn't get a chance to talk about currency demonetisation with Mr Trump. But, his kids knew about it and they termed it as an incredibly bold move."
'Alt-right' movement founder urges Trump to freeze immigration for 50 years
The visit of the Indian visitors had led to demands for Mr Trump to establish a blind trust or some other mechanism to protect against a suggestions of improprierty, or that his he or his businesses are benefitting from his postpone as president. Observers pointed out that Mr Trump's daughter, Ivanka, had sat in on a meeting to Trump Tower with the Japanese prime minister, even though she is a member of the family business and has no security clearance.
The Wall Street Journal editorial board, considered a bastion of conservative thinking, said last week: "One reason 60m voters elected Donald Trump is because he promised to change Washington's culture of self-dealing, and if he wants to succeed he's going to have to make a sacrifice and lead by example."
It added: "If Mr. Trump doesn't liquidate, he will be accused of a pecuniary motive any time he takes a policy position. Mixing money and politics could undermine his pledge to 'drain the swamp' In Washington."
Senior members of the Trump transition team have insisted over the weekend there will be no conflict of interest.
Vice President-elect Mike Pence said: "I'm very confident that the President-elect and his extraordinary talented family are going to work with the best legal minds in this country and create the proper separation from their business enterprise during his duties as President of the United States."
Mr Trump's soon-to-be Chief of Staff, Reince Priebus, said the incoming White House counsel will be tasked with making sure that there were no conflicts of interest with the real estate mogul's business empire.
"We've been at this for a few days," he said. "I mean, this is ridiculous. Let's just kind of take a deep breath."
Register for free to continue reading
Registration is a free and easy way to support our truly independent journalism
By registering, you will also enjoy limited access to Premium articles, exclusive newsletters, commenting, and virtual events with our leading journalists
Already have an account? sign in
Join our new commenting forum
Join thought-provoking conversations, follow other Independent readers and see their replies