Duchess of Cambridge necks stiff drink, avoids embarrassment in first public appearance since Bild bare bottom photo scandal
Whisky was the order of the day for the royal couple, who visited a distillery on an official trip to Scotland
Jenn Selby
Thursday 29 May 2014 17:55 Comments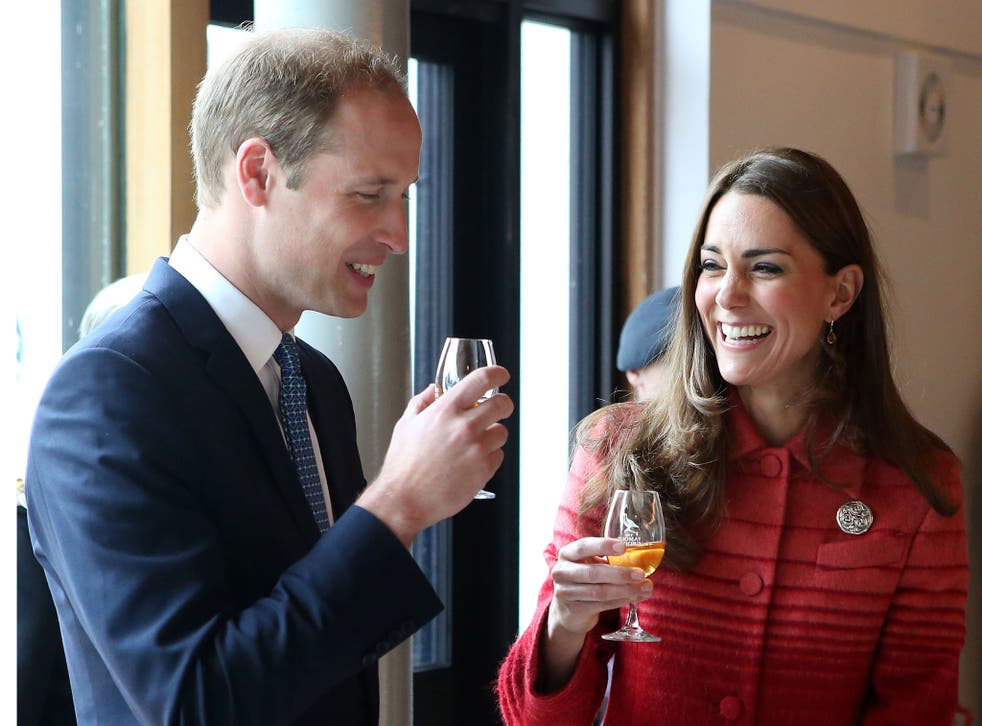 Red was, perhaps suitably, the colour the Duchess of Cambridge chose to mark the occasion.
The occasion being, of course, the first public appearance she has made since German magazine Bild – closely followed by the Sydney Daily Telegraph – published pictures of her bare bottom, taken at an opportune windy moment caused by a nearby helicopter in Australia.
But the royal was spared her blushes when she visited Crieff in Scotland earlier. At least, none caused by embarrassment.
Whether or not the large slug of whisky she was photographed swigging had any effect on her facial coloration, however, remains to be verified.
Duchess of Cambridge defiant in the face of bottom scandal on trip to Scotland

Show all 11
The Duchess was sure to settle any nerves she may have had greeting her public with a quick visit to a distillery, where she swigged on barrel-aged beverages and marvelled at Prince William's deft tap handling skills.
Later on, she greeted her Union Jack-waving public, talked to babies and wrestled with a giant, tartan-clad bear.
Then came the obligatory shaking of hands with men in kilts, and posing with flowers photographs. Her arms remained tightly by her side throughout; her choice of attire, an un-moveably close-fitting pencil skirt impossible for perverse up-shots to penetrate.
Neither the Duchess – nor Buckingham Palace – have passed comment on the publication of the controversial images, which were originally taken by Australian Blue Mountains local Diane Morel.
"It wasn't until I got home and I popped my camera card into the computer that I realised what I had captured," Morel told the Sydney Daily Telegraph.
She added that the money she earned from the image would go towards funding for a bushfire relief fund.
Bild originally ran the photograph alongside shots of Kim Kardashian and her sister Khloe, declaring in a caption: "Khloe, Kim and Kate – backsides which have moved us these past few days."
In contrast, the Sydney Daily Telegraph published it as part of a comment piece under the headline: "My bare lady: Derri-heir to the throne is fair game."
In it, the author Annette Sharp criticised British publications for their "ridiculous" ban on printing the shots because of privacy.
"It seems a bit ridiculous to expect the rest of the world's media to follow suit, particularly in a world in which flesh and commercialism go hand in hand," Sharp wrote.
"If the duchess can't be bothered protecting herself by having hem weights sewn into her garments, why should the media protect her?"
It comes less than two years after the royal couple sued French magazine Closer for running topless photographs of the Duchess, taken as the couple holidayed at a chateau in the Provence region.
The Palace labelled the publication of the images a "grotesque" invasion of privacy.
Register for free to continue reading
Registration is a free and easy way to support our truly independent journalism
By registering, you will also enjoy limited access to Premium articles, exclusive newsletters, commenting, and virtual events with our leading journalists
Already have an account? sign in
Join our new commenting forum
Join thought-provoking conversations, follow other Independent readers and see their replies