Eagles of Death Metal singer Jesse Hughes begs forgiveness for Bataclan Paris massacre 'inside job' suggestions
Hughes' statement says he has been suffering from 'non-stop nightmares' after the shooting 
Heather Saul
Saturday 12 March 2016 11:34 Comments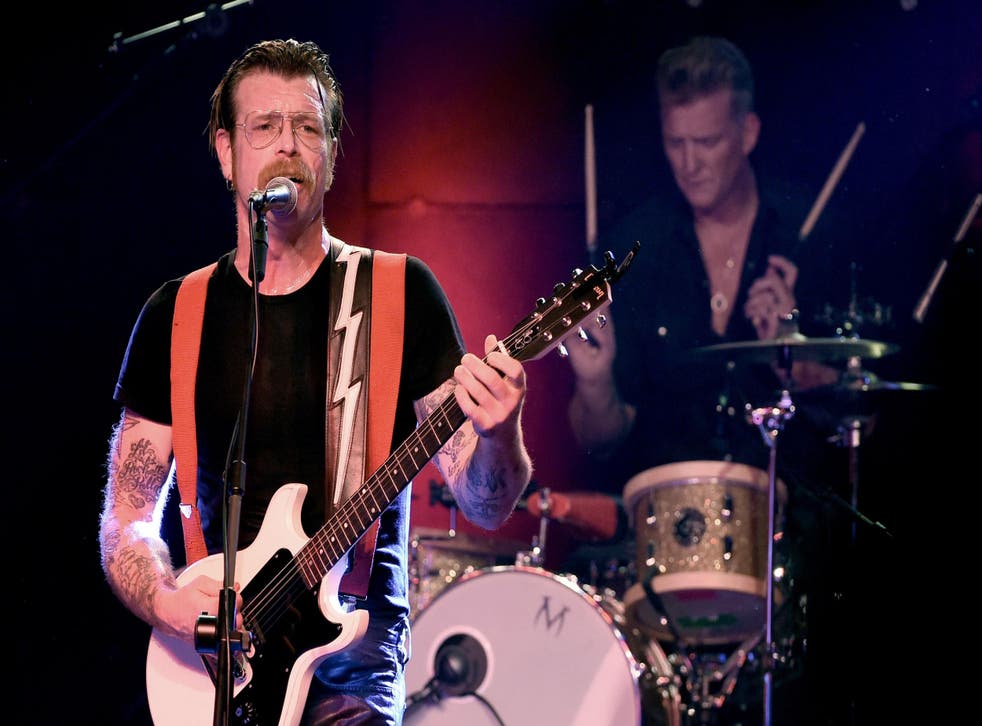 The frontman of the Eagles of Death Metal band has apologised for suggesting security at the Paris concert hall where terrorists killed 90 people may have been involved in the attack.
Jesse Hughes and his band were performing on stage when the Bataclan was targeted in a massacre later claimed by Isis. In a televised interview which aired on Thursday, Hughes suggested security guards could have been complicit in the attack after claiming six members of security did not show up on the night for the event.
"Out of respect for the police still investigating, I won't make a definite statement, but it seems rather obvious that they had a reason not to show up," he told Fox News Business.
Victims of the Paris attacks

Show all 33
His comments were condemned by the owners of the Bataclan as "grave and defamatory". "A judicial investigation is undergoing," a statement from the owners said. "We wish to let justice proceed serenely. All the testimonies gathered to this day demonstrate the professionalism and courage of the security agents who were on the ground on 13 November. Hundreds of people were saved thanks to [their] intervention."
Hughes issued a statement on Facebook retracting his "unfounded and baseless" comments. He also described his on-going trauma from the shooting and "non-stop nightmares".
"I humbly beg forgiveness from the people of France, the staff and security of the Bataclan, my fans, family, friends and anyone else hurt or offended by the absurd accusations I made," he wrote. "My suggestions that anyone affiliated with the Bataclan played a role in the events of 13 November are unfounded and baseless – and I take full responsibility for them.
"The shame is 100 per cent mine. I've been dealing with non-stop nightmares and struggling through therapy to make sense of this tragedy and insanity. I haven't been myself since 13 November. I realise there's no excuse for my words, but for what it's worth: I am sincerely sorry for having hurt, disrespected or accused anyone."
Register for free to continue reading
Registration is a free and easy way to support our truly independent journalism
By registering, you will also enjoy limited access to Premium articles, exclusive newsletters, commenting, and virtual events with our leading journalists
Already have an account? sign in
Join our new commenting forum
Join thought-provoking conversations, follow other Independent readers and see their replies