Ecuador must stop protecting Julian Assange and 'bring case to a close', says UK
'We continue to be deeply frustrated by the lack of progress in this case'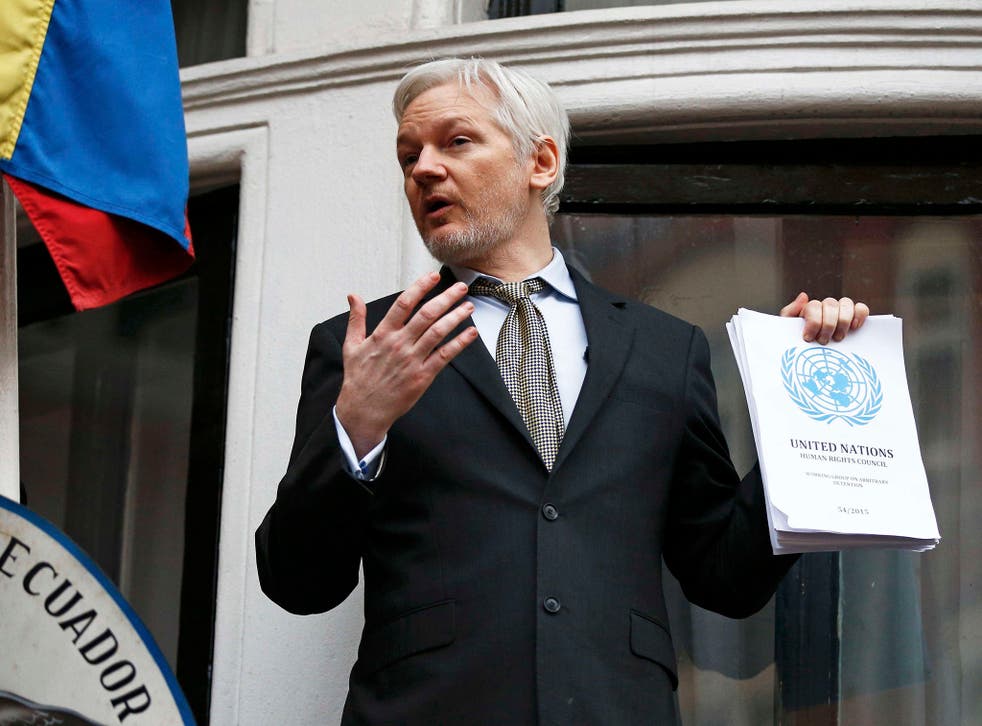 Britain is fed up with having Julian Assange hiding in an embassy in London to avoid extradition, the Ecuadorian government has been told.
The Wikileaks founder is seen by his supporters as a political prisoner who has been effectively imprisoned without charge for four years in the Ecuadorian embassy.
But the British authorities say that he hid there of his own free will to avoid facing the possibility of having to appear in a Swedish court charged with sex offences.
Hugo Swire, the Foreign Office minister responsible for relations with Latin America, has met Ecuador's new Foreign Minister Guillaime Long, who was on a visit to London.
During a blunt conversation in the Foreign Office, Mr Swire demanded that the Ecuadorians allow a Swedish prosecutor to enter their embassy to question Mr Assange.
After the meeting, Mr Swire said: "Four years after voluntarily entering the Ecuadorian Embassy, Julian Assange remains there, with a European Arrest Warrant in connection with a serious sexual offence allegation still outstanding.
"We continue to be deeply frustrated by the lack of progress in this case. I personally expressed to Foreign Minister Long my sincere hope that Ecuador will soon facilitate the Swedish Prosecutor's request to interview Mr Assange in the Ecuadorean Embassy in London. It is important that this case is finally brought to a close."
Mr Assange has been living in a makeshift bedroom in the embassy, in Kensington, since 12 June 2012. The start of his fifth year holed up in the building was marked by supporters around the world, who see him as a political prisoner.
Mr Assange was involved in the publication by Wikileaks of 500,000 US military files, and fears that he would face a long prison sentence were he to come into the hands of US law enforcers.
In 2010, two women complained of being sexually assaulted by him while he visiting Sweden. He denies the allegations.
After extradition proceedings began in the UK, Mr Assange alleged that this was a step towards handing him over to the US authorities, and took refuge in the Ecuadorian embassy to avoid being returned to Sweden.
Register for free to continue reading
Registration is a free and easy way to support our truly independent journalism
By registering, you will also enjoy limited access to Premium articles, exclusive newsletters, commenting, and virtual events with our leading journalists
Already have an account? sign in
Register for free to continue reading
Registration is a free and easy way to support our truly independent journalism
By registering, you will also enjoy limited access to Premium articles, exclusive newsletters, commenting, and virtual events with our leading journalists
Already have an account? sign in
Join our new commenting forum
Join thought-provoking conversations, follow other Independent readers and see their replies