Ellen Pao, profile: The woman who ran Reddit, and that Silicon Valley loves to hate
Reddit bills itself as the internet's front page, but its controversial former boss has been making headlines of her own
Rupert Cornwell
Saturday 11 July 2015 01:16 Comments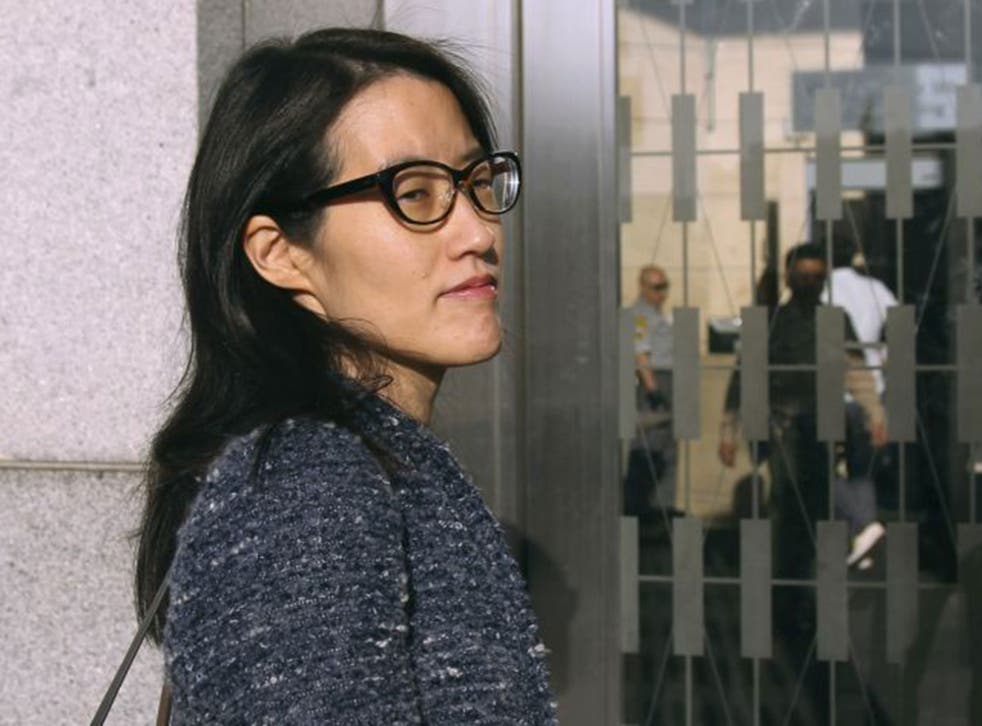 At a quick glance, Ellen Pao seems a poster child for the American Dream. The daughter of Chinese immigrants, she collected Ivy League degrees from Princeton and Harvard in electronics, law and business. She married a flashy hedge fund manager who became one of the richest African Americans in the land.
On the strength of that glittering academic CV, Pao landed a plum job at arguably the most prestigious venture capital outfit in Silicon Valley, Kleiner Perkins Caufield & Byers. Until Friday night she ran Reddit, the 35th most popular social networking and news website on the internet. What went wrong?
The short answer is, just about everything. By last Thursday night, almost 213,000 people had signed an online petition demanding that the 45-year-old hand in her resignation. The demise of the woman dubbed by her critics "Chairman Pao" could lead to the undoing of her company.


Born in 1970 in New Jersey, the American child of Chinese heritage, she is fluent in English and Mandarin Chinese. She worked her way through the elite US education system, qualifying as a lawyer before entering the male-dominated world of digital tech. Yet despite her position, little is known about the woman who, until recently, could count herself among only a handful of powerful women at the top of the global digital sector. She appears a very private person – strangely so, given the controversies in which she has been involved.
Admirers say she is quiet and deeply serious. That impression is only reinforced by interviews, in which she comes across as straightforward, sincere and lucid, the corporate good girl par excellence. But critics see another Pao. For them, she is hyper-intense, poor at human relations, and as one put it to Vanity Fair in 2013, a mere "achievement machine".
All of which casts an interesting light on her very public undoing. Dreams have their dark side, starting with her husband, Alphonse "Buddy" Fletcher – her second husband after a brief early marriage whom she met at an event for high-flyers hosted by the Aspen Institute in the summer of 2007 – whose business went bankrupt amid allegations of fraud. His company was likened to a Ponzi scheme and a Manhattan judge ruled that the 49-year-old investor owed his former law firm $2.7m (£1.75m) in unpaid bills in the civil fraud case.
Just as Fletcher's empire was crumbling in 2012, Pao's relationship with the venerable Kleiner Perkins Caufield & Byers turned terminally sour. After a long failure to win promotion and pay rises like her male counterparts, she became convinced the reason was blatant sexism at the company and filed a $16m lawsuit alleging gender discrimination.


The case went to court in February this year and the tales that emerged of "boys-only" trips for the bosses, sexual harassment and office affairs (one involving Pao) transfixed the country. Silicon Valley's hyper-creative and meritocratic image was revealed to be the same-old culture of corporations worldwide. The case galvanised the cause of equal rights for women at the workplace. There was just one problem, however. Despite liberal San Francisco being one of America's most plaintiff-friendly jurisdictions, Pao lost her case.
At the trial, Kleiner Perkins released a 2011 review of her performance, describing Pao as "passive", a junior partner with a sense of entitlement who was "territorial" and divisive. A poor team player, she was not trusted by her colleagues. And yet this reportedly passive executive had the nerve to take her powerful employers to court, on her own, without co-plaintiffs.
And so to Reddit, where she was appointed interim chief executive last November. Since its foundation over a decade ago, the site – which bills itself as "the front page of the internet" – has grown into a giant. Today, it claims 170 million unique users a month, attracted by its anarchic, anything-goes style, and boasts some 8,000 "sub-reddits" – online communities devoted to topics embracing everything from politics to porn, cricket to cars. Reddit has never made a profit, but that didn't stop a private $50m funding last year, valuing the company at $500m.
Reddit's lax controls on content, enforced by unpaid "moderators", had always caused controversy. Enter Pao and these troubles multiplied. First, she closed down various sub-reddits deemed offensive and intimidating, such as one entitled FatPeopleHate. "It's not our goal to be a completely free-speech platform," Pao explained. "We want to be a safe platform and we want to be a platform that protects privacy at the same time."
Users accustomed to pushing the US First Amendment guarantee of free speech were pushed to breaking point, but worse was to come last week when Reddit fired, without explanation or a word of warning, one of its most popular, paid moderators.
Victoria Taylor had been in charge of the site's most famous attraction, Ask Me Anything, which features live guests ranging from your average Joe to astronauts, film stars and even President Barack Obama (during his 2012 re-election campaign) and tennis ace Roger Federer. When Taylor disappeared, moderators shut off some of the most popular sub-reddits in protest.
Pao produced a grovelling apology, in which she accepted full blame. "We screwed up," she declared, "not just on 2 July, but also over the past several years. We haven't communicated well ... we have apologised and made promises to you, the moderators and the community, over many years, but time and again, we haven't delivered on them."
After the petition garnered so much public attention, speculation grew about the fate, not only of Pao, but Reddit itself. The internet, after all, is the ultimate laboratory of ephemera, driven by Darwinian laws of survival. Why shouldn't Reddit, owned by publisher Condé Nast, but operating as a fully independent entity, go the way of its spiritual ancestor Digg – still in business, but a shadow of its rip-roaring former self? And what of that apology over Taylor? The reasons for the sacking may still be unclear, but the assumption of personal responsibility by Pao was remarkable, at least when measured against the weasel words, invariably couched in the passive mood ("errors were made..."), of most corporate mea culpas. Hardly the stuff of an "achievement machine" with an overblown sense of entitlement.
What happens next is anyone's guess. "Redditors" could start spending more time using other sites such as Facebook, YouTube, Twitter, Tumblr or Buzzfeed, and there are signs that is happening. But none has quite the same sense of liberty and anything-goes as Reddit.
Pao though was, by common consent, on her way out. Indeed, one popular theory has it that she has been deliberately set up to take the fall, whereby Reddit could press ahead with an unpopular "monetisation" policy – and then fire her in a move depicted as a massive victory for the company's true believers.
Yes, women have risen to the very top of the tech universe: Marissa Mayer at Yahoo, Virginia Rometty at IBM, Meg Whitman at Hewlett-Packard (where Carly Fiorina once ruled), Sheryl Sandberg at Facebook, to name but a few. For Ellen Pao, alas, too much went wrong for her to remain among their number.
Life in Brief
Born: 1970, New Jersey.
Family: One of three daughters of Chinese immigrant parents, a maths professor and an engineer. Married financier Buddy Fletcher in 2007. They have a daughter.
Education: Degree in electrical engineering at Princeton, then Harvard Law & Business Schools.
Career: In 2005, joined venture capital firm Kleiner Perkins Caulfield & Byers, becoming junior partner. Joined Reddit in 2013, becoming interim chief executive last November.
Register for free to continue reading
Registration is a free and easy way to support our truly independent journalism
By registering, you will also enjoy limited access to Premium articles, exclusive newsletters, commenting, and virtual events with our leading journalists
Already have an account? sign in
Join our new commenting forum
Join thought-provoking conversations, follow other Independent readers and see their replies