Elton John urges Ukraine to 'wake up' over gay rights
Sir Elton also spoke about his own soul searching before announcing that he was gay
Kim Sengupta
Saturday 12 September 2015 20:05 Comments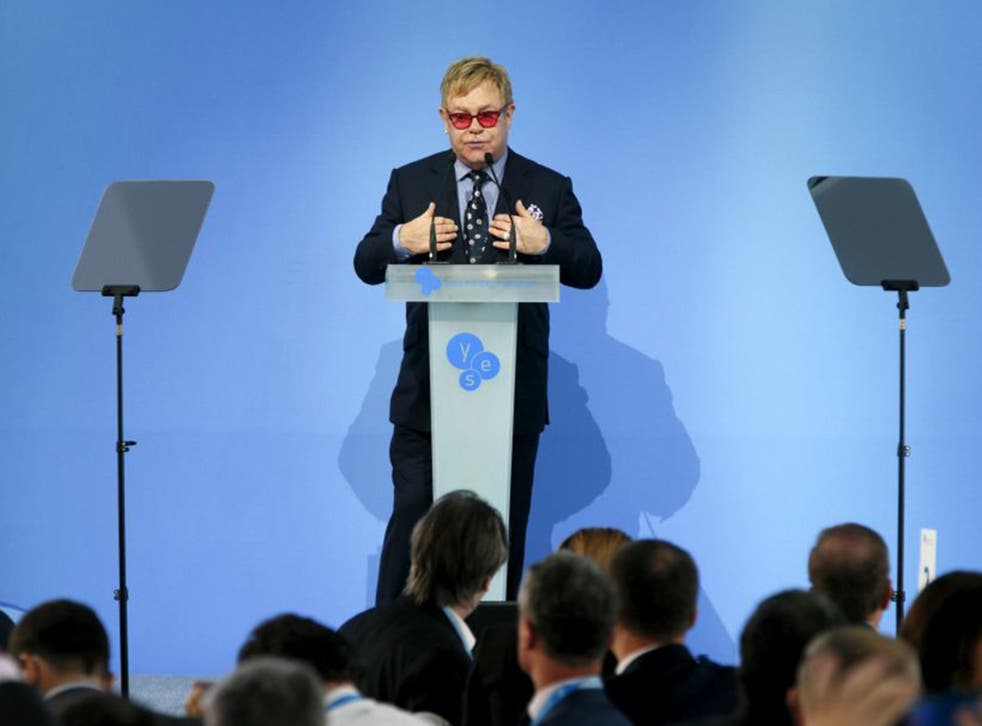 Ukraine's revolution kindled hopes of a brave and free society. But some old hatreds die hard, gay pride marches came under attack this Summer and sexual minorities continue to live under the shadow of prejudice and discrimination.
Sir Elton John had held concerts in the Maidan in Kiev, the centre of the protests which swept through the country. On 12 September he returned to the city to plead for tolerance and inclusiveness and an end to the attitude which is damaging the reputation of the country.
Speaking at an international conference of business and political leaders, he said "I am afraid that Ukraine is falling behind the rest of Europe, I have to say, wake up Ukraine. Your stance on human rights will be a defining characteristic of the new Ukraine and there is no clearer touchstone on the issue of human rights than the respect and dignity afforded your LGBT citizens.
"A peaceful gay pride march had to be protected by twice as many police as marchers. This did not happen at a place far away, at a different time, it happened in this city, not far away from here, just a little while ago. Equality for the LGBT community may still be unthinkable for some people, but it is something Ukraine needs to reflect on and embrace, it is the right thing to do."
Far right groups have been involved in street violence and boast of gathering adherents amid growing discontent over a faltering economy, endemic corruption and loss of territories to Russian backed separatists.
The rise of political extremism has also led to the targeting of sexual minorities. In June 300 members of the LGBT community walking along the Dnipro River were confronted by gangs, many of them masked, who attacked them with baseball bats and tear gas and smoke bombs. A month later there was a similar attack on a gay march in Odessa which a court had banned after threats from the right wing Prevy Sektor group whose local leader stated: "We will not beat the gays, but this march will not take place." Kyrlo Bodelian, of Odessa Pride, said: "We are facing constant attempts to deny us our civil rights. There are people who are full of very nasty attitude, they are taking out their frustrations on minorities."
LGBT+ rights around the globe

Show all 9
Sir Elton, speaking at the Yalta Conference, said that protecting the rights of the LGBT community would be beneficial to all aspects of Ukrainian society. "Being tolerant and inclusive is not only the morally right thing to do, for the new Ukraine it is the smart thing to do. Basic fairness is an investment in human capital and human capital is what drives business. Laws which protect human rights promote diversity, they allow employers to hire and retain the best and the brightest. They ensure a workplace where employees feel comfortable and valued. People are more productive, you have innovations and new ideas."
Sir Elton spoke about his own soul searching before announcing that he was gay. "It was at time when most public figures did not come out... They were afraid they would not find work, they were afraid of the reaction of their family and friends, they were afraid of being physically attacked. I, too, had the same fears, but I knew what I did was the right thing to do. It was a time when people passed on their prejudices through generations. Religion also played a bad part in this. But times have changed. We now have a Pope who is a hero, He asks 'who am I to look into a man's soul'. He is someone who fully understands the need to respect human life."
But, Sir Elton continued "there are still 78 countries in the world where homosexuality is banned. I and people like me can be arrested and prosecuted there. We can, in some of these places, be killed. We hope that things will change in these places as well. In Ukraine I am not saying that things will change immediately, these things take time. But you can make a start and it will be start which will lead to a wonderful future."
Register for free to continue reading
Registration is a free and easy way to support our truly independent journalism
By registering, you will also enjoy limited access to Premium articles, exclusive newsletters, commenting, and virtual events with our leading journalists
Already have an account? sign in
Join our new commenting forum
Join thought-provoking conversations, follow other Independent readers and see their replies