Emily Ratajkowski addresses body-shaming and criticism for demonstrating her sexuality in empowering essay
The Gone Girl actress has spent her life being told to conceal her sexuality 
Heather Saul
Wednesday 17 February 2016 13:43 Comments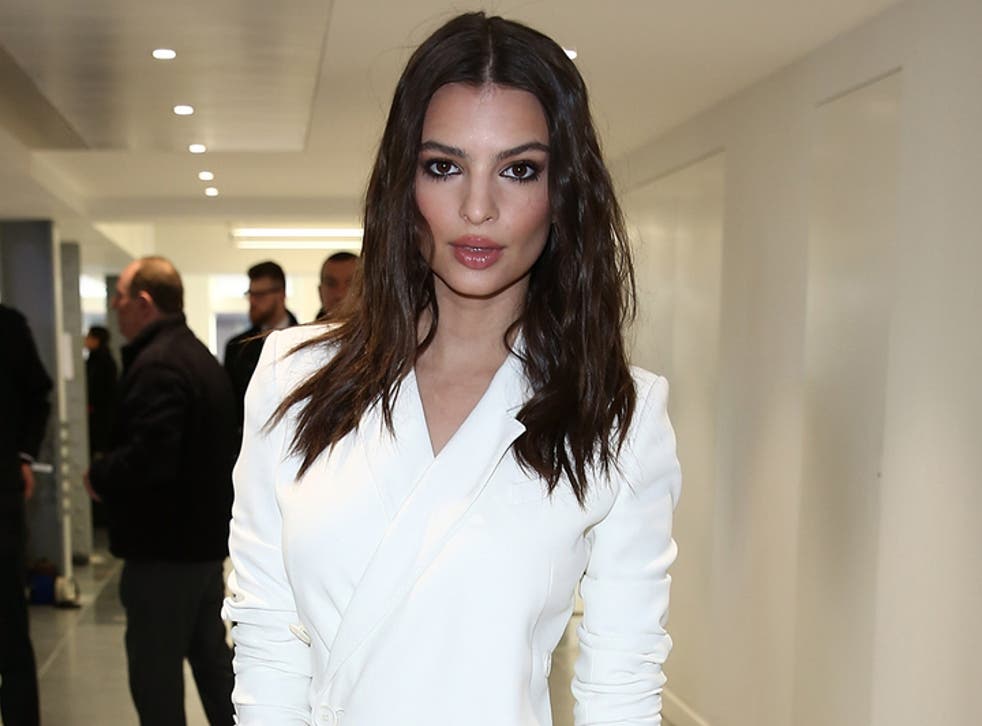 After being routinely objectified and judged throughout her teens and as an adult, Emily Ratajkowski is now calling for a space within which women can demonstrate and celebrate their sexuality without being accused of demeaning themselves.
In an essay for Lena Dunham's feminist Lenny Letter newsletter, the actress and model highlights the scrutiny women who demonstrate their sexuality are placed under and asks for such expressions to be honoured, not repressed.
Ratajkowski, 24, is no stranger to being chastised for her sexuality after appearing in the video for Blurred Lines, where she and other models danced topless, and more recently in the film Gone Girl. In October, she said her appearance in Blurred Lines has become "the bane of my existence".
Her essay is titled Baby Woman, a reference to the family nickname she was given after developing size D breasts aged 12. In it, Ratajkowski details how she was told to protect herself by covering-up as an adolescent and made to feel uncomfortable and guilty about her developing sexuality.
She called for a space outside of the male gaze within which she can own and enjoy her gender and sexuality instead of reinforcing the idea that being overtly sexual is "trashy" because it plays to male desires.
"I hear the voices reminding me not to send the wrong message," she writes. "And what is that message exactly? The implication is that to be sexual is to be trashy because being sexy means playing into men's desires. To me, 'sexy' is a kind of beauty, a kind of self-expression, one that is to be celebrated, one that is wonderfully female. Why does the implication have to be that sex is a thing men get to take from women and women give up?
People news in pictures

Show all 18
"Most adolescent women are introduced to 'sexy' women through porn or Photoshopped images of celebrities. Is that the only example of a sexual woman we will provide to the young women of our culture? Where can girls look to see women who find empowerment in deciding when and how to be or feel sexual? Even if being sexualised by society's gaze is demeaning, there must be a space where women can still be sexual when they choose to be."
Demi Lovato bares all no touch-ups photoshoot
The reaction to Ratajkowski's recent endorsement of Bernie Sanders highlights just how common-place her experiences are. A picture of herself wearing a 'Bernie' jumper and a caption about her forthcoming talk at his New Hampshire rally drew a slew of sexist comments questioning her relevance and understanding of politics because of her modelling background.
Men's magazine Maxim unintentionally emphasised her point further by sharing the nude Instagram picture she used alongside a caption announcing the publication of the essay on Instagram in a piece that included the sentence: "According to her caption, the photo was part of the stunning brunette's announcement that she'll appear in actress Lena Dunham's newsletter Lenny, which you almost certainly won't read."
Register for free to continue reading
Registration is a free and easy way to support our truly independent journalism
By registering, you will also enjoy limited access to Premium articles, exclusive newsletters, commenting, and virtual events with our leading journalists
Already have an account? sign in
Join our new commenting forum
Join thought-provoking conversations, follow other Independent readers and see their replies