Eric Bristow axed by Sky Sports after calling football abuse victims 'wimps' and 'not proper men'
Sky will no longer use Bristow for their live darts coverage after he posted offensive tweets about the current football abuse scandal
Jack de Menezes
Tuesday 29 November 2016 10:25 Comments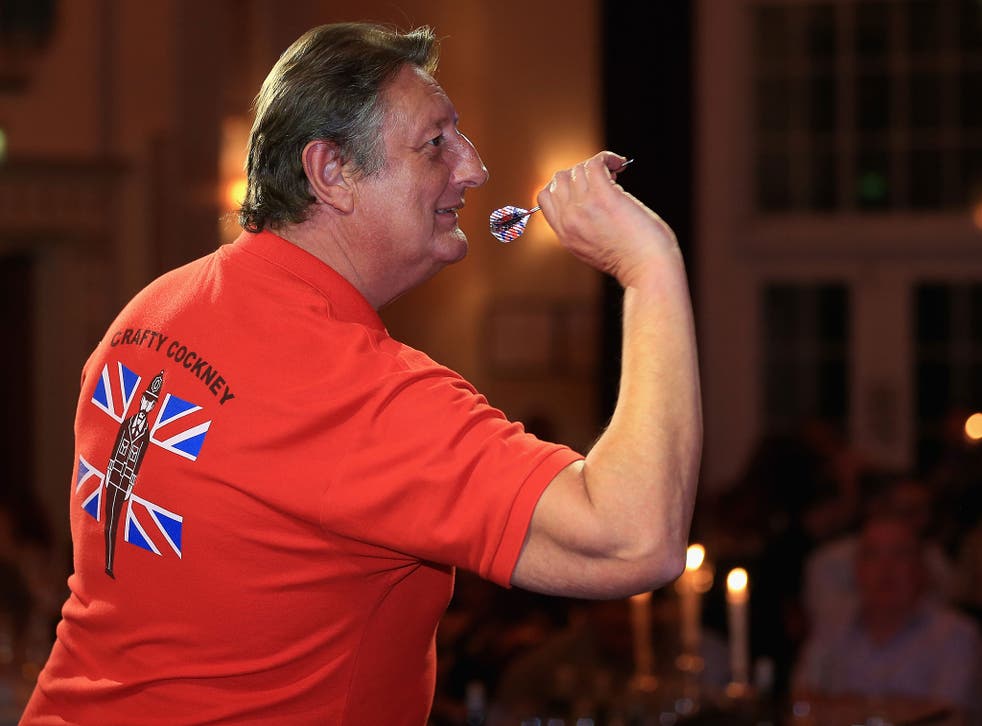 Former darts world champion Eric Bristow has been sacked by Sky Sports after suggesting that footballers who have been sexually abused by coaches when they are younger are not "proper men".
Bristow, 59, launched an ill-advised Twitter rant on Monday night in relation to the football scandal that has rocked the sport amid a growing number of historical claims of child abuse against coaches.
A decision has already been taken by Sky Sports to axe Bristow from their live darts coverage, having featured for the broadcaster as a guest pundit for a number of years. When contacted by The Independent, a Sky spokesman said: "He was a contributor to our darts coverage in the past but we will not be using him in the future."
His tirade comes after former Crewe Alexandra striker Andy Woodward chose to waive his anonymity and publicly reveal that he was one of the child abuse victims of convicted paedophile Barry Bennell, who has been jailed on three occasions on child abuse charges.
Since Woodward's revelations, more than 20 footballers have either publicly or confidentially said that they were abused by football coaches during their careers, and a number of police forces are investigating the matter while the Football Association has launched an internal review into how the matter has been handled over the past 30 years.
Five-time darts world champion Bristow was not so sympathetic though, and he accused footballers of being "wimps" and mistakenly labelled a paedophile as a "poof" in a number of social media posts that have drawn a fierce backlash.
Bristow wrote: "Might be a looney but if some football coach was touching me when i was a kid as i got older i would have went back and sorted that poof out.
"Dart players tough guys footballers wimps. Bet the rugby boys are ok ha ha.
"U got to sought him out when u get older or don't look in the mirror glad I am a dart player proper men.
"Everybody that works on TV is frightened to say the truth because they are frightened to lose their job, life shouldn't be like that.
"What I was saying was when the football lads got older and fitter they should have went back and sorted him out."
Bristow's tweets unsurprisingly received a negative response, and when users pointed out that he had used an offensive homophobic slur to describe paedophiles, Bristow said: "Sorry meant paedo not poof."
Bristow is a regular face on Sky Sports coverage of the Professional Darts Corporation, and was expected to feature in their upcoming live broadcast of the Darts World Championship at the Alexandra Palace. However, he will no longer be used by the broadcasters for any of their darts coverage.
Former Crewe Alexandra footballer Steve Walters, who revealed last week that he was one of Bennell's victims when he was a boy, wrote on Twitter: "Disgusted with Eric Bristows remarks tonight #stoneagementality."
Register for free to continue reading
Registration is a free and easy way to support our truly independent journalism
By registering, you will also enjoy limited access to Premium articles, exclusive newsletters, commenting, and virtual events with our leading journalists
Already have an account? sign in
Join our new commenting forum
Join thought-provoking conversations, follow other Independent readers and see their replies