Ernest Tomlinson: Composer and conductor who bestrode the world of light music and devoted himself to saving and promoting it
Tomlinson won two Ivor Novello Awards, and was created an MBE for services to music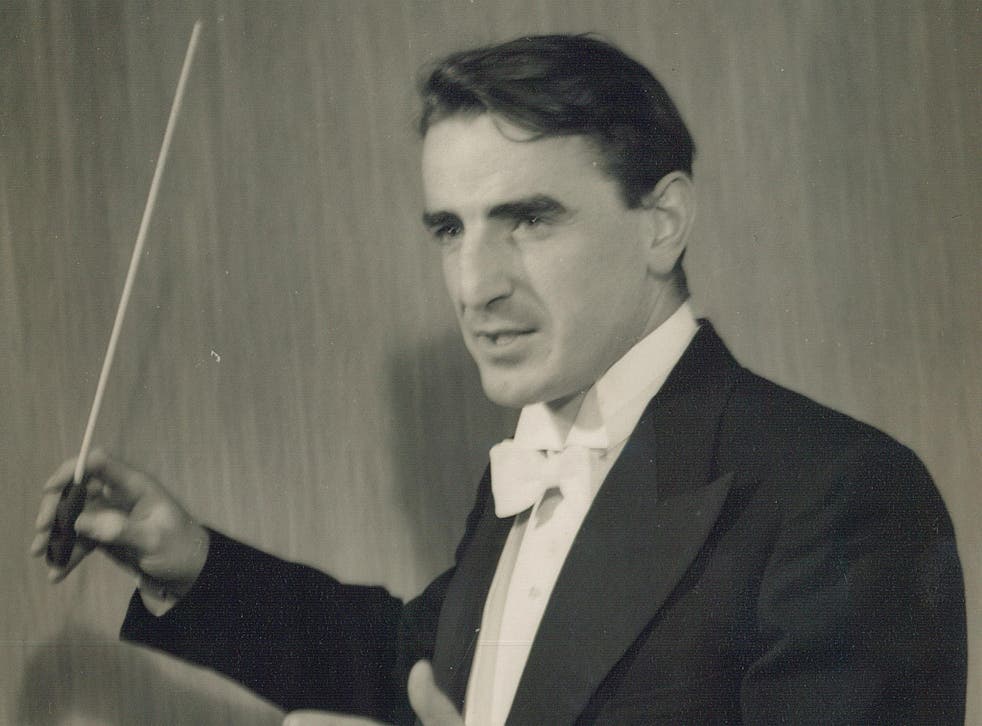 The death of Ernest Tomlinson sees the passing of a magisterial figure in the world of light music. The composer of a large, varied and tuneful catalogue, he recognised the threats facing an entire musical genre and was responsible for saving and promoting it.
Tomlinson was born into a musical family and was educated at Manchester Cathedral Choir School, Bacup and Rawtenstall Grammar School, Manchester University and the Royal Manchester College of Music. War service came as an RAF wireless mechanic, before graduating with a BMus in 1947. Already a Fellow of the Royal College of Organists, he became organist of the 3rd Church of Christ Science, Curzon Street, Piccadilly (1948-58) and staff arranger for publishers Arcadia and Mills Music (1949-55).
He submitted his compositions to the BBC, his first broadcast coming with the orchestral piece Passepied in 1949. As the composer of tuneful miniatures, he seemed to be the natural successor of Eric Coates, and received many commissions, becoming a full-time freelance composer and conductor in 1955.
In 1951 he had attended the English Folk Dance and Song Society Folk Dance Festival at the Royal Albert Hall and was enchanted by the folk tunes being played, which were soon reflected in his arrangements. Later his popular Folk Dance suites used tunes from Playford's The Dancing Master.
Tomlinson summarised his music in six groups: suites (listing 13), symphonic works (six), symphonic jazz (three), miniatures (23), music for strings (six), production music (more than 100), as well as music for the stage, radio and television, and for brass band, the latter crowned by his Cornet Concerto (1974), recently rescored for symphony orchestra. He also wrote as Alan Perry, particularly in the 1960s.
There was a one-act opera, Head of the Family, and his prize-winning ballet Aladdin was written for the Northern Dance Theatre. The love-duet from his "pantomime for radio", The Story of Cinderella, became his most popular miniature, Little Serenade.
He was active in the profession, involved with the Composer's Guild (executive committee 1961-66, chairman 1966), and a composer-director of the Performing Right Society from 1966. He was Chairman of the Light Music Society from 1966 until 2009, and it became the mechanism through which his vast library is managed (under the authoritative eye of his daughter, Hilary).
He founded the Ernest Tomlinson Light Music Orchestra and Singers (1955-59). The clarinettist Murray Khouri remembers meeting him when a member of the orchestra of the Light Music Society, remarking, "He was the last member of the old school of British light music composers, and we later went on to create the world-famous series of British Light Music CDs for the Marco Polo label... He was a famous figure around light music sessions with his familiar 'belt and braces' style, manuscript paper and pencil at hand, ready to improve and correct scores both familiar and unfamiliar. We shan't see his like again."
Other groups Tomlinson directed included the Ernest Tomlinson Music Makers in the 1950s, the Northern Concert Orchestra in the 1970s, and the Rossendale Male Voice Choir, where he succeeded his father in 1976. Later he directed the Ribble Vale Choir in Longridge.
In 1962 his 30-minute Sinfonia '62 for jazz band and symphony orchestra won a prize in Italy, and on its BBC premiere in 1964 with Johnny Dankworth he appeared in a discussion of "The Ridiculous Division" between art music and pop; the Sinfonia was chosen for an experimental BBC stereo broadcast. A second similar score, Symphony '65, appeared at light music festivals in London and Munich, and in 1966 was the first symphonic jazz heard in the Soviet Union. There were also a smaller-scale Little Symphony (later renamed Serenade), a Sinfonietta and a Concerto for Orchestra.
Until the BBC started moving away from light music – to Tomlinson's despair – it gave him a platform for his work, not least the Light Music Festivals which appeared annually until 1967. Possibly the best-remembered of his Festival commissions was his Rhapsody and Rondo for horn and orchestra written in 1956 for Dennis Brain, whose phenomenally fast tempo in the Rondo caused a sensation. Two months later Brain was killed in a car crash.
An important legacy is Tomlinson's enormous library. In the late 1960s he became aware that the BBC was quietly throwing out its unique libraries of light music. He rescued them, and immediately other collections came into view, from publishers, town halls, seaside piers, theatres and libraries, often discarded without announcement or ceremony. Typically, one collection was found in a skip outside the London Palladium. Numbering some 50,000 sets dating from 1850, the library is housed in the converted barn beside the family home and preserves a unique musical legacy, an important national asset which was very nearly lost.
He won two Ivor Novello Awards, for services to light music in 1970 and for the dances from Aladdin in 1975. In 2012 he was created an MBE for services to music.
LEWIS FOREMAN
Ernest Tomlinson, composer, arranger and conductor: born Rawtenstall, Lancashire 19 September 1924; MBE 2012; married 1949 Jean Lancaster (three daughters, one son); died Longridge, near Preston 12 June 2015.
Register for free to continue reading
Registration is a free and easy way to support our truly independent journalism
By registering, you will also enjoy limited access to Premium articles, exclusive newsletters, commenting, and virtual events with our leading journalists
Already have an account? sign in
Register for free to continue reading
Registration is a free and easy way to support our truly independent journalism
By registering, you will also enjoy limited access to Premium articles, exclusive newsletters, commenting, and virtual events with our leading journalists
Already have an account? sign in
Join our new commenting forum
Join thought-provoking conversations, follow other Independent readers and see their replies