Estonian president rips off glasses and earpiece live on Sky News after Dermot Murnaghan gets his name wrong
Sky News presenter Dermot Murnaghan seemed unfazed by the blunder
Lamiat Sabin
Sunday 08 February 2015 14:22 Comments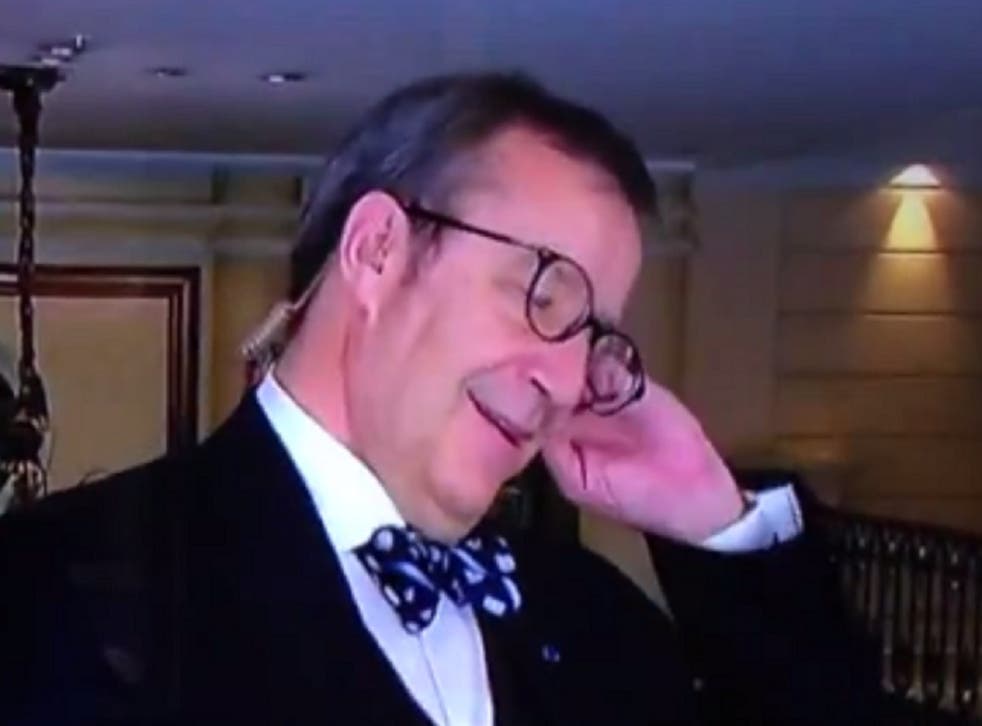 The President of Estonia refused to continue an interview with a Sky News presenter today after he got his name wrong.
Dermot Murnaghan, who was presenting the Sky News bulletin this morning, was to interview Toomas Ilves, but little did he know that the president would not be happy with being called by his middle name Hendrik.
Mr Ilves, rather than Mr Hendrik, looked down and smiled dryly before interrupting the presenter. He then ripped off his glasses and earpiece before saying something about "getting my name right" – which is not entirely audible.
They both remained in awkward silence for seven seconds before the president then rolled his eyes in exasperation.
Seemingly unaffected by the mistake, Murnaghan swiftly announces a "quick look at the weather".
Labour shadow business secretary Chuka Umunna stormed out of a Sky News interview conducted by Murnaghan last month after the presenter asked him a question about Eric Pickles' letter to mosques in the UK, which he had not read at the time.
Mr Umunna, who called Murnaghan "ridiculous" thought he was invited on the show to discuss the government's economic policies.
The interview with Mr Ilves was scheduled to discuss the president's response to Vladmir Putin, leader of neighbouring Russia, being described as acting like "a mid-twentieth century tyrant" by the UK foreign secretary Philip Hammond.
It is understood that the interview with Mr Ilves, who was talking via video link from Munich, was resumed later in the day.
Register for free to continue reading
Registration is a free and easy way to support our truly independent journalism
By registering, you will also enjoy limited access to Premium articles, exclusive newsletters, commenting, and virtual events with our leading journalists
Already have an account? sign in
Join our new commenting forum
Join thought-provoking conversations, follow other Independent readers and see their replies