The Independent's journalism is supported by our readers. When you purchase through links on our site, we may earn commission.
Rebecca Francis receives barrage of death threats over hunting images
Comedian Ricky Gervais shared a picture of Francis with a dead giraffe
Heather Saul
Wednesday 15 April 2015 10:44 Comments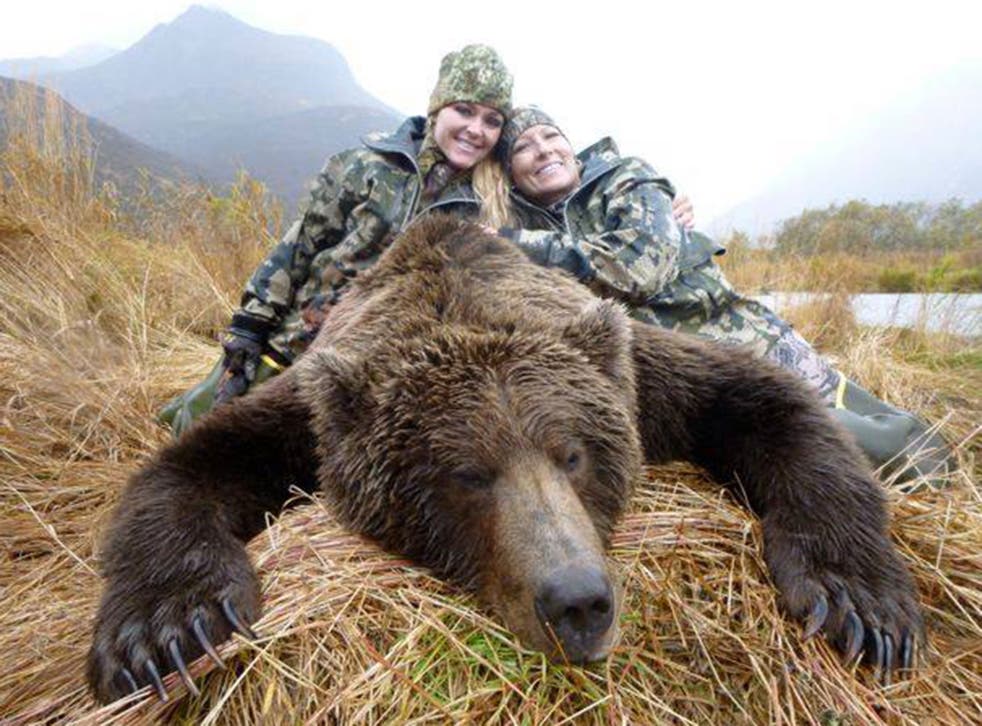 A huntress who has killed dozens of wild animals has been sent death wishes by furious social media users after a picture showing her lying down next to a dead giraffe was circulated.
Rebecca Francis has a website and Facebook page dedicated to the animals she has killed in hunts across Africa and America.
Francis, a prolific hunter who has also co-hosted the television show Eye of the Hunter, regularly posts pictures of herself posing next to dead bears, giraffes, buffaloes and zebras, among other animals. She uses a bow and arrow to kill her prey.
The mother-of-eight described her passion for hunting on her website, writing: "We hunt elk and deer every year without fail, even through pregnancy, and nursing babies. Our hunting trips are self-guided.
"I prefer bowhunting, and the animals I have taken with a bow include: a 10 1/2 ft. brown bear, black bear, shiras moose, alaskan moose, dall sheep, stone sheep, desert bighorn ram, rocky mountain bighorn ram, mule deer, whitetail deer, elk, mountain goat, antelope, arapawa ram, kudu, zebra, black wildebeest, giraffe, springbuck, blesbuck, lynx, badger, and squirrel. I have also taken many of the same species and more with a rifle."
A photo of Francis lying next to the corpse of a giraffe posted by the comedian Ricky Gervais on Monday was re-tweeted over 14,000 times. His tweet was quickly followed by users sharing their disgust at her hunting activities.
Others began posting death threats in comments on her Facebook. One wrote: "You are a complete waste of skin, I hope your guns faulty and you end up shooting yourself!" Another furious reader added: "The world would be a better place without you."
One disturbing message underneath a post about a hunt read: "Can I come? But the only bullet I'll be using is the one I put in your head."
Kendall Jones' hunting images spark row

Show all 8
In January last year, a hunter who paid $350,000 (£214,119) at an auction for a licence to hunt an endangered black rhino in Nambia faced a similar backlash when he was named publically.
Corey Knowlton defended his purchase and insisted he cared "deeply" about all inhabitants on the planet.
Register for free to continue reading
Registration is a free and easy way to support our truly independent journalism
By registering, you will also enjoy limited access to Premium articles, exclusive newsletters, commenting, and virtual events with our leading journalists
Already have an account? sign in
Join our new commenting forum
Join thought-provoking conversations, follow other Independent readers and see their replies