Fidel Castro: Cuban leader condemned as 'dictator' who presided over executions and human rights abuses
'This is a man who set up a dictatorship that had no tolerance for anyone who thought differently'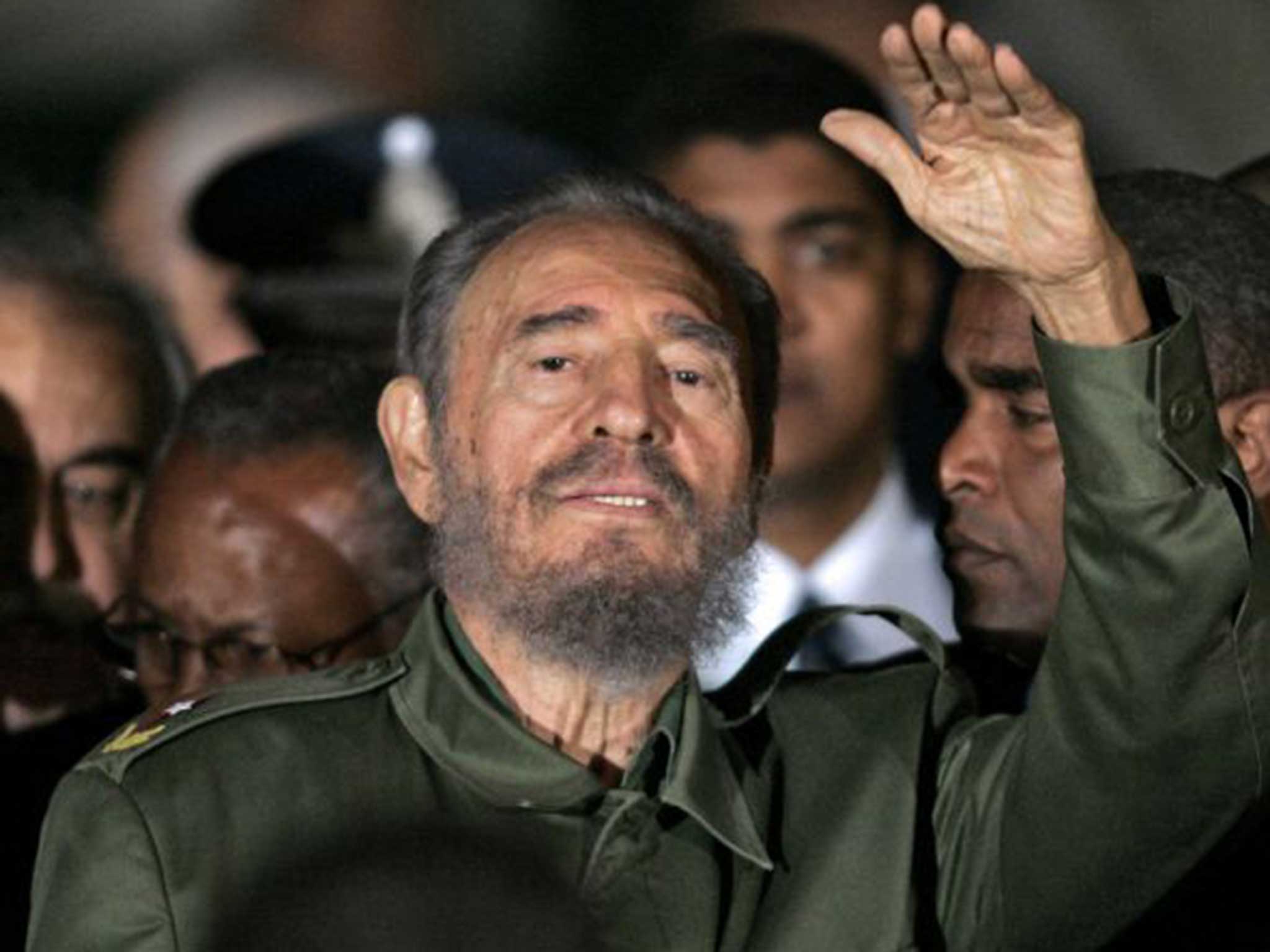 As Cuba embarks on nine days of national mourning for Fidel Castro, dissidents and exiles around the world labelled the revolutionary a dictator whose "crimes against his own people" must not be forgotten.
"History will absolve me," he once told judges of the regime he would eventually overthrow, transforming Cuba into a communist state and incurring the wrath of the US and its punishing trade embargo.
For many he was a champion of the poor, a symbol of liberation who overthrew a dictator and brought free education and health care to the masses.
Cubans around the world react to death of Fidel Castro
But to exiles who fled his autocratic rule, he personified a repressive regime that locked up political opponents, suppressed freedom and democracy and destroyed the national economy.
Orlando ​Gutiérrez, founder of the opposition Cuban Democratic Directorate in Miami, condemned Castro and his legacy as exiles and their descendants took to the streets of Little Havana to celebrate his death.
"I regret that this criminal never faced a tribunal for all the crimes he committed against his own people," Mr Gutiérrez said, according to a translation by the BBC.
"This is a man who leaves a legacy of intolerance, of setting up a family-run dictatorship, which had no tolerance for anyone who thought differently, who set up a vicious totalitarian regime where people were persecuted for the most slight deviation from official ideology."
In the wake of his overthrow of Cuban President Fulgencio Batista in 1959, supporters of the old government were sent before summary courts and at least 582 were shot by firing squads over two years.
Estimates of executions under Castro's 50-year rule run into the thousands, with monitors warning of unfair trials, arbitrary imprisonment and extrajudicial executions.
Castro responded by insisting that "revolutionary justice is not based on legal precepts, but on moral conviction".
As the one-party system came into force, independent newspapers were closed and homosexuals, priests and others viewed as a threat were herded into labour camps for "re-education".
Censorship and repression spread, with fans of American rock 'n' roll among those targeted. Freedom of expression, religion, association, assembly, movement and the press were denied.
The Castropedia: Fidel's Cuba in facts and figures
Show all 10
In 1964, Castro acknowledged holding 15,000 political prisoners. Hundreds of thousands of Cubans fled, including Castro's daughter Alina Fernandez Revuelta and his younger sister Juana. An unknown number of Cubans drowned attempting to reach Florida in flimsy boats.
When Castro handed the presidency to his brother Raul in 2008, Human Rights Watch (HRW) warned that the "abusive legal and institutional mechanisms" set up during the communist revolution continued to deprive Cubans of their basic rights.
"Even if Castro no longer calls the shots, the repressive machinery he constructed over almost half a century remains fully intact," said the group's Americas director, José Miguel Vivanco. "Until that changes, it's unlikely there will be any real progress on human rights in Cuba."
HRW cited secret police, surveillance, short-term detentions, house arrests, travel restrictions, criminal prosecutions and politically motivated sackings as methods of "enforcing political conformity", as well as restrictions embedded in legal and constitutional structures.
All media is heavily censored and the spreading of "unauthorised news" a criminal offence, with internet access heavily limited by cost and restrictions.
HRW also warned that the "counterproductive" US embargo, which President Barack Obama, in his final State of the Union address to condemn, gave the Cuban government a pretext for violations.
Instead of achieving the aim of toppling Castro's regime, monitors said the policy helped consolidate his hold on power "by providing his government with an excuse for its problems and a justification for its abuses" and enabling him to garner sympathy abroad – as did numerous and bizarre assassination attempts.
Perhaps the country's most prominent ally was Russia, where past and present leaders were paying tribute to Castro on Saturday.
In a message of condolence sent to the current Cuban President, his brother Raul, Vladimir Putin praised Castro's "free and independent Cuba" as an "inspirational example" around the world.
"He embodied the high ideals of a politician, citizen and patriot, truly convinced of the cause to which he devoted his entire life," said the Russian President.
The Chinese President, Xi Jinping issued a national address saying, "Comrade Castro will live forever".
Statements from other world leaders were more measured, with France's President Francois Hollande acknowledging human rights violations and "disillusionment" following Castro's revolution.
Among his British defenders was Ken Livingstone, who described the former leader as an "absolute giant of the 20th century" and blamed the US for the restrictions on civil liberties.
The former mayor of London said: "I'm sure they will, over time, move towards something like a traditional west European democracy. It could have happened a lot earlier if you hadn't had, the entire time, a blockade by America, attempts to overthrow the regime, eight assassination attempts authorised by American presidents."
Mr Livingstone told BBC Radio 4's Today programme that "of course Fidel did things that were wrong", adding: "Initially he wasn't very good on lesbian and gay rights, but the key thing that mattered was that people had a good education, good healthcare and wealth was evenly distributed."
There was no such praise among hundreds of Cuban exiles and their descendants who poured into the streets of Little Havana in Miami to celebrate Castro's death.
"Cuba si! Castro no!" they chanted, while others screamed "Cuba libre!" as cars blew their horns and people danced.
"We're all celebrating, this is like a carnival," said 72-year-old Jay Fernandez, who fled to the US aged 18 in 1961. He held a sign reading: "Satan, Fidel is now yours. Give him what he deserves. Don't let him rest in peace."
Join our commenting forum
Join thought-provoking conversations, follow other Independent readers and see their replies