Francois Hollande and Valerie Trierweiler, the movie: Film-maker buys rights to sordid story of French president's affair
Former French First Lady's revenge autobiography to be filmed
John Lichfield
Monday 05 January 2015 17:48 Comments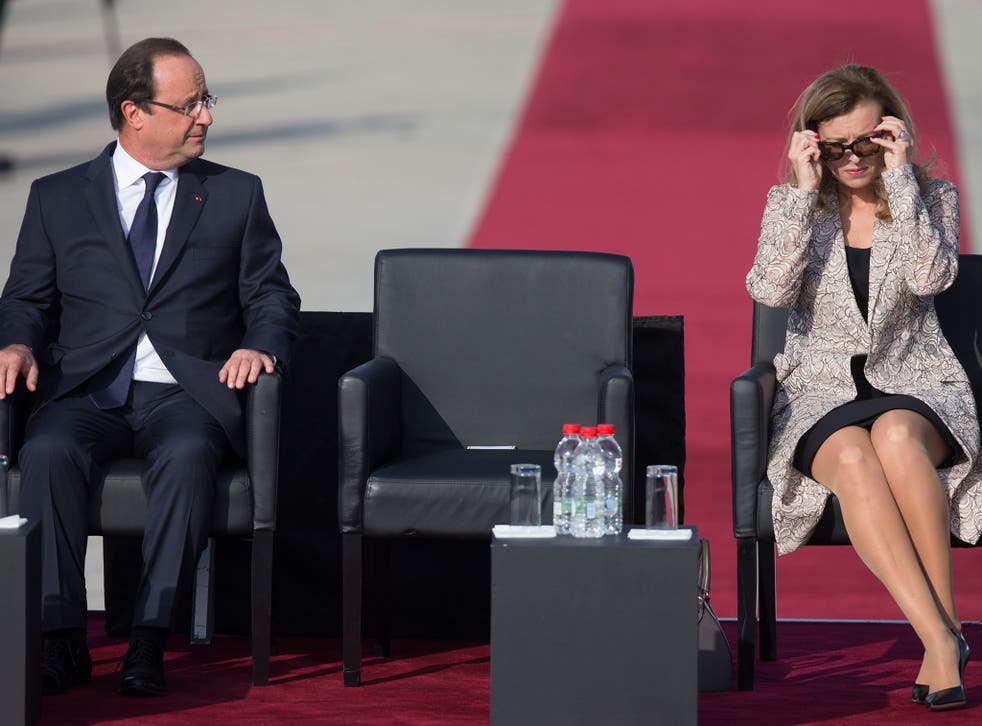 The best-selling revenge autobiography of the former French First Lady Valérie Trierweiler is to be made into a movie, it was announced today.
The French film producer Saïda Jawad – a close friend of Ms Trierweiler – said that she had bought the film rights of "Merci Pour ce Moment" [thank-you for this moment], the former Premiere Dame's lurid account of love and betrayal at the Elysée Palace.
One year after the revelation of the President's affair with the actress Julie Gayet, the announcement is a bodyblow to François Hollande's hopes of rescuing his stumbling presidency in 2015.
Ms Jawad, head of Romarin Films, said that she "guaranteed" that the film would "reveal new facts" about the Hollande-Trierweiller relationship and its spectacularly public disintegraton in January last year.
"In Merci pour ce moment, Valérie is the embodiment of a woman's struggle to scream the truth," Ms Jawad said.
The autobiography, published in September, has sold 730,000 copies in France and has made Ms Trierweiler an estimated €2,000,000. A paperback version, with additional material, is expected shortly.
The book tells the story of her seven-year relationship with Mr Hollande, whom she never married. It accuses him, amongst other things, of lying about his 12-month love affair with Ms Gayet before it was revealed by Closer magazine a year ago.
The book also caused Mr Hollande great political damage by claiming that he referred mockingly to poor people as "les sans dents" (the toothless ones).
The announcement of the film plans generated much ribaldry and speculation on French-language websites today. Would Julie Gayet be asked to play herself? If so, who would play Hollande and and Trierweiller?
Various unlikely combinations of Hollywood actors were suggested, including Brad Pitt and Angelina Jolie. Others suggested that international success for the movie would be guaranteed by casting Gérard Depardieu and Catherine Deneuve.
Register for free to continue reading
Registration is a free and easy way to support our truly independent journalism
By registering, you will also enjoy limited access to Premium articles, exclusive newsletters, commenting, and virtual events with our leading journalists
Already have an account? sign in
Join our new commenting forum
Join thought-provoking conversations, follow other Independent readers and see their replies