General Election 2015: Ed Miliband does interview with 'Sprinkle of Glitter' beauty blogger to convince teens to vote
The Labour leader reaches out to young electorate with YouTube star in what was dubbed a 'Glinterview'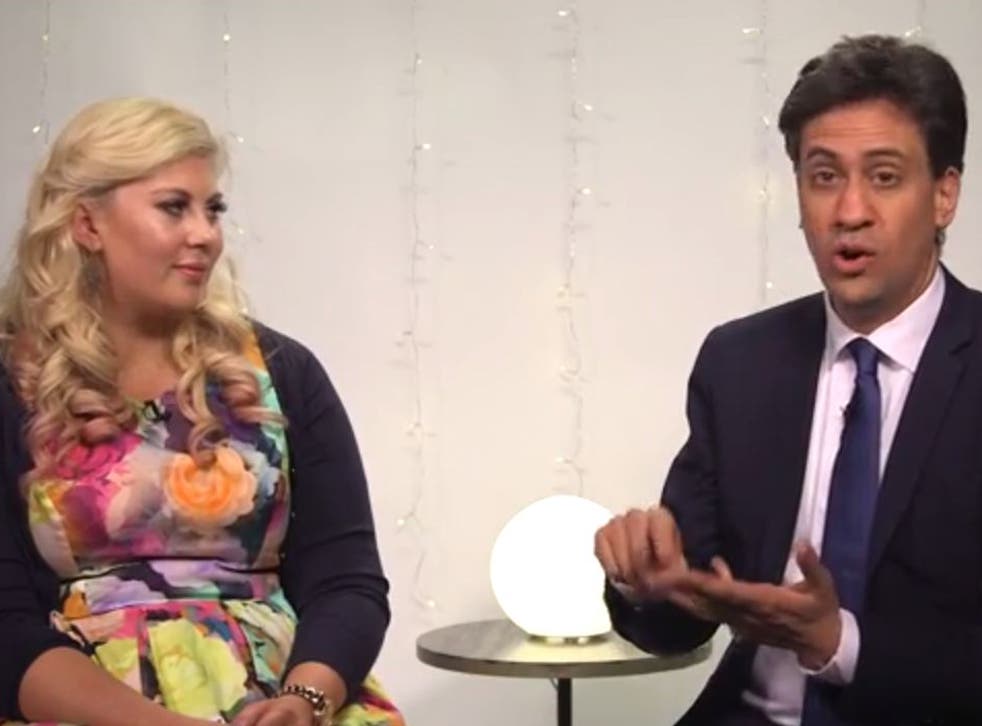 Ed Miliband has said he'll "engage with anyone", and he's stuck to his word to make sure he reaches all potential voters in time for the General Election.
Pentland, 30, explained that the premise of the interview was to talk about why you should vote. Pentland admitted that she had not voted since she was 18, and said many young people didn't understand the significance of voting.
"We're trying to stand up for everybody in society," he explained. During the "Glinterview" Miliband argued that low-paid jobs and people struggling to pay the bills meant they should engage with politics.
During the last few days of campaigning, Miliband even managed to persuade self-confessed "Mr Don't Vote" Russell Brand to endorse voting for his party.
Pentland, however, has 2,127,500 YouTube subscribers, compared with Russell Brand's 1,116,000-odd fans. She normally talks about make-up and fashion, but made an exception to include Miliband.
She is considered in the same league of YouTube royalty as Zoella and Alfie Deyes.
Miliband said that his parents inspired his passion for politics. His Marxist philosopher father Ralph Miliband and his activist mother Marion Kozak both fled the Nazis during World War II. "It makes you care and make you realise politics matters," he said. "I think [my mum] is proud."
Talking about his childhood, he recalled growing up in the Eighties under Margaret Thatcher as a "time of, like, deep division in society".
---
Are you undecided about who to vote for on 7 May? Are you confused about what the parties stand for and what they are offering? Take this interactive quiz to help you decide who to vote for...
---
Miliband notoriously said "ain't" a few times while talking to Essex boy Russell Brand, so no surprise he slipped in a little teen speak during the chat.
Speaking of what policies personally mattered to her in the election, Pentland said: "Education, because my daughter's just starting school."
She added: "I think as well, the NHS, because I never used it before I had my daughter, but I had a complicated delivery and I found them to be so fabulous."
At the end of the interview, Miliband said that a coalition of Pentland's YouTube channel with vloggers Niki and Sammy's was "the only coalition I approve of".
Billed as "a sparkly little chat with Ed Miliband", Pentland said: "A really unusual video from me, it's nice to change things up and challenge yourself from time to time. If you can vote in the UK election, makes sure you do! It's important and not scary."
Register for free to continue reading
Registration is a free and easy way to support our truly independent journalism
By registering, you will also enjoy limited access to Premium articles, exclusive newsletters, commenting, and virtual events with our leading journalists
Already have an account? sign in