Gigi Hadid forced to apologise after whipping up storm of criticism for Melania Trump impression
'I too have been the centre of a nationally televised comedy skit that poked fun at my actions and was able to find the humour in it,' says the model
Maya Oppenheim
Tuesday 22 November 2016 10:24 Comments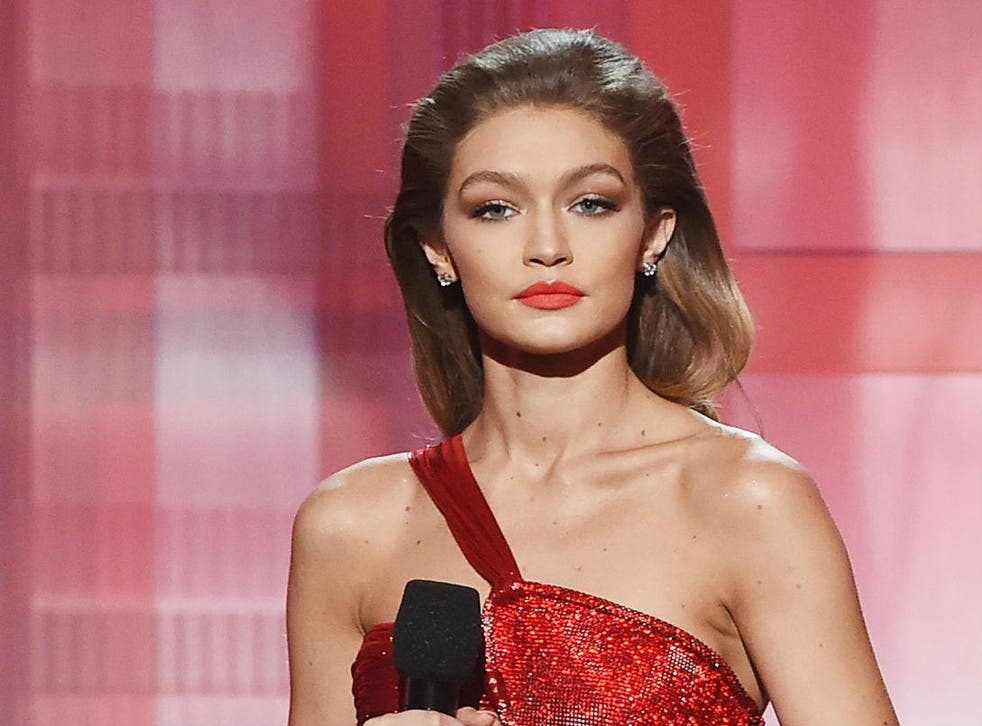 Gigi Hadid has been forced to apologise after her impression of Melania Trump at the American Music Awards prompted a barrage of criticism.
The 21-year-old model, whose father is Palestinian-American and mother is Dutch-born American, was accused of being "racist" and "disrespectful" by some for her impression of Donald Trump's wife.
While co-hosting the 44th annual ceremony, Hadid mimicked the First Lady in waiting by putting on a Slovenian accent and referencing the accusations of plagiarism levelled at her. Ms Trump, who was born in Slovenia, was accused of plagiarising some of Michelle Obama's Democratic convention speech from eight years ago at the Republican National Convention in July.
"This is my Melania Trump impression. I got to get the face right," Hadid said prompting laughter from the audience. "I love my husband, President Barack Obama, and our children, Sasha and Malia".
President Donald Trump life in pictures

Show all 16
Hadid has now apologised in a lengthy, handwritten note posted on her Twitter account. She said the joke had been made in "good humour" and "with no bad intent".
"I was honoured to host the AMA's last night and to work with some of the most respected writers in the business," she wrote.
"I removed or changed anything in the script that I felt took the joke too far, and whether or not you choose to see it, what remained was done in good humour and with no bad intent. I too have been the centre of a nationally televised comedy skit that poked fun at my actions and was able to find the humour in it."
"I believe Melania understands show business and the way shows are written and run. I apologise to anyone that I offended and have only the best wishes for our country."
Hadid's impression of the First Lady divided much of the public. While some commended her skit for bringing humour to the ceremony, others suggested it was "tasteless" and labelled her a "bully".
On top of that, other Twitter users claimed Hadid would not have impersonated a black person and suggested she would not have done the same to Michelle Obama.
"Hey Hadid girl if Melania Trump was a black lady you would not racist jokes about her. Stupid liberal double standard," wrote one.
"If a Conservative did that with Michelle Obama we would be called racist" said another.
Nevertheless, others applauded her impression as "hilarious" and "lighthearted". What's more, several others argued it was ironic some Trump supporters were labelling Hadid a "racist".
Jay Pharoah, who co-hosted the ceremony alongside Hadid, lauded her impression and said it was "spot on". He then did his own impression of Mr Trump. "I love Bruno Mars," Pharoah's Trump said. "I don't know what colour he is, so I can't deport him".
Register for free to continue reading
Registration is a free and easy way to support our truly independent journalism
By registering, you will also enjoy limited access to Premium articles, exclusive newsletters, commenting, and virtual events with our leading journalists
Already have an account? sign in
Join our new commenting forum
Join thought-provoking conversations, follow other Independent readers and see their replies