GOP debate: Donald Trump says Fox anchor Megyn Kelly 'behaved very badly'
Candidate says Megyn Kelly's questions to him were 'much tougher'
David Weigel
Friday 07 August 2015 11:10 Comments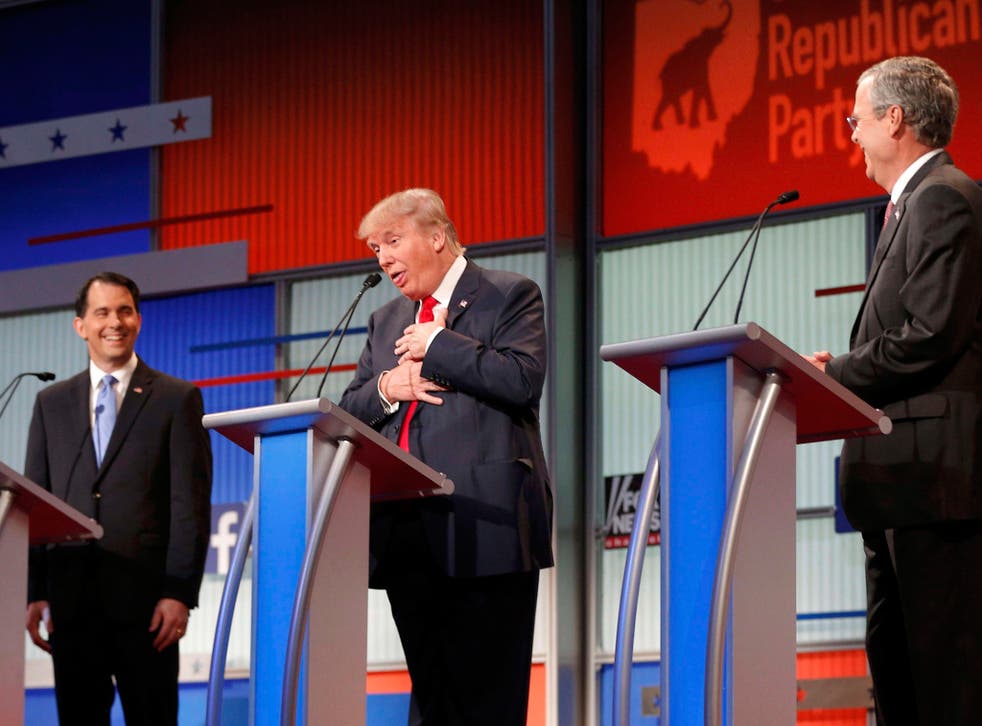 The rumor was that Donald Trump would be one of the few candidates to personally work the post-debate spin room. The rumor was true -- belatedly. Only at 11:30 p.m. did Trump emerge, into a swarm of reporters who started by simply asking how he felt he did.
"I thought their questions to me were much tougher than to other people, and I respect that, but I really enjoyed the evening," Trump said. "The questions to me were far tougher, and that I supposedly -- according to what everyone is telling me, and the call-ins and everything, I won. But the questions to me were not nice. I didn't think they were appropriate. And I thought Megyn behaved very badly, personally."
He was referring to Megyn Kelly, the Fox News host who asked a question that won Trump some of his biggest laughter and applause.
"You've called women you don't like 'fat pigs, dogs, slobs, and disgusting animals,'" Kelly said.
"Only Rosie O'Donnell," joked Trump. When the laughter died down, Trump decried "political correctness" and told Kelly he had "been very nice" to her and could always change his mind. Two hours later, he was still stewing.
"I thought it was an unfair question," said Trump in the spin room. "They didn't ask those questions of anybody else. So I thought it was an unfair question. But you know what? The answers were good, obviously, because everyone thinks I won."

Notably, it was the press, and not Trump's Republican rivals, who criticized the "political correctness" answer. Trump's loudest criticism came from Sen. Rand Paul (R-Ky.), who largely attacked him over leaving open the possibility of a third party run, and donating money to Democrats.
"I think it was extraordinary that more people wouldn't stand up and say something when he was right there threatening to run third party and destroy our chance to defeat Hillary Clinton," said Paul's campaign manager Chip Englander.
There was almost no criticism at all of the Trump positions on immigration that have frequently roiled the race. Former Florida governor Jeb Bush told Trump that he did not insult him, as had been reported in a Politico story this week. "I really appreciated Jeb Bush when he said 'I didn't say that,'" said Trump. "They fed a question, which was inappropriate, and I thought it was really nice for him to say that."
Gov. John Kasich (R-Ohio) even offered a kind of solidarity with Trump's voters. "Donald Trump is hitting a nerve in this country," said Trump. "He is. He's hitting a nerve." After the debate, Kasich campaign strategist John Weaver argued that the governor, who has campaigned as a compassionate conservative, could win Trump's voters.
"There's a mirror image between the anger side and someone who says: Yeah, you have the right to be angry about it," said Weaver. "I'm angry about it, too. I've also balanced a budget and cut taxes -- and we can build the wall."
Weaver explained that he was talking about the construction of a wall on the Mexican border. And RNC Chairman Reince Priebus said that Trump's third party flirtation was just that -- a passing phase.
"I don't think that he was ready tonight to raise his hand, but I've been talking to Donald Trump," said Priebus. (He accidentally got the hand-raising moment wrong: By raising his hand, Trump confirmed that he might run third party.) "I think he's getting to a good place, and I think this is new for him."
On his way out of the spin room, Trump made one more enemy. He acknowledged again that he had solicited Bill Clinton's opinion before entering the race, but said that the former president was not cheering him on.
"He's not happy that I'm running. I can tell you right now," said Trump. "He thinks I'm the worst nightmare for Hillary."
©Washington Post
Register for free to continue reading
Registration is a free and easy way to support our truly independent journalism
By registering, you will also enjoy limited access to Premium articles, exclusive newsletters, commenting, and virtual events with our leading journalists
Already have an account? sign in
Join our new commenting forum
Join thought-provoking conversations, follow other Independent readers and see their replies