GQ Men of the Year Awards: Tony Blair is named 'Philanthropist of the Year'
The former Prime Minister said in his acceptance speech that he could "feel the pulse of progress beating a little harder"
Natasha Culzac
Tuesday 09 September 2014 15:40 Comments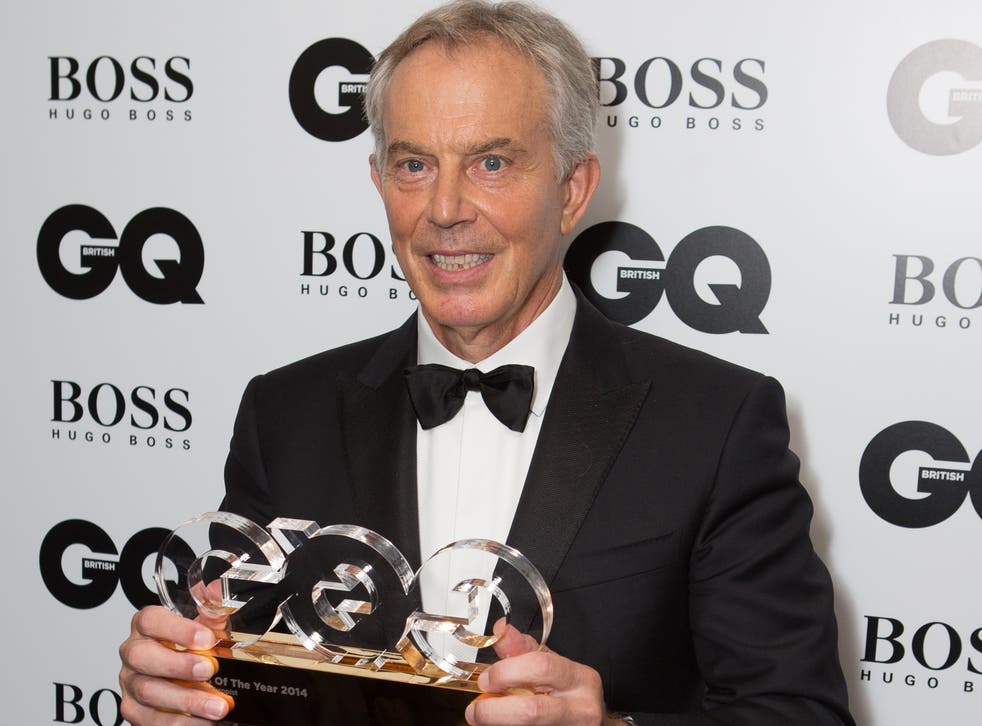 Tony Blair has been named 'Philanthropist of the Year' at the GQ Men Of The Year awards – an announcement which drew a collective bemused gasp across the internet.
Former Prime Minister Blair received the accolade for his establishing three charities: The Tony Blair Sports Foundation, his Faith Foundation and his Africa Governance Initiative.
According to GQ, Blair told the glitzy audience: "I would like to dedicate this award to the people that work with and for my organisations. I feel the pulse of progress beating a little harder."
The ceremony was held at the Royal Opera House in London's Covent Garden last night and also saw gongs bestowed on Peter Capaldi for best TV Personality, Christopher Bailey for best Designer, while Kim Kardashian walked away with the 'Woman of the Year' award.
Blair, who is oft-criticised for his role in bringing war to the Middle East in 2003, is also a Special Envoy for the Quartet Representative, a mandate set up to facilitate peace negotiations between Israel and Palestine.
In 2012 the Quartet was mocked for being "useless, useless, useless" by senior Palestinian officials, which condemned it for being full of "constructive ambiguity that really took us to nowhere".
The former Labour leader's award was condemned by an MP from his own party: "It sends the wrong message. This sort of award should go to an unsung hero who has given up their time for charity," John Mann MP said, according to the MailOnline.
Tory MP Charlie Elphicke added: "It is jaw dropping that he should be given this award given his involvement in spinning the alleged brutal massacre in Kazakhstan."
Last month, it was revealed that Blair had given PR advice to the President of Kazakhstan, the latter of whom was giving a speech defending his country's human rights record in light of the deaths of unarmed protesters at the hands of police.
The Tony Blair Sports Foundation aims to get more young people involved in sports and physical activity by recruiting and training coaches, while his Faith Foundation attempts to "counter religious prejudice, conflict and extremism in order to promote an open-minded and stable society".
Full list of the GQ winners is below:
Comedian: John Bishop
Editor's Special: Liam Neeson
Chef: Tom Kerridge
Designer: Christopher Bailey
International Man: Jonah Hill
Writer: Michael Lewis
Philanthropist: Tony Blair
Breakthrough Fashion Designers: Agi and Sam
TV Personality: Peter Capaldi
Innovator: Ewan Venters
Inspiration: New Order
Hugo Boss Most Stylish Man: Douglas Booth
Sportsman: Lewis Hamilton
Actor: Benedict Cumberbatch
Entrepreneur: Andre Balazs
Special Achievement: Paolo Nutini
Breakthrough: Jamie Dornan
Legend: Van Morrison
Solo Artist: Pharrell Williams
Leading Man: Colin Firth
Humanitarian: Ringo Starr
Woman: Kim Kardashian
Icon: Iggy Pop
Register for free to continue reading
Registration is a free and easy way to support our truly independent journalism
By registering, you will also enjoy limited access to Premium articles, exclusive newsletters, commenting, and virtual events with our leading journalists
Already have an account? sign in
Join our new commenting forum
Join thought-provoking conversations, follow other Independent readers and see their replies