Gregory Porter on breaking out of the jazz world, his signature hat and Donald Trump
'Many people come up to me in tears. Music is important in people lives. You are there at the moment of birth, death, break-up or love connection you become a soundtrack to their lives,' says the Grammy-award-winning musician
Maya Oppenheim
Wednesday 02 November 2016 18:32 Comments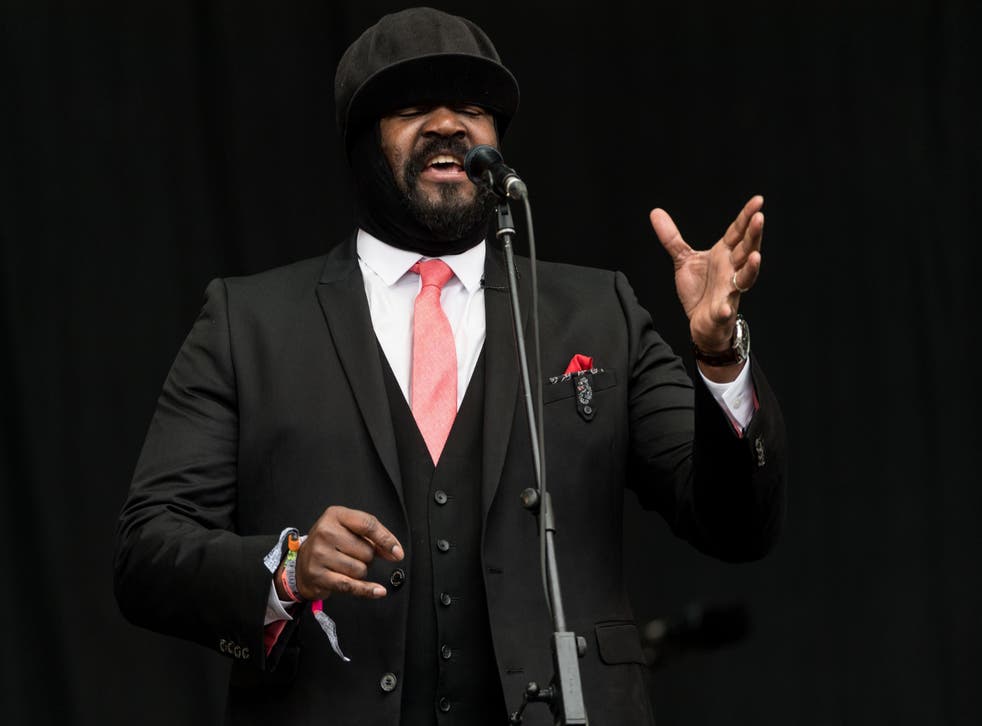 Unlike many of his fellow jazz cats, Gregory Porter transcends the bubble that is the jazz world. The black-capped singer-songwriter might have teamed up with pop-house duo Disclosure and played for the tweenie bopper throngs of Glastonbury but he has also performed at some of the most highly-regarded jazz festivals in the world.
Porter's deeply smooth voice booms down the phone as he explains he is ringing from aboard the Queen Mary 2. It turns out he is sailing from New York to Southampton on a transatlantic ocean liner for a jazz festival and the captain of the ship has kindly agreed to lend him his phone.
Porter's soulful warming chimes first carried him into the so-called mainstream in 2010, with his Grammy-award-winning, platinum-selling 2013 album Liquid Spirit becoming the most streamed jazz album in history. A bizarre metric of success it might be, but Porter's music has even found its way onto the soundtrack of EastEnders' Lucy Beale's funeral.
Unusually, Porter only properly launched his career as a recording artist when he was 40. Before then the now 44-year-old tried his hand at everything from American football (hence his 6 ft 3 frame), working as a chef in New York to city planning.
People news in pictures

Show all 18
It was ultimately the influence of his mother, who died of breast cancer when he was a university student, which instilled in him the desire to pursue music. "Two days before my mother died, I comforted her on her deathbed and told her I was going to be normal and be successful and responsible and she wouldn't have to worry about me," Porter tells The Independent. "But she said, 'take the risky route, don't forget your music. Do this thing that may cause 20 years of poverty and heartache until you make it.'"
Born in Sacramento but raised in Bakersfield in the San Joaquin Valley of California, Porter talks about his childhood with both a fondness and a hint of sadness. Raised in poverty alongside seven siblings, Porter's mother was a minister and his father was altogether absent. "I would be listening to Nat King Cole and imagining Nat King Cole was my father," Porter, who is now married and has his own son, recalls.
While he remembers Bakersfield as quiet and beautiful with oranges and lemons falling off the trees, he also remembers the racism he endured. "There were great ups and downs. You come into a situation where you are a bit of an other," he reflects. "Imagine a black family with eight kids moving into a neighbourhood and the growing pains of that and getting called names."
It was his mother's influence and that of music which helped him get through difficult times, which at one of its starkest moments saw a huge cross burning just outside his window.
Growing up in the church, music surrounded him. At an early age he found he had a natural inclination for melodies. Surrounded by eight siblings, he says he found a way to stand out. "They call Bakersfield the Nashville of the west - country music is very influential and in the black church there is a deep southern influence there, with singing southern gospel blues and negro spirituals."
The conversation turns to his trademark black cap (a "Kangol summer spitfire" to be exact) and baclava which has been dubbed his "security blanket" by some. While he does not go into the facial scars it covers, he does admit it has become his "signature look to rock".
"I get recognised for the hat in airports," he laughs deeply, his mood shifting as he relaxes. "In the UK, they know me quite well but they don't give me a free pass, I get fully checked and secured. There has been a time or two when I have been asked to sing to let them know it's really me."
And are they lucky enough to be graced with his rich baritone? "When a person in uniform asks you to do something you are conditioned to do it," he replies, breaking into impromptu song down the phone.
But it is not just airport security that recognise Porter. From the mother who told him her four-year-old daughter goes to bed listening to "Be Good" to the woman who told him his CD did not move from her car or phone for one year, he never fails to be struck my people's ability to be moved by his music.
"I was with her through the ups and downs of an entire year," he reflects. "Many people come up to me in tears. Music is important in people lives. When I put it out there I don't know what its unintended or intended consequences are going to be. You are there at the moment of birth, death, break-up or love connection, you become a soundtrack to their lives."
And it is Porter's ability to touch such a far-reaching demographic which makes him so unique for a jazz artist. From the Monterey Jazz Festival to Glastonbury, people yearn to hear his songs. "I like the fact there is something in my voice, something in my music that's universal in terms of age and race."
Nevertheless, Porter manages to maintain an unrelenting sense of modesty and humility despite his ascent to fame. He even says catching sight of the twinkling glimmer of his Grammy in his office in the morning still shocks him. But what about the actual moment he got his award? "It's hard to describe a dream come true of a dream you didn't think was possible. I found myself on stage not fully comported".
Conversation then turns to the ever-looming prospect of a Donald Trump as President. Porter resolves that whether he wins or loses, the damage has already been done. "He has emboldened people to think that it is acceptable to be rude and crass and divisive," he says. "This is one of the most successful men in America and people look up to him even if they say that they don't.
"Even I do. I'm like how did he achieve the things that he achieved? What route did he take?"
Like many of his fellow musicians, Porter laments the billionaire businessman's railing against political correctness. "He said one of the big problems we have is political correctness but political correctness came about for a reason: so that you couldn't say anything to a woman, so you can't say anything you want to a black person or a Mexican person. It didn't just come out of nothing, we demanded that people were more respectful of speech, if not action. Yes, it can go overboard but it came about for a reason."
Gregory's film about his life Don't Forget Your Music premiers at Doc' n Roll Festival at the British Film Institute in Southbank on 2 November
Register for free to continue reading
Registration is a free and easy way to support our truly independent journalism
By registering, you will also enjoy limited access to Premium articles, exclusive newsletters, commenting, and virtual events with our leading journalists
Already have an account? sign in
Join our new commenting forum
Join thought-provoking conversations, follow other Independent readers and see their replies