Happy Mondays' Bez forgets to register his 'Reality Party' with the Electoral Commission
The maraca-shaking Mancunian is hoping to contest the Salford and Eccles seat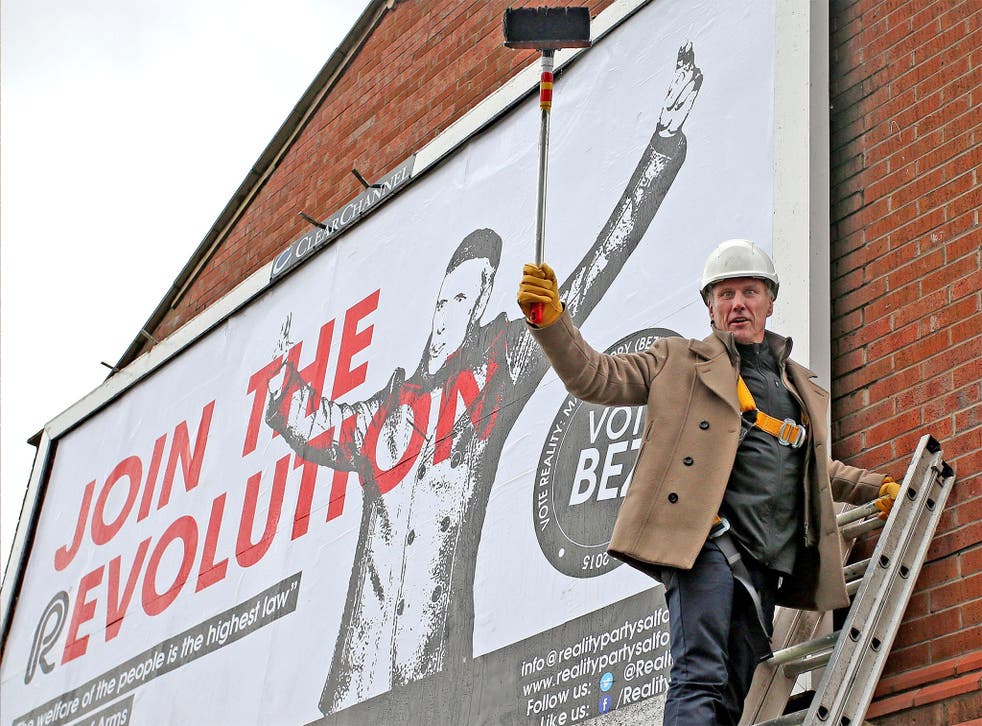 He is the maraca-shaking Mancunian inspired by Russell Brand's call for revolution who launched his bid for a Westminster seat this week.
Yet while the Happy Mondays' dancer Bez remembered to discuss his policies for Great Britain as he launched his Reality Party to great fanfare in Salford on Monday he forgot one rather important point – to actually register them with the Electoral Commission.
The regulator wrote to Bez several times warning him that The Reality Party would be removed from the register because it sounded like The Realists' Party, falling foul of Commission rules not to have two parties similarly named which might cause confusion among the electorate.
He was given a deadline of 12 January – their official launch day – but forgot to get back to them. As a result The Reality Party was deregistered on the day the revolution was supposed to begin.
Bez, 50, an environmentalist and anti-fracking campaigner whose real name is Mark Berry, strode up a ladder in Salford on Monday giving a Churchillian salute to press and supporters below in front of a huge billboard bearing his image and a message to 'Vote Bez' alongside party slogan "It's Real – It's Your Reality".
The Independent has discovered that Bez, along with two other Reality Party members hoping to become MPs, will in fact never be able to stand in any election under that name.
A spokesman for the Electoral Commission said: "Following a review conducted last year, we contacted 'The Reality Party' on two occasions to tell them the party name they had registered, if seen on a ballot paper at a General Election, could mislead voters.
"We recommended what they could do to address this and whilst the party indicated that it was looking at ways to alter its name with the Commission, it did not submit a revised name before our 12 January deadline and so was removed from the register of political parties."
Little is known about the party that has usurped the Happy Mondays man. The only available details about The Realists' Party are that it registered in February 2012, it is based in Brockley, London, that its leader is Ms Jane Lawrence and it has a Treasurer and Nominating Officer.
Bez is hoping to win the Salford and Eccles seat where the former Labour cabinet minister Hazel Blears is standing down having had a 5,725 majority in 2010. Among his party's promises are a zero carbon economy and an end to tax concessions for big business.
The two other Reality Party candidates are Nigel Askew, a pub landlord in Ramsgate, Kent, is standing in South Thanet where Ukip leader Nigel Farage hopes to become an MP, and Jackie Anderson, who is listed as the 'west Salford and Eccles' candidate, although the constituency does not exist anymore.
At Monday's launch in Salford Bez said that he had "never voted before in my life" but after a personal political awakening considered it was now "every man's duty to vote".
Bez listed his political priorities as the NHS and fighting the austerity cuts, claiming the UK's deficit is "a complete lie" as the government can print its own money. He gave away free beer, with bottles of ale made on 'Frack Free' land handed out among supporters and press at the event.
He said: "It's going to be difficult. But it's not about the winning it's about the fight and how well you fight and about getting our message across, what we've got to say.
"If we can get our message across of what we've got to say. And if we can make a small difference and get the big parties listening to the people about our true concerns then we've done our job."
The Commission spokesman said: "There's still time for the [Reality] party to submit a revised name to the Commission before candidates who want to stand for a party have to submit their nominations papers to Acting Returning Officers with the name of the registered party they are standing for."
A spokesman for The Reality Party said it thought Bez had been registered as a candidate prior to anyone doing so from The Realists' Party. After being contacted by the Independent telling them the party did not officially exist, the spokesman said they would urgently investigate the "administrative error".
Join our new commenting forum
Join thought-provoking conversations, follow other Independent readers and see their replies