Harambe is not a Patronus, JK Rowling insists
Harry Potter author moves to dismiss suggestions dead gorilla is among the forms of advanced magic that can be used to shield people from Dementors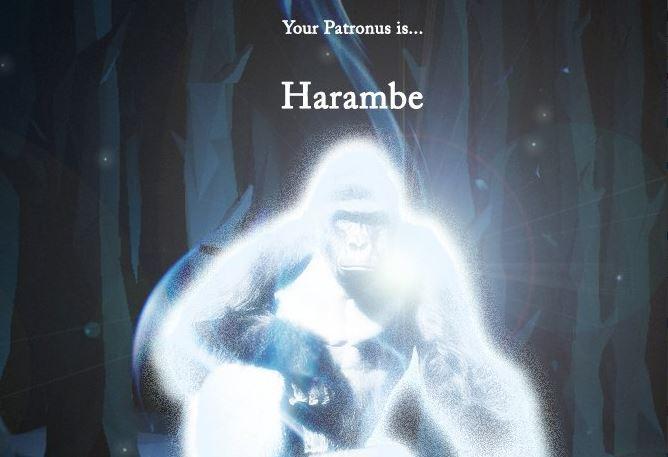 Harambe is not a Patronus, JK Rowling has been forced to clarify.
The Harry Potter author issued a statement on her Twitter page dismissing suggestions the killed gorilla was among the forms of advanced magic that could be used to shield people from Dementors.
Speculation the primate shot dead at Cincinnati Zoo was one of the raft of options provided on Rowling's Pottermore website was prompted when she retweeted an image appearing to depict the late animal as a Patronus.
But the writer attempted to quell the growing source of excitement online, with a clarifying post moments later, saying: "I've been asked to make it clear that Harambe is not a Patronus you can actually get on @pottermore. The previous RT is a joke. As you were."
She added that she "thought it was very funny".
Discover your Patronus at Pottermore
Cincinnati Zoo's male silverback was shot dead in May after a three-year-old child fell into his enclosure, prompting widespread grief and anger.
A series of online tributes have since been made to the slain animal, including calls for another zoo to name their new baby gorilla after him.
The chief executive of Cincinnati Zoo previously asked people to stop making memes and jokes about the deceased primate amid a seemingly perpetual flow of homages to the departed beast across various sections of the internet and from across the political spectrum.
In August, a Cincinnati school made a man in a gorilla outfit the new mascot for its football team in an apparent tribute to the expired creature.
The most controversial animal killings
Show all 6
Video showed the costumed man dragging a child by the arm in a manner reminiscent of the real Harambe on the fateful day the boy fell into his enclosure.
Join our commenting forum
Join thought-provoking conversations, follow other Independent readers and see their replies