Here are the surprising first movie roles of 27 A-list actors
Meryl Gottlieb
Friday 19 August 2016 16:57 Comments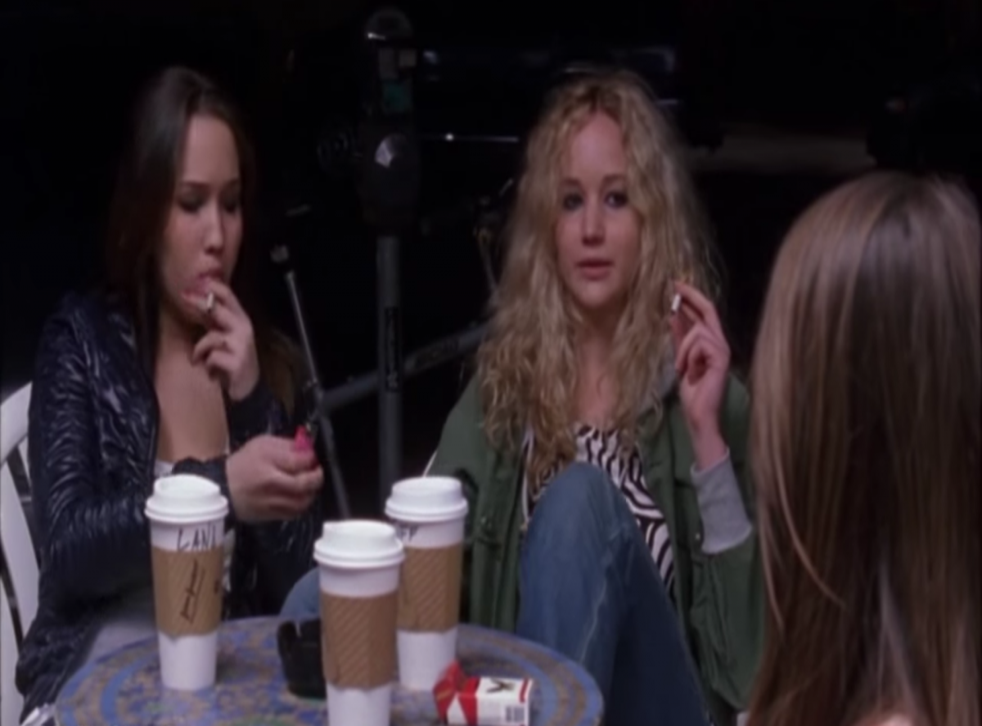 It's hard to take notice of every side character who wanders into a movie. It would ruin the experience if you did.
So it's pretty easy to miss certain stars. But you never know, that random nurse in two minutes of a film could become the first black woman to win an Emmy for best lead actress.
Or the random guy killed in a slasher movie could become the "Sexiest Man Alive."
Or maybe they lucked out and landed a significant role in their first film and even scored an Oscar nomination, or, in another case, an Oscar win.
From Kerry Washington to Jennifer Lawrence, George Clooney to Cuba Gooding Jr., see some of your favorite A-list actors in their first credited role in a feature film:
---
George Clooney: 'Grizzly II: The Concert' (1983)
The "Ocean's Eleven" star did not have the most auspicious start. "Grizzly II" was the sequel to the 1976 film about a giant, man-eating bear.
The film, which also features a young Charlie Sheen, was never released but features Clooney in a nameless role that has him camping out with a lover before being mauled by the monster. It's a scene worth watching.
Clooney's released-film debut came in 1987's "Return to Horror High." He seemed to have an affection for horror films.
---
Johnny Depp: 'A Nightmare on Elm Street' (1984)
Poor Glen. Depp's film debut and first role ever saw him mutilated by Freddy Krueger in his bed while he was wearing a belly shirt.
Watch the unsettling death and thank the heavens Depp evolved into better -- though equally strange -- roles.
---
Leonardo DiCaprio: 'Critters 3' (1991)
There's apparently a trend of ultrafamous male actors starting in horror films.
In "Critters 3," DiCaprio plays Josh, who has a memorable scene as he watches the critters kill his stepdad.
DiCaprio actually joined the TV show "Growing Pains" in the same year, and it's obvious TV fared better for him at the time.
---
Kerry Washington: 'Our Song' (2000)
Kerry Washington isn't just Olivia Pope. Twelve years before, Washington made her feature-film debut in "Our Song."
Washington plays Lanisha Brown, a 15-year-old who, with her two best friends, is a dedicated member of the Jackie Robinson Steppers, a community marching band. The film follows their choices after the high school closes for asbestos removal.
Based on the trailer, it seems like the kind of dramatic vehicle Washington would come to thrive in.
---
Amy Adams: 'Drop Dead Gorgeous' (1999)
This cult classic features not only Kirsten Dunst, Kirstie Alley, Denise Richards, and Ellen Barkin, but it's also Adams' industry debut.
Adams plays Leslie Miller, a kind yet vapid and sexy beauty-pageant contestant. Adams steals every scene she can and proves she can be quite the cheerleader.
---
Matt Damon: 'Mystic Pizza' (1988)
Before he was Jason Bourne or Will Hunting, Matt Damon was Steamer, the younger brother whose palate wasn't as refined as his rich family's.
Watch the scene in which Daisy (Julia Roberts) attends a dinner with Charlie's (Adam Storke) family where nothing seems to go right. Damon's "aw shucks" face proves he has only gotten better with age.
---
Julia Roberts: 'Satisfaction' (1988)
Julia Roberts has basically been the star of films since "Mystic Pizza," but before that, she had a small handful of roles in which she wasn't the biggest name.
Roberts' first film was "Firehouse," but her first credited film role was as Daryle in "Satisfaction," starring Justine Bateman and Liam Neeson.
Roberts and Bateman are members of a girl-rock group trying to make a name for themselves. Watch the trailer and feel some '80s nostalgia.
---
Tom Hanks: 'He Knows You're Alone' (1980)
Before he was one of the most established actors and a constant Meg Ryan love interest, Tom Hanks played Elliot, a psychology student who meets the female lead of this '80s slasher while jogging through a forest.
He provides the meta look at horror films and comments on people's desire to pay to be scared. It doesn't seem as if there is much of a point to his role, but "He Knows You're Alone" plays at our primal fears and is a worthwhile '80s slasher film. You can watch the full film on YouTube.
---
Denzel Washington: 'Carbon Copy' (1981)
Denzel Washington is now known for playing more dramatic and action-based roles ("Man on Fire," "Philadelphia") so his first credited role in a feature film seems out of his repertoire
"Carbon Copy" is a comedy about a white business executive who discovers he has a black teenage son (Washington, who was 27 at the time). The trailer sets it up to be a hilarious time, and it's refreshing to see Washington in a less intense role.
---
Emma Stone: 'Superbad' (2007)
Emma Stone knew her comedic brand from the beginning. Stone was a breakout as Jules in Judd Apatow's beloved "Superbad," memorably not noticing Jonah Hill's antics in home economics class.
After "Superbad," Stone quickly added well-known titles to her résumé -- "Zombieland," "Ghosts of Girlfriends Past," and "The House Bunny" -- before becoming widely recognized with 2010's "Easy A."
---
Meryl Streep: 'Julia' (1977)
Believe it or not, Meryl Streep wasn't always the queen of acting. Before she became the actress with the most Oscar nominations, Streep played a minor supporting role in "Julia," which starred Jane Fonda and Vanessa Redgrave.
The film is about playwright Lillian (Fonda) and her relationship with her friend Julia (Redgrave), who asks her to smuggle funds into Nazi Germany.
---
Lupita Nyong'o: '12 Years a Slave' (2013)
What's really shocking about Lupita Nyong'o's first film is that there wasn't one before it. She's easily recognized because it's the film that instantly planted her on Hollywood's A-list and earned her an Oscar.
Nyong'o plays Patsey, a young, tortured slave. For a first gig after graduating from the Yale School of Drama, she could've done worse.
---
Ryan Gosling: 'Frankenstein and Me' (1996)
Ryan Gosling is as charismatic as ever in this supporting role in this film starring Burt Reynolds. Gosling plays Kenny, a friend of the lead character, who wants to bring Frankenstein to life.
---
Jennifer Lawrence: 'Garden Party' (2008)
Before she sat at the top of Hollywood's A-list, Jennifer Lawrence got her start in guest roles on "Monk" and "Cold Case" until she made her film debut in "Garden Party."
In the movie, she plays Tiff, a friend of the main character who finds herself in more than one struggle. It's the beginning of Lawrence's grungy, indie career.
---
Benicio del Toro: 'Big Top Pee-wee' (1988)
Benicio del Toro might have foreshadowed his "Wolfman" performance in 2010. Surprisingly, he made his film debut in the Pee-wee Herman flop "Big Top Pee-wee" as Duke the Dog-Faced Boy. He's basically unrecognizable.
---
Natalie Portman: 'Léon: The Professional' (1994)
Portman's first role in the French action hit "Léon: The Professional" showed a bountiful career was in her future. Portman played Mathilda, a 12-year-old who made her entrance smoking a cigarette and sporting a black eye.
---
Cuba Gooding Jr.: 'Coming to America' (1988)
Cuba Gooding Jr. made his film debut in the Eddie Murphy classic "Coming to America," but he never said a word. Instead his character, dubbed by IMDb as "Boy Getting Haircut," sat observing and laughing as the old men talk about boxing in a barbershop.
---
Brad Pitt: 'The Dark Side of the Sun' (1988)
Pitt had a few uncredited roles to his name -- like in Charlie Sheen's "No Man's Land" -- before landing his first credited role in the American-Yugoslavian drama "The Dark Side of the Sun."
Pitt plays Rick, who has a rare skin disease that prevents him from exposing himself to any kind of light, especially sunlight. The full movie is on YouTube if you decide to check out how that insane description is portrayed on screen.
---
Margot Robbie: 'Vigilante' (2008)
Margot Robbie has a skyrocketing career, but before she broke into the American entertainment world with "Wolf of Wall Street," Robbie was in "Vigilante," a small Australian film.
Robbie plays Cassandra, whose rape sparks her fiancé to train to become a master of hand-to-hand combat and fight crime.
---
Viola Davis: 'The Substance of Fire' (1996)
The story of Viola Davis' first film gig isn't very cushy. Her character in "The Substance of Fire," which stars Tony Goldwyn and Sarah Jessica Parker, is called Nurse and is seen for only a few minutes as she hands a vile of blood to Timothy Hutton.
According to TV Insider, Davis said she did one day's work and was paid $518 for the role.
It's definitely no Annalise Keating or Aibileen Clark, and a pretty humble start for the first black woman to win an Emmy for best lead actress.
---
Edward Norton: 'Primal Fear' (1996)
Edward Norton started his film career with a bang, playing Aaron Stampler, a stuttering altar boy accused of murdering a beloved archbishop -- though Stampler might not be as innocent as he seems.
It was Norton's first role, though he clearly steals the film from Richard Gere and Laura Linney. Norton even earned an Oscar nomination, and he hasn't stopped giving incredibly intense performances since.
---
Will Smith: 'Where the Day Takes You' (1991)
Will Smith had already been loved for a year as the star of "The Fresh Prince of Bel-Air" when he made his feature-film debut.
In "Where the Day Takes You," Smith plays Manny, who is one of the teenage runaways in Los Angeles whom the film follows. Sean Astin, Ricki Lake, Lara Flynn Boyle, and Dermot Mulroney also star.
---
Geena Davis: 'Tootsie' (1982)
Everyone remembers "Tootsie" for Dustin Hoffman's Oscar-nominated and Jessica Lange's Oscar-winning performances, but it was also Geena Davis' first film. Davis plays April, who makes a rather revealing entrance as Dorothy Michaels' (Hoffman) dressing-room partner.
---
Kevin Bacon: 'Animal House' (1978)
Nowadays, it seems hard to associate Kevin Bacon with a snobby, prissy character like Chip Diller, an Omega pledge and ROTC cadet who gets trampled during the homecoming parade after memorably shouting, "All is well!"
---
Halle Berry: 'Jungle Fever' (1991)
Halle Berry's first role was in the failed spinoff of "Who's the Boss?" called "Living Dolls," but her film debut was in Spike Lee's story about an interracial couple in 1990s New York.
Berry plays Vivian, or "Viv," Gator Purify's (Samuel L. Jackson) girlfriend. Watch her hold her own in a yelling match when Gator asks her to leave.
---
Queen Latifah: 'Jungle Fever' (1991)
Halle Berry wasn't the only one to make her film debut in Spike Lee's "Jungle Fever." Queen Latifah played Lashawn, a waitress who butts heads with Flipper (Wesley Snipes) at a restaurant.
---
Tom Cruise: 'Endless Love' (1981)
It didn't take long for Tom Cruise to become Tom Cruise. He had his first bit part in "Endless Love" as Billy, a friend of the main character who gives him an idea that later goes awry. In the same year, he had a much more substantial supporting role in "Taps." Two years later, Cruise was in "The Outsiders" and "Risky Business" and became an acting giant.
Read more:
• This chart is easy to interpret: It says we're screwed
• How Uber became the world's most valuable startup
• These 4 things could trigger the next crisis in Europe
Read the original article on Business Insider UK. © 2016. Follow Business Insider UK on Twitter.
Register for free to continue reading
Registration is a free and easy way to support our truly independent journalism
By registering, you will also enjoy limited access to Premium articles, exclusive newsletters, commenting, and virtual events with our leading journalists
Already have an account? sign in
Join our new commenting forum
Join thought-provoking conversations, follow other Independent readers and see their replies