Hillary Clinton's Cabinet: Who could be in the White House if democrats win presidential election?
Rupert Cornwell
Washington DC
Tuesday 01 November 2016 18:25 Comments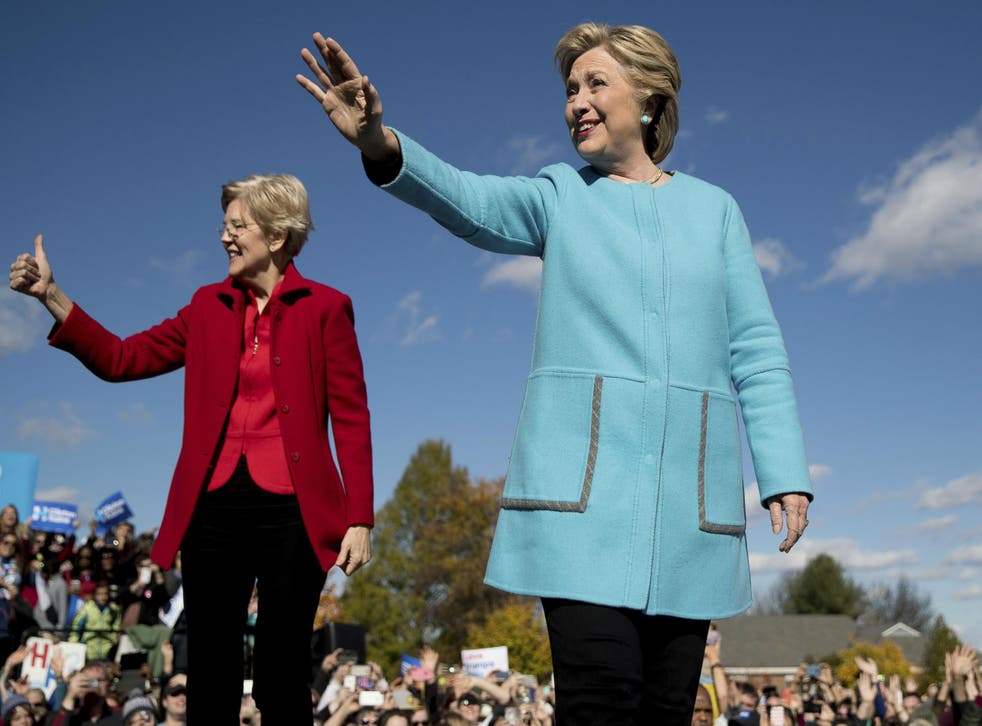 It is, the candidate and her top aides ritually reply, far too early to talk about such things. There is, after all, an election to be won first. But a great number of people are thinking about these things: who will be Hillary Clinton's cabinet appointees?
Clinton herself has given very few clues, beyond a pledge that half of them would be women. But her choices will tell a great deal about her, and about the way she intends to govern – whether, for instance, she can break her habit of rewarding loyalty above all, and whether she is capable doing the bold and unexpected, in a way she seems unable to do as a campaigner.
They will show to what extent her administration will be a continuation of, or break from, that of President Obama, and what concessions she will make to the leftwing of the party, led by Senator Elizabeth Warren of Massachesetts, and her defeated primary rival, Bernie Sanders.
And, perhaps most intriguing of all, would she pick a Republican for one of the top jobs, in a bid to rekindle bipartisan co-operation at a moment when US politics have never been more polarised?
The real focus will be on six positions: the 'big four' jobs in the cabinet proper: the Secretaries of State, Defence and the Treasury, and Attorney General; and two top White House positions that are as important as any cabinet jobs: chief of staff, and national security adviser. Of them, the most closely watched abroad will be Secretary of State, America's diplomatic face to the world.
Joe Biden, vice-president for the past eight years, was never a likely choice, even before he declared last week he was not interested in the job. John Kerry, the current occupant, would surely be keen to stay on if asked. But that too appears unlikely.
The front runners are three. The woman on the short list is Wendy Sherman, who has held a variety of State Department jobs in Democratic administrations since 1992, including the third ranking post, under secretary for political Affairs, and was lead negotiator on the Iran nuclear deal.
The other names most mentioned are the two Burns. William Burns, a former US ambassador to Moscow, was Deputy Secretary between 2011 and 2014, before becoming president of the Carnegie Endowment. Nicholas Burns is another widely respected former career diplomat, who has held high positions at the department during both Democratic and Republican administrations.
The Pentagon has a more obvious female front runner, in Michèle Flournoy, who would be the first woman to hold that job. Her qualifications are impeccable. She was head of defence transition planning for Barack Obama, before becoming under secretary for policy, the No 3 policy position at the Department of Defense.
Hillary Clinton joins Jennifer Lopez on stage for US election boost
Whoever is named to the Pentagon and to the State Department will perforce work closely with Clinton's national security adviser. That post seems earmarked for 39-year-old Jake Sullivan, security adviser to Biden and who has been Clinton's top foreign policy aide during the campaign.
On the domestic front, party liberals will watch nowhere more closely than the Treasury Department. Warren herself does not seem a serious option, but any appointee too closely tied to Wall Street would arouse the left's ire. A possibility is Silicon Valley's Sheryl Sandberg, chief operating officer of Facebook, but who once worked at the Treasury Department.
As for the Justice Department, the one certainty is that Loretta Lynch, heavily compromised in the Clinton email controversy, would not stay on as Attorney General. The most widely tipped successor is Tom Perez, currently President Obama's Secretary of Labor.
No Cabinet officer however has greater daily access to the president than the White House chief of staff, whose job is often rated the second most important – and arguably the most physically gruelling – in Washington. Her choice here too will tell much about Clinton.
The ideal pick might be John Podesta, her campaign chairman who was chief of staff to Bill Clinton two decades ago. But, at 67, Podesta is reportedly uninclined to put himself through that grind again. The other insider linked with the job is Cheryl Mills, one of the most powerful figures in 'Hillaryland.' But a chief of staff Mills would play into the image of a secretive Clinton who surrounds herself with a praetorian guard of loyalists – an image that has not served her well on the campaign trail.
Register for free to continue reading
Registration is a free and easy way to support our truly independent journalism
By registering, you will also enjoy limited access to Premium articles, exclusive newsletters, commenting, and virtual events with our leading journalists
Already have an account? sign in
Join our new commenting forum
Join thought-provoking conversations, follow other Independent readers and see their replies