Hit & Run: Where's our Jon Stewart?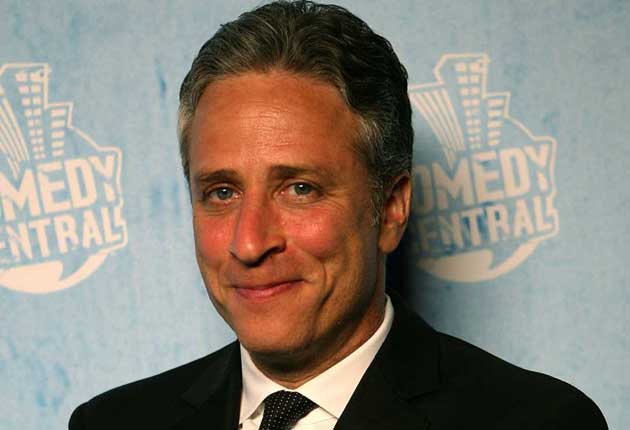 Who said satire was dead? In the US, at least, plenty did. Once President Bush left office, they argued, political comedy would be moribund, irrelevant – specifically that scourge of the Bush administration, The Daily Show with Jon Stewart.
Yet Stewart has reasserted his relevance by confronting the Consumer News and Business Channel's fiery financial pundit Jim Cramer over his network's mishandling of the economic crisis. By buying into the boom, Stewart argued in an encounter last week, Cramer and his competitors were implicated in the bust. Stewart was incisive, quick-witted and unrelenting. Cramer got served.
The pundit, host of CNBC's Mad Money, has since tried to make light of the interview, but he ought to remember the example of CNN's Crossfire: a "news comment" show that pitted two interviewers, Paul Begala and Tucker Carlson (ostensibly from opposing ends of the liberal/conservative spectrum), against each other and their interviewees. When Stewart was invited on in 2004 and asked to "be funny", he instead told the presenters that their dumbed-down approach to serious news was "hurting America". Crossfire was cancelled six months later.
Stewart may hold the political class to account, but his greatest gift is for highlighting the failings of the media class that follows them – people like Carlson and Cramer. Perhaps the UK news networks provide less mockable material; yet we should ask, nonetheless, why we have no Jon Stewart of our own.
Despite a long and distinguished history of political satire, British television lacks the figure to fill Stewart's singularly influential role. BBC Four put comedian Marcus Brigstocke at the helm of The Daily Show clone The Late Edition in 2005, but the programme and its presenter enjoyed nothing like the success of their American predecessors.
On the satire side, we boast such formidable talent as Chris Morris, Rory Bremner and the regulars on Have I Got News For You – none of whom regularly confront their targets in person. On the talk show side, we have Jonathan Ross and Graham Norton – neither of whose shows have the political content of that of their US counterparts, David Letterman, Jay Leno et al.
In fact, The Daily Show's format originated on this side of the Atlantic, with That Was The Week That Was, the seminal satirical news show of the 1960s. Anchorman David Frost would open each programme with a Stewart-like comic riff on the week's current affairs (from behind a Stewart-like desk), before opening up the floor to his fellow funnymen for skits and interviews. So where is this generation's TW3 when we need it?
His wit was one thing, but no one gave the young Frost much credit as a political interviewer. He was, as the writer Peter Morgan's Oscar-nominated movie Frost/Nixon demonstrates, thought a lightweight by politicians and his peers alike. Until, of course, that famous post-Watergate interview with Nixon.
Stewart, too, was mocked as a mere "comedian" by Cramer, until the pundit was forced to face his foe's very serious interrogation. Stewart himself frequently emphasises that yes, he is a comedian, and no, he shouldn't be the one posing these difficult questions. But, if nobody else will … Tim Walker
A bit of buff and polish
Ewan McGregor in Velvet Goldmine, Nicky Wire in the Manic Street Preachers, Bowie and Iggy Pop in the Seventies… there's a time and a place for nail varnish on men.
So when Prince Harry appeared at the west London nightclub Raffles last Friday night sporting a lick of pink varnish across the nails of his left hand, it was bound to make headlines.
There was no apparent reason for the controversial royal's flirtation with glam-rock chic, which he tried hard to hide from fellow revellers (although sadly not the paparazzi working for the Sunday red-tops). Such antics could be written off as youthful high-jinx, but is there any place for nail care and manicures in the adult (military) male's busy life?
"The girls I know always comment if there's a man who is groomed in the hand and foot department as well as everywhere else," says manicurist Leighton Denny, whose salons include a popular "nail studio" in the basement of Harrods.
So, in the spirit of the times, Hit & Run ventured to the Canary Wharf branch of Nails Inc, a popular chain of nail "salons" across Britain. Fellow customers smiled at me a tad patronisingly – hadn't they ever seen a metrosexual before?) but my manicurist, Sam, put me at my ease.
She gave me a buff, file and polish for £17, and suggested I return for the full monty (from £27) which would involve pushing back my cuticles. The end sensation? Tingly, moisturised, and feeling clean. It almost makes you too precious to touch a keyboard. Rob Sharp
Get your laughing gear around this
If you own an iPhone, then you've probably got a clutch of downloaded gizmos on your home screen – from pedometers to spirit levels, Tetris to pretend light sabres. The latest is MouthOff, which allows you to adopt a cartoon mouth that responds to the sound of your voice when the phone is held to your face. I didn't gain much amusement from paying 59p for the pleasure of sporting dog's chops, but my colleagues certainly did. So if you want to get the full effect, record yourself speaking with a robot, sex kitten or crone's gob, upload it to YouTube with the tag showusyourmouthoff, and you can laugh at yourself, too. Rebecca Armstrong
Join our commenting forum
Join thought-provoking conversations, follow other Independent readers and see their replies