How Spanish prankster Jimmy Jump landed in hot water – and in $350,000 debt
The pitch invader and disruptor of sporting and cultural events around the world is facing bankruptcy as he battles to pay off fines relating to his antics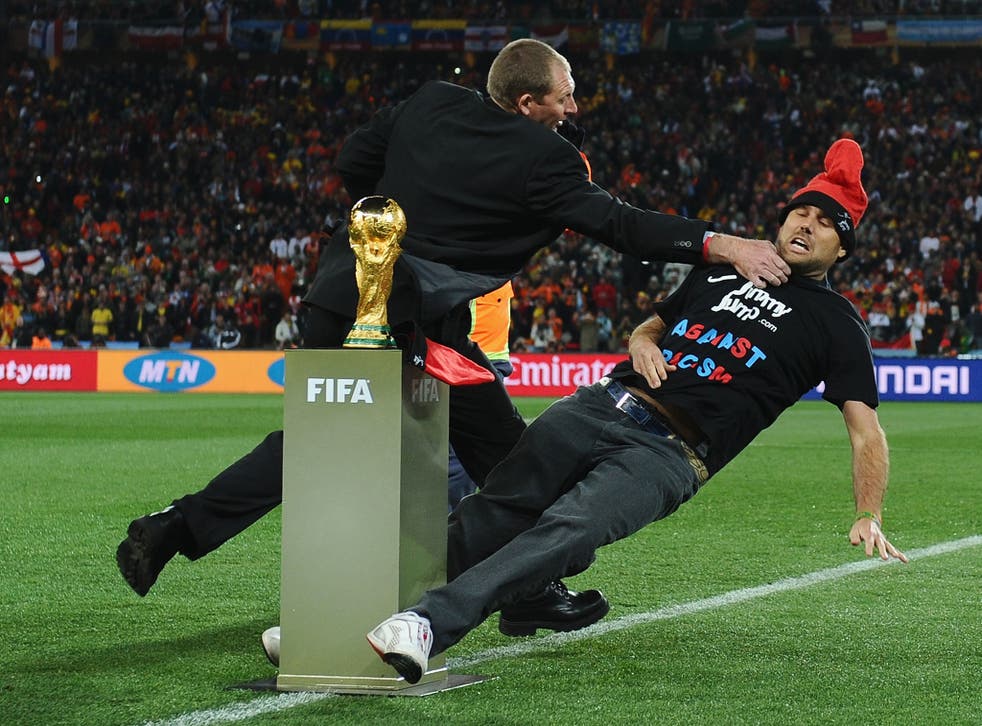 His stunts have made him the most famous pitch invader in the world – but, with the prospect of bankruptcy looming, his actions have come at a cost.
Jimmy Jump, a 42-year-old Catalan whose real name is Jaume Marquet i Cot, has disrupted international sports and cultural events across the globe for at least the last decade. He now claims that 50 per cent of his monthly income is being automatically channelled through to unspecified legal authorities, in order to pay off the hundreds of thousands of euros worth of fines collected due to his antics.
"I have no money," he told the website gazzetta.gr, "My total debt is around $350,000 (£220,000)."
Mr Marquet i Cot first hit the headlines when he staged a one-man invasion of the starting grid during the parade lap of a Formula One grand prix at the Montmelo circuit near his birthplace of Sabadell, a town in Barcelona's industrial hinterland. A diehard Barcelona fan, Mr Marquet i Cot then became a somewhat tediously regular, if uninvited feature of many of that team's fixtures, invariably wearing his trademark barretina – a traditional Catalan red cap known elsewhere as a Phrygian cap.
In one of his most famous early pitch appearances, during the 2004 European Championships final between Portugal and Greece, Mr Marquet i Cot brandished a Barcelona flag at Luis Figo. It was, apparently, a reaction to Figo's decision to quit the Catalan side in favour of arch-rivals Real Madrid four years previously.
Jimmy Jump makes his mark at the World Cup

Show all 5
Perhaps the "high point" of his career, though, came at the 2010 World Cup. Mr Marquet i Cot covered the trophy with one of his barretinas minutes before the Spanish and Dutch finalists took to the pitch.
That particular incident landed him with a fine worth the equivalent of £175, according to reports. Also that year, he managed to find his way onto the stage during the Eurovision Song Contest in Oslo.
On another occasion, during the final of a prestigious waterpolo match, he leapt in the pool to join the players.
"I didn't know what happened until I heard the crowd react," tennis star Roger Federer said when Mr Marquet i Cot ran towards him during the French Open final in 2009. "So that gave me a fright seeing him so close."
"Normally they look at you and say 'sorry I have to do this', but this guy looked at me and I was not sure what he wanted. He seemed to want to give me something." – in Mr Marquet i Cot's case, a barretina.
On his website, Mr Marquet i Cot says his predilection for barretines is due to the red Phyrgian caps' popularity amongst 1789 French revolutionaries, making them a symbol of liberty. He wishes, he writes, "to communicate the freedom of expression in an world which is increasingly under the control of the media".
Mr Marquet i Cot has also been barred from all football matches in Spain and Germany. However, he says he now plans to dodge the stadium ban by heading further afield, telling gazzetta.gr "All the Greeks support me. They want to see Jimmy again."
Register for free to continue reading
Registration is a free and easy way to support our truly independent journalism
By registering, you will also enjoy limited access to Premium articles, exclusive newsletters, commenting, and virtual events with our leading journalists
Already have an account? sign in
Register for free to continue reading
Registration is a free and easy way to support our truly independent journalism
By registering, you will also enjoy limited access to Premium articles, exclusive newsletters, commenting, and virtual events with our leading journalists
Already have an account? sign in
Join our new commenting forum
Join thought-provoking conversations, follow other Independent readers and see their replies