How Stephen Hawking became a pop-culture phenomenon: From Star Trek to Glastonbury
The ultimate science icon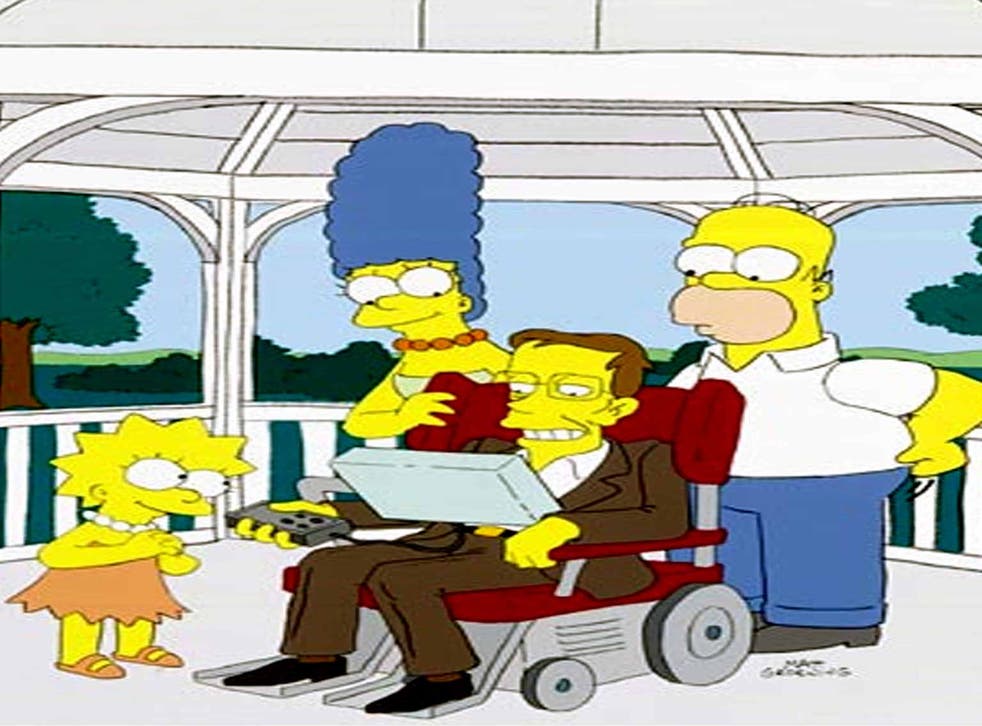 Walk past the spectacle of the main stages. Shun the madness of the Stone Circle. The place to be at Glastonbury this weekend is the lesser-known Kidz Field. Not only will Dynamo entertain the young crowd by turning whatever it is he has up his sleeve into pound coins, but Professor Stephen Hawking will also take to the stage to give a speech.
What his chosen subject will be remains to be seen, but you can bet the Kidz Field, which usually plays host to rather less esteemed guests such as, er, Alex Winters and Katy Ashworth from CBeebies, will be packed out for it.
It might seem curious for the author of A Brief History of Time to appear at a music festival, but really it is just the latest chapter in Hawking's whirlwind attack on popular culture.
Last week he was the subject of a documentary, but instead of having some fusty science figure interview him, it was the Irish comedian Dara Ó Briain who probed him with questions and fan boy-ed out (hence the progamme's somewhat unimaginative title, Dara Ó Briain Meets Stephen Hawking).
In the past year alone the 73-year-old physicist has appeared in a comedy sketch alongside the physicist Brian Cox for Monty Python's live show (he runs Cox over in his wheelchair), contributed a recording of a speech on power and politics that U2 play during the encore of their current Innocence + Experience tour, and appeared on Pink Floyd's track "Talkin' Hawkin'" from their most recent album The Endless River. Dave Gilmour sampled his electronic voice from a 1994 BT advert. It was the second time that the Floyd had interwoven Hawking's speech into a song. Incidentally, Hawking's own tastes veer towards the classical, but he has been to see the band play live.
In April, he used his insight into space and time to give hope to heartbroken girls all over the world when he was asked on stage about the cosmological effect of Zayn Malik leaving One Direction. Hawking, appearing in holographic form at the Sydney Opera House, suggested that the singer might still be in the boy band – only in an undiscovered parallel universe. When he met the Beckhams last month he left the country's most famous family collectively starstruck.
Despite the rising profiles of Cox and Neil DeGrasse Tyson, Hawking is pop culture's ultimate science icon. In the past he has appeared in The Simpsons, Futurama, The Big Bang Theory, Family Guy, and Red Dwarf among others, and he is the only person to ever have played themselves in Star Trek.
Not forgetting, of course, 2014's The Theory of Everything. When asked what he thought of it, Hawking's reply was typically wry: "I won't tell them how to make movies if they don't tell me how to solve the mysteries of the universe."
It's not often that a science figure can make such a splash. For Mark Borkowski, publicist and author, Hawking's appeal lies in his sense of fun. "He has inspired a generation because he's made science fun," says Borkowski. "At the heart of it he has got a great sense of humour. He's bigger than anyone now. He's absolutely a national treasure and I don't mean that in the sense of someone thrown out of some rubbish reality show. It's his persona, his disability, the triumph over adversity, the extraordinary life he's had."
His mainstream appearances are also championed by the disabled community. Dr Tom Shakespeare, a lecturer and campaigner for disability rights, believes that Hawking's visibility in the mainstream can be inspiring to those with disabilities.
"I think that his appearance in pop culture is very helpful," says Shakespeare. "He's a globally famous disabled person. I think people in the disabled community would say that he's the biggest celebrity going. And he's shown that having a disability is no obstacle to achieving great things."
Could the Dennis Stanton Avery and Sally Tsui Wong-Avery Director of Research at the Department of Applied Mathematics and Theoretical Physics at Cambridge University ever be in danger of becoming over-exposed? "Well, everybody can eventually get over-exposed," says Borkowski. "But I think he's sort of in a zone of his own."
Which leaves only one question - why the hell isn't he playing the Pyramid Stage?
Join our new commenting forum
Join thought-provoking conversations, follow other Independent readers and see their replies