Escaped Isis sex slave Nadia Murad becomes UN goodwill ambassador
Campaigner has advocated for Yazidi cause since escaping terror group in 2014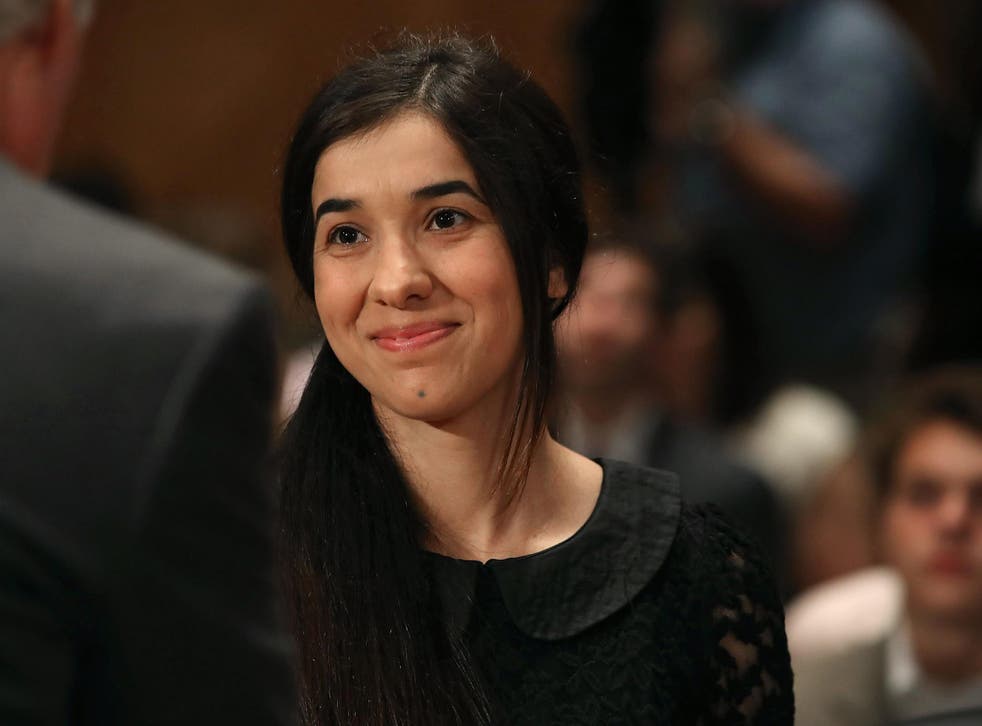 A woman who escaped Isis sex slavery has become the first survivor of captivity with the group to be appointed a United Nations Goodwill Ambassador.
Nadia Murad, who has also been nominated for a Nobel Peace Prize, will act as an ambassador for the Dignity of Survivors of Human Trafficking for the UN's Drugs and Crime body.
The 23-year-old, who is Yazidi, was captured by the jihadi group in 2014 and subjected to sexual and physical abuse after being sold as a slave several times but eventually managed to flee.
Since Isis declared their so-called "Caliphate" in August 2014, they have presided over the slaughter and enslavement of the minority Yazidi people, who they regard as "devil worshippers".
The monotheistic sect were exiled from their ancestral homeland, Sinjar in northern Iraq after the militants vowed to "purify" the country of non-Islamic people.
In addition to the thousands of women and girls who were enslaved, thousands of men and boys were slaughtered including Ms Murad's six brothers.
In a statement, the UN said her ambassadorship would "focus on advocacy initiatives and raise awareness around the plight of the countless victims of trafficking.
"The appointment marks the first time a survivor of atrocities is bestowed with this distinction," a statement said.
Iraq crisis: Yazidi nightmare on Mount Sinjar

Show all 15
In December 2015, Ms Murad briefed the UN Security Council's first ever session on human trafficking.
She described being rounded up by Isis, also known as Islamic State, and witnessing the militants shooting men and boys in cold blood.
In her statement, she said: "The Islamic State (sic) didn't come to kill the women and girls, but to use us as spoils of war, as objects to be sold with little or to be gifted for free.
"Their cruelty was not merely opportunistic. The Isis soldiers came with a pre-established policy to commit such crimes.
"Isis had one intention, the destroy the Yazidi identity by force, rape, recruitment of children, and destruction of holy sites they captured, especially against the Yazidi woman where the used rape as a mean of destruction for Yazidi women and girls and ensuring these women will never return to a normal life."
She said she and 150 other girls were taken to Mosul from her village in Kocho, where there were already over one thousand Yazidi women and girls were to be offered as "gifts" to Isis fighters.
She was finally able to escape after three months of imprisonment and fled to Germany where she currently lives.
Commenting on her appointment, UN Secretary-General Ban Ki-Moon said: "Nadia survived horrific crimes.
"I cried when I heard her story. But I didn't only cry out of sadness.
"I was also moved to tears because Nadia has so much strength, courage and dignity.
"She rightly calls for a world where all children live in peace."
Register for free to continue reading
Registration is a free and easy way to support our truly independent journalism
By registering, you will also enjoy limited access to Premium articles, exclusive newsletters, commenting, and virtual events with our leading journalists
Already have an account? sign in
Register for free to continue reading
Registration is a free and easy way to support our truly independent journalism
By registering, you will also enjoy limited access to Premium articles, exclusive newsletters, commenting, and virtual events with our leading journalists
Already have an account? sign in
Join our new commenting forum
Join thought-provoking conversations, follow other Independent readers and see their replies