Israel-Gaza conflict: Sarah Palin uses Joan Rivers as 'source of foreign policy wisdom' in video urging support for Israel
Palin's 'The Truth About the War in Israel' has been released on her new pay-monthly subscription channel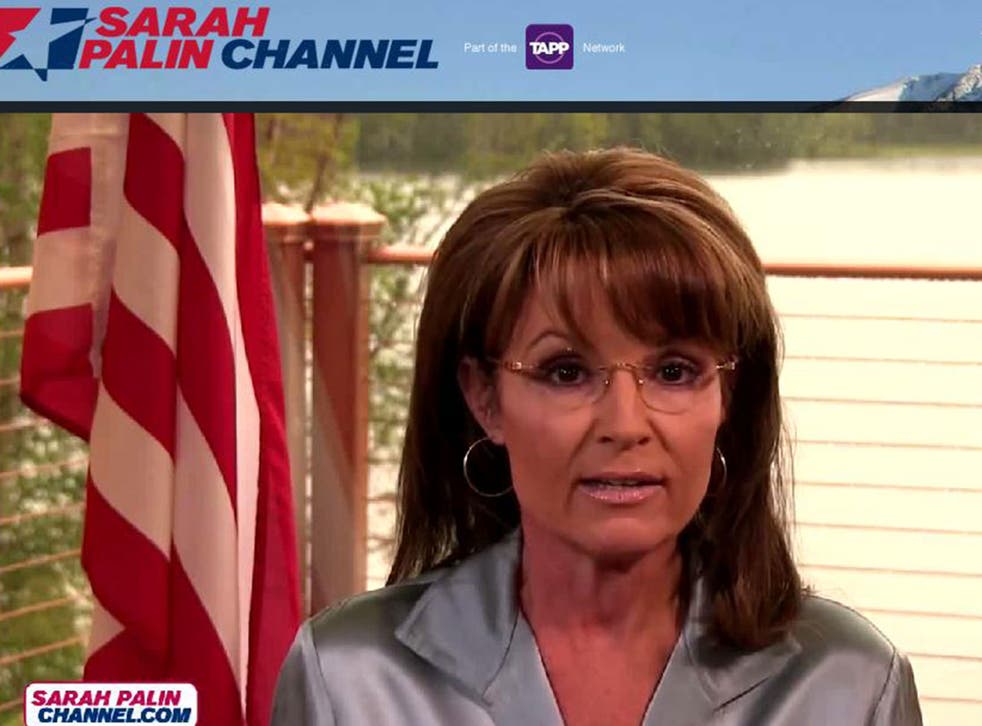 Sarah Palin has offered her thoughts on the current Israel-Gaza conflict by releasing a rambling, nine-minute video urging support for Israel on her new digital venture, the Sarah Palin Channel.
The video, entitled 'The Truth About the War in Israel', was released on Tuesday and references "unlikely sources of foreign policy wisdom" in the form of a shock-jock (Howard Stern) and a Hollywood fashion critic (Joan Rivers) who Palin lauds for "cutting through the nonsense and getting to the truth" at the centre of the Israel-Gaza conflict.
The former governor of Alaska and one-time Republican candidate for vice-president launched her online television network earlier this week in order to "talk directly" to her supporters – for a subscription fee of $9.95 (£5.88) per month.
The channel is backed by TAPP, a new media group established by two former bosses at major networks CNN and NBC. Despite having links to such major networks, Palin's website promises to "cut through the media's politically correct filter" because it has "no need to please the powers that be".
The website even features a ticker totting up the national debt, alongside a countdown to the end of Barack Obama's time in office, a man she freely describes as "the current lawless, imperial president" during her discussion on Israel and Gaza.
In the broadcast, which features shots of Palin sat directly in front of the cameras mixed with a montage of election campaign-esque photos, Palin refers to Hamas as a "death cult" she claims is "operating right next door to the tiny nation of Israel, which is struggling to defend itself against attacks".
"Don't believe for a second their acts of terrorism will stop with just our ally, the Jewish state of Israel -no," she warns. "They'll move onto more."
"Israel is our friend, and America's current leadership is second guessing them?"
Palin then goes onto to hail "unlikely wisdom" from celebrities such as Stern, who recently gave an impassioned defence of Israel on air that culminated with: "If you're anti-Israel, then you're anti-America".
Rivers, "a Hollywood style critic - no doubt she's repulsed by my style, or lack of it", is also commended by Palin for telling reporters: "The Palestinians cannot throw rockets and not expect Israelis to defend themselves."
Despite constantly referencing a metaphorical sphere known as the "arena of ideas" in which Palin invites viewers in to join debate on the conflict, she muses: "I'm confused as to why anyone could tell me that I'm wrong."
"The Hamas-led Palestinians started this. They drew first blood. Israel has no choice but to move on Gaza to destroy the tunnel systems as well as Hamas' rocket launchers.
Her speech then takes a more emotive turn by focusing on children at the centre of conflicts: "Children are always the most tragic victims of war, man - it breaks our hearts to see children ever getting caught up in the middle, but there is only one side in the conflict that deliberately puts children in harm's way and in fact deliberately targets children in suicide attacks – it's not Israel doing this!"
Palin adds: "Our country financially supports the Palestinians? Cut it off Congress, cut it off!"
Her video on Israel is posted alongside a video explaining how the West ought to deal with Russian President Vladimir Putin and another which argues for President Obama's impeachement.
Register for free to continue reading
Registration is a free and easy way to support our truly independent journalism
By registering, you will also enjoy limited access to Premium articles, exclusive newsletters, commenting, and virtual events with our leading journalists
Already have an account? sign in