Ivanka Trump clothing line faces #GrabYourWallet boycott
'When Ivanka continued campaigning for Donald after the Trump Tapes I could no longer shop at stores that profit from her products either,' says Shannon Coulter who spearheaded the boycott
Maya Oppenheim
Tuesday 25 October 2016 15:56 Comments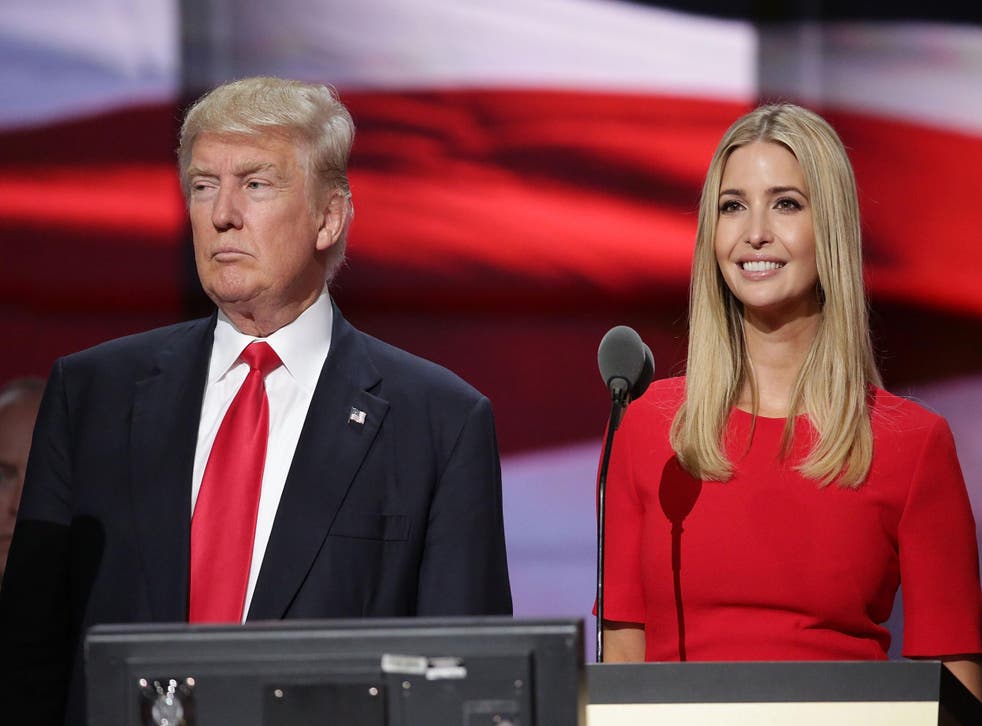 It turns out Donald Trump is not the only member of the Trump family who could suffer from the string of sexual assault allegations launched against him, which he has strenuously denied, or his now notorious "p***y-grabbing" comments. Ivanka Trump's business could potentially be damaged by the debacle too.
Increasing numbers of women have said they will boycott his daughter's clothing and accessories line Ivanka Trump Collection and are using the hashtag #grabyourwallet (a reference to the Republican candidate's leaked sexually aggressive 2005 hot mic comments) to raise awareness about their protest.
Many of these women are refusing to shop at retailers who stock the Republican candidate's daughter's fashion line until they discontinue it. The shops include Macy's, Nordstrom, Amazon, Lord & Taylor, Marshalls, Zappos, TJ Maxx and more.
Shannon Coulter spearheaded the boycott and first created the hashtag, which has since picked up growing steam, on Twitter on 11 October. Coulter has shared a public Google Document of the steadily-growing list of the shops she is boycotting on her Twitter account.
What did Donald Trump say during the third presidential debate?

Show all 9
Coulter, who is a technology and media marketing specialist based in the Bay Area of San Francisco, estimated that more than 50,000 respondents have voiced support for her campaign and at least 2,000 have said they will participate. As the boycott has picked up momentum, supporters have called respective stores to explain they will no longer be shopping there.
"My Tweets about #GrabYourWallet have been seen 668,819 times today, so just imagine how many times yours have! Keep it up!" she tweeted on Monday.
"When she [Ivanka] continued campaigning for Donald after the Trump Tapes I could no longer shop at stores that profit from her products either," she added.
"I'll say it every day. For them & for myself, I will not shop at any store that profits from Donald or Ivanka Trump products".
Ivanka has condemned her father's leaked lewd and derrogatory comments from 2005 as "inappropriate and offensive" but has played a prominent role throughout her father's presidential campaign and gave a primetime speech during the Republican National Convention.
'If Ivanka Trump had distanced herself from the campaign I would not be boycotting her. But something changed for me when that tape was released," Coulter told The Guardian.
She explained that when she heard Mr Trump's leaked sexually aggressive comments, she was reminded of a time she said she was sexually harassed by a male colleague at work.
"When I heard Donald Trump talking on that tape, I recognised in his words the same feeling that I had that day – of being nothing more than an object. No matter how smart you are or how hard you work, they can do that to us."
Mr Trump initially dismissed his lewd comments as "locker room" talk but then apologised for his remarks in a 90-second apology. Nevertheless, he continued to repeatedly describe the remarks as "locker room talk" when probed during the second presidential debate.
A representative for Ivanka did not immediately respond to request for comment.
Register for free to continue reading
Registration is a free and easy way to support our truly independent journalism
By registering, you will also enjoy limited access to Premium articles, exclusive newsletters, commenting, and virtual events with our leading journalists
Already have an account? sign in
Join our new commenting forum
Join thought-provoking conversations, follow other Independent readers and see their replies