Protesters stage candlelit vigil urging Ivanka Trump to stand up to father
The campaign is urging Mr Trump's daughter to stand up and address the President-elect's divisive rhetoric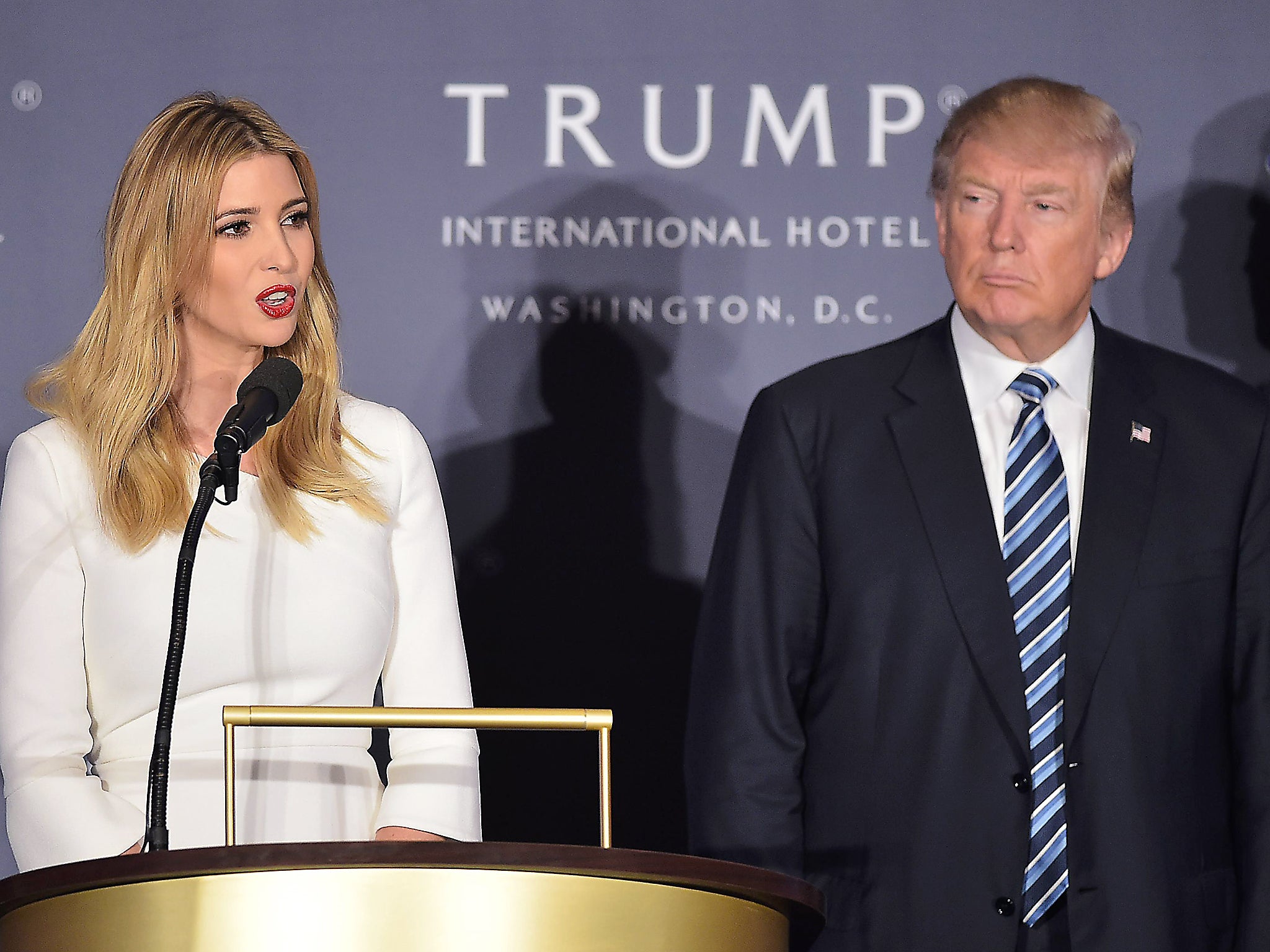 Unlike Donald Trump who is famed for off-the-cuff remarks and bitter insults, Ivanka Trump is a PR machine's dream. The President-elect's third child, who is said to be his "favourite child", was regularly wheeled in during the campaign to make her father more palatable to female voters.
But this is exactly what her critics fear about her - that her personable smile is acting as a disguise for Mr Trump's divisive rhetoric and she herself is turning a blind eye to his views. As such the Halt Action Group has launched an Instagram account called Dear Ivanka which strives to make his dutiful daughter, who is one of the vice executives of the Trump Organisation, wake up and listen to her father's words.
To make the message really hit home, the group has accompanied glamourous posed photos of the soon-to-be First Daughter from her own Instagram account with captions seeking to highlight Mr Trump's rhetoric. The site includes messages from voices which her father's election campaign marginalised or alienated - such as American Muslims and women seeking abortions.
President Donald Trump life in pictures
Show all 16
But Halt Action Group has done more than build their Instagram account, they have also taken their anger to Ms Trump's very doorstep. On Monday night, they held a candlelight vigil outside the Puck Building in Manhattan, which is owned by the family of her husband, the developer and investor Jared Kushner.
The quiet, calm protest attracted renowned artists such as Cecily Brown, Ryan McNamara, Rob Pruitt, Jonah Freeman and Marilyn Minter. Protesters held signs and candles.
"I'm afraid Mike Pence will make conversion therapy legal to do LGBT youth," one placard read.
"Dear Ivanka, can you tell your father that dozens of species going extinct every day is NOT A HOAX," read another.
Mr Trump previously called climate change a "hoax" which he claimed was "invented by the Chinese", although he later insisted the comment was intended as a joke.
In a similar vein, posts on the Instagram account include messages for Ms Trump.
"Dear Ivanka, I've been raped and I need to have an abortion," reads one image.
"Can you ask your step mum and adorable half brother to please join your father in Washington and relieve all of us here in New York of the security and traffic nightmare surrounding Trump Tower like a malignant, cursed fog," says another.
The Dear Ivanka account links to a website, dearivanka.info, whose front page has a picture of Ms Trump and Mr Kushner - who are both advisers to Mr Trump's transition team. Under the headline "Ivanka, It's not okay", the following letter appears.
"Dear Ivanka, racism, anti-semitism, misogyny, and homophobia are not acceptable anywhere - least of all in the White House. Steve Bannon has no place in the White House. Jeff Sessions has no place in the White House. Talk of a Muslim registry has no place in the White House. Hate has no place in the White House. We refuse to 'wait and see'. We look to you as the voice of reason".
This is by no means the first Ms Trump has come under fire. There has been a growing online campaign urging consumers to boycott Ms Trump's clothing and accessories line. She recently responded to the boycott on Good Morning America, saying: "The beauty of America is that people can do what they like, but I prefer to talk to the millions, tens of millions of American women, who are inspired by the brand and the message that I've created".
A representative for Ms Trump declined to comment and Halt Action Group did not immediately respond to request for comment.
Join our commenting forum
Join thought-provoking conversations, follow other Independent readers and see their replies